In this article, we are going to discuss some techniques and ideas which help you to grow your herbs according to the modern way. These herb gardens are easily available, you can place an order online and your problem is solved. Now we will discuss one by one all the unique herb garden ideas.
1- AEROGARDEN BOUNTY BASIC INDOOR HYDROPONIC HERB GARDEN
This bounty basic is perfect for a variety of big harvests. You can grow herbs, tomatoes, peppers, salads, and more in this modern herb garden. There is a high-resolution control panel that helps your plants thrive even if you are not at home or away with your family on vacation. This is available in mesmerizing black color. This hydroponic herb garden has the following properties.
This in-home garden system is very unique as you can grow plants without soil so you will not face any mess. As you can plant in water by using this hydroponic growing system. You can grow 9 plants that are 24 inches tall. 
This system has 30 watts LED grow lights which provides appropriate light to your herbs and helps in fast-growing. Smart Garden Technology helps to turn the light on and off.
This herb garden is very modern and will remind you when to water your herbs.
2- AEROGARDEN HARVEST- BLACK INDOOR HYDROPONIC GARDEN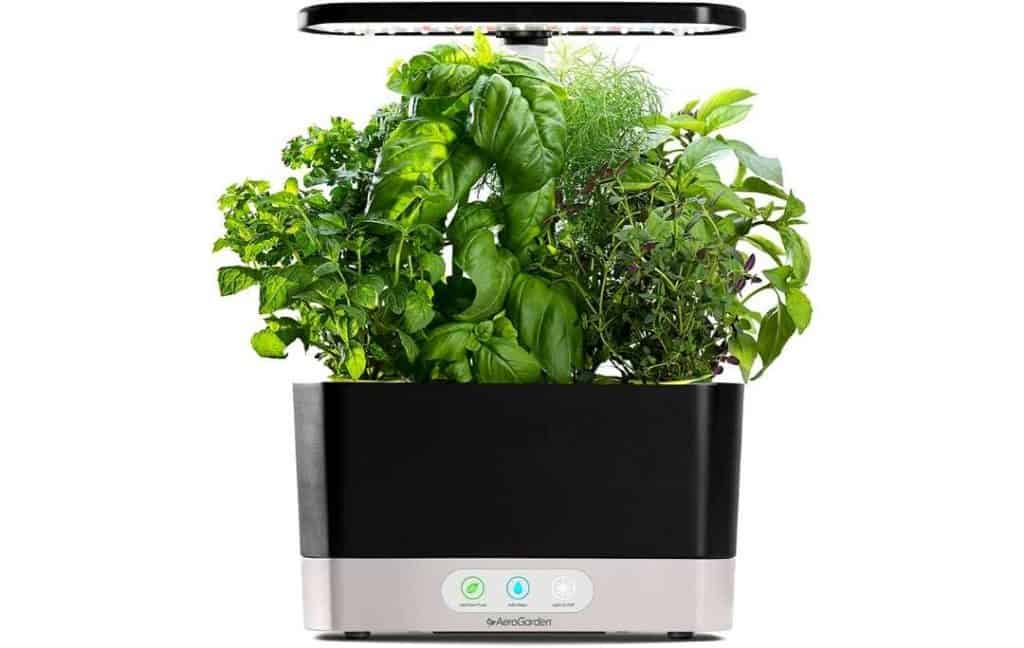 You can grow basil, parsley, thyme, and mint easily by using this unique hydroponic garden. This unique herb garden has the following properties.
You can grow fixed plants at a time which are 12 inches tall.
You can grow plants in water without soil. This will make your life very simple. Modern technology of control panels tells you when to water your herbs. It will also remind you when to add plant food. This panel also automatically turns the light on and off. Another important feature of the control panel is that it does not allow water to contact with hot LED lights.
As you are growing these Herbs at home so you need light. This modern herb garden has a 20-watt high-efficiency lighting system which helps your plants in photosynthesis. In this way, you will see rapid growth in your plants and yet fresh natural herbs at your home.
3-  LED UMBRELLA PLANT GROW LIGHT HERB GARDEN
This unique modern herb garden also looks like a decoration piece. The following properties are found in this stylish and unique system.
This Herb Garden has full spectrum LED grow umbrella light which promotes the photosynthesis process of your plants. They help to grow your plants better and faster. With the help of these lights, your indoor plants can get the appropriate amount of light.
The interesting thing about this herb garden is that you can adjust the lighting part very easily. In this way, each plant will get the right amount of light.
The unique and stylish design of the LED umbrella gives inspiration. It also serves as a stylish decoration for any indoor space.
This modern herb system has an automatic start timer which automatically adjusts the light according to the needs of your plants. So you will not face any difficulty in turning lights and making your life simple.
Read More: 10 Herbs That Grow Well In Shade
4- LED INDOOR KITCHEN GARDEN WITH TIMER FUNCTION
The full-spectrum of light helps in photosynthesis and the growth of plants. The white light of the kitchen garden helps plants to get proper light in your house.
The stunning design of the kitchen garden decorates your indoor area and you will get herbs for your dishes. You can decorate your living area, bedroom, and office.
The interesting thing is automatic smart timers. LED lights will turn off and on automatically and there is no worry about forgetting the lights.
This kitchen garden is suitable for many plants like succulents, sweetgrass, mint, and many other herbs.
5-  LED INDOOR KITCHEN GARDEN HEIGHT ADJUSTABLE
This product will help you to grow anything throughout the year. It is for those people who have no enough space and time to grow plants. You can grow many plants like sweetgrass, mint, succulents, and other vegetables in this stylish kitchen garden. 
The presence of full-spectrum light will make it unique and extraordinary. The light is an important factor in the growth of plants, if you are growing plants indoors then you can't provide appropriate light. With the help of this interesting item, you can maintain the need for light.
Another important feature of this item is that you can adjust the height easily. In this way, you can adjust the light requirement of plants.
Due to the automatic smart timer, you can adjust the timing of light which will free you from the worry of turning the light off.
6- VEGEBOX SMART LED HYDROPONIC SYSTEM
This is another simple smart, extraordinary, and stylish hydroponic herb garden.  
You have to do a simple thing: just fill the water tank and sit on the sponge. No soil is required because you are growing your herbs in a hydroponic system. You only need water every two weeks.
When your seeds are sprouted connect your herb garden box with light. 21 watt LED light with auto turn-on/off. This feature will save you time and effort. In this way, your plants will get a suitable amount of light.
This box also serves for decorating your home.
Vegebox is eco-friendly, there is no need for pesticides and herbicides. It means your herbs will not be affected by chemicals. The roots of the plants are dipped in water and they will get enough water and air. 
The dimension of the box is 14.6 × 12.8 × 6.3 inches and the water capacity is about 1200 ml. 
Read More: Herbs That Grow Well Together – Herbs Companion Planting
7- AEROGARDEN SPROUT-BLACK
This is a brand new stylish design that helps to grow your plants fast even in your home. It has a simple soft button which helps to control lights and reset plant food reminders.
You can grow up to 3 plants, the height of these can be 10 inches tall. Another important feature of this interesting item is that you can grow plants without soil. This is an advanced garden idea in which plants grow in water.
High efficiency 10 watt LED lights provide all the basic needs of lights. It will increase the speed of photosynthesis.
You can grow fresh, safe, and healthy food in a hydroponic growing system.
8- SIMBR HYDROPONIC INDOOR GARDEN KIT WITH LED LIGHT AND WATER PUMPS FOR 12 PLANTS
This growing system has 12 planting baskets, 12 seedling blocks, and 12 moisturizing covers. This soilless cultivation technology helps to grow an indoor herb garden. With this product, you will get herbs at any time at your home.
LED lights can provide light for 18 hours. This will help to germinate your seeds. You can get fruit within a few weeks. There are two planting modes available one for leafy vegetables and the other for fruits and flowers.
It has a 4L super large water tank which can provide water for two weeks. It has a water level scale through which you will easily know when to add water to avoid water shortage.
The important feature is the adjustable height of rods according to the different growth cycle of the plants.
This product makes it possible that your plants will get proper air and water. 
9- BLAWARD HYDROPONIC GROWING SYSTEM, INDOOR HERB GARDEN STARTER KIT WITH LED GROW LIGHT
This item has a 4L storage capacity of water. Nutrient water is better for the growth of plants than soil. The most important thing is you can prevent yourself from the mess, no dirty hands, and clothes. You can easily grow plants.
The automatic control panel is another plus point of this herb garden. This panel helps to control lights and you can easily turn off/on the lights.
18 watt LED lights are very effective. You can select the time of lighting for your plants.
You can grow 10 plants at a time. The plants you can grow effortlessly are salad greens, vegetables, and flowers by using this indoor gardening system.
The best part of this system is that you can adjust the height according to your plant's requirements, this system helps plants to absorb energy according to their growth stages.
Read More: How To Build A Vertical Herb Garden
10-  HYDROPONIC GROWING SYSTEM WITH BAMBOO FRAME, INDOOR HERB GARDEN PLANTER EASY TO USE WITH 8 POTS
This system is very eco-friendly because of no heavy metal contamination. Due to this system, you can get fresh vegetables and herbs. 
You can grow 8 plants at a time, you can plan to grow herbs, vegetables, salad greens, and more. This soilless system helps plants to grow faster than soil.
This system has 3 smart modes, first one helps to adjust the automatic light for 14 hours, the second mode automatically adjusts light for 12 hrs on and 12 hrs off, the third mode helps to adjust the light 16 hrs on and 8 hrs off.
This system has a smart frame which gives a simple and natural look.