If you don't have a planting area but are interested in gardening and want to grow plants. After making the decision you can grow plants inside your house, maybe on your windowsill or balcony. 
Most people love plants but they have limited resources or you can say space to start a garden. With the help of planters, containers, high-quality potting mix, and sunlight nobody stops you from growing your own perfect indoor garden. 
If you have a lighting issue you can use LED lights and hydroponic systems. Many people think that indoor gardening is a very difficult job but anyone can do it regardless of skill level. 
Here we are going to explain 15 amazing Indoor ideas by adopting which you can grow in your garden. All the ideas are unique and different and you can take full advantage of these ideas by choosing one of the ideas and growing your plants. 
1- CUPPED PLANTS
In this idea, you can grow the plants in tiny little cup holder looking planters. People think that it is impossible to grow plants in tiny cups or small planters. 
It is a misconception that you can only grow plants in large pots in order to keep the plants healthy but if you provide all necessary nutrients to your plants. 
For this purpose, you should use high-quality potting soil which provides all healthy minerals to your plants, in fact, some vegetables can also grow in small pots.
2- INDOOR ATRIUM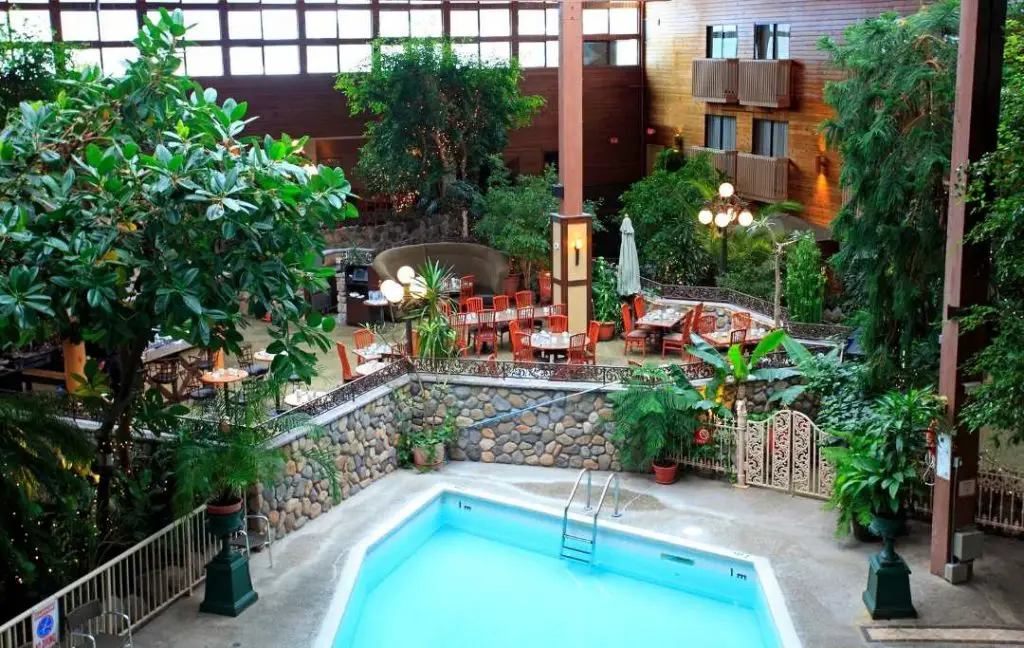 If you have any spare room at your home you can utilize it by making it your growing area. If you don't have any spare room but in every home or apartment has a poached area that can easily be turned into an atrium. 
In this area, you can add trellis or fencing along the edges so you can create an illusion of a garden room. You can decorate your atrium with different ideas that show your creativity.
3- WINDOW HERBS
Small planters are best for growing herbs, in fact, even a mug can be used to grow herbs if you have a windowsill where your herbs can get sunlight then this is the best place for growing small mini herbs. 
The number of plants depends on the space available on your windowsill. The best place is the kitchen sink window for growing herbs, if you grow your herbs in the kitchen then you never forget to water them regularly. It is important to know that some herbs need less water and some more.
4- HANGING HERB GARDEN
Another way to grow herbs in small planters but in a hanging setup. Now you don't need your counter space or windowsill to grow a small collection of herbs. Fresh herbs give a fantastic taste to your dinner. 
It is not a tough job to grow herbs indoors just needs high-quality soil, regular watering, and nutrition.  Planters should hang in this way that the frame or structure which is used to hold them should be strong.
Read More: 15 Indoor Herb Container Garden Ideas
5- WATER GARDEN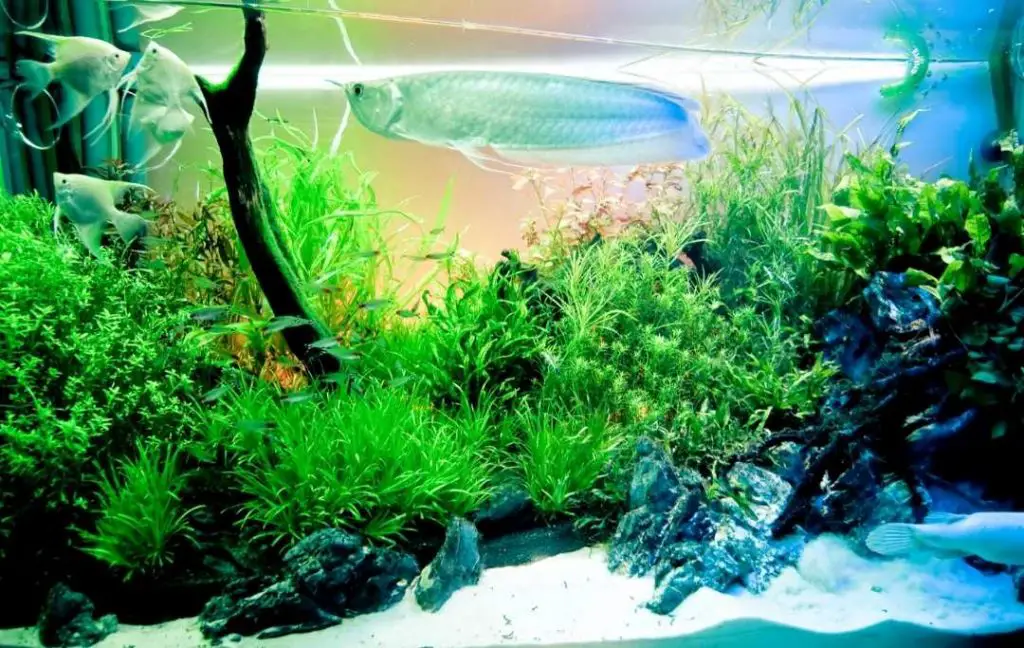 This is a fantastic water garden in which you can grow plants with your pet fish. The roots of your plants can stand completely in water and provide natural food to your fish at the same time the waste of the fish will act as a natural nutrition element for the plant. 
The relationship between the plant and the fish looks cool as both are arranging food for each other. Everyone who visits you will enjoy seeing this and appreciate you.
6- HOVER DISHES INDOOR GARDENING AREA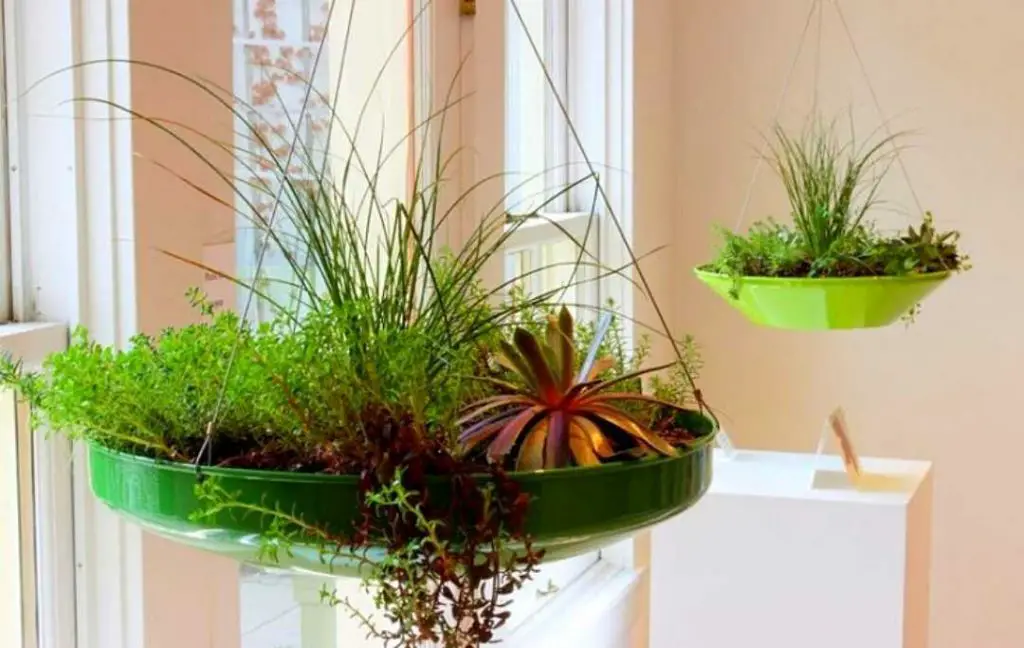 This is an incredible idea for growing plants indoors. You need dishes which can hover and hang on a steel wire, in this way you can grow plants. These dishes are easily available in the market, a shallow dish is suitable for this purpose. 
By simply adding potting mix and regular watering your plants grow in an extraordinary way and can add beauty to your home. By adopting different ideas, you will change the look of your home.
7- GARDEN RODS
There are different ideas to grow plants indoors, this is another amazing way for growing plants. It can be a coat hanger rod or a curtain rod. You will not face any difficulty to adjust this rod for your hanging plants. 
This rod can easily hold your planters and pots. Using the rod you can set your hanging plants anywhere throughout your home. These natural plants are a good addition, just like a decoration piece.
Read More: Best Vegetables To Grow Indoors Under Lights
8- TERRARIUM GLASS PLANTERS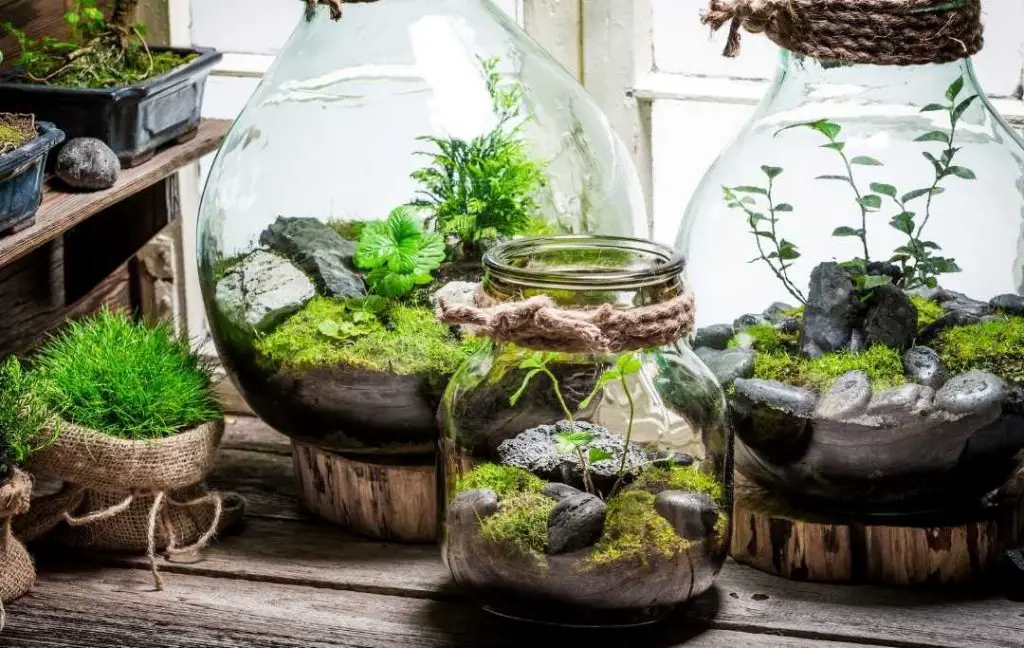 These glass terrariums can easily hang and become a source of adding living plants into your drawing room or any other area of your house. These glass terrariums are very tiny so you can use many. 
These glass pieces show a modern and artistic look. You can also add or fill this terrarium with rocks or shale which will change its look. No one can live without appreciating your taste and the versatility of his little terrarium. 
9- SUSPENDED INDOOR VERTICAL GARDEN
Another beautiful way of planting Indoor gardening. In this type of vertical gardening, you need a strong rope or wire to hang the boards which have holes in which you fix pots. 
In the pots, you can grow plants of your choice. This idea will not take too much space in your home as pots are suspended anywhere in your home.
10- BATHROOM INDOOR GARDEN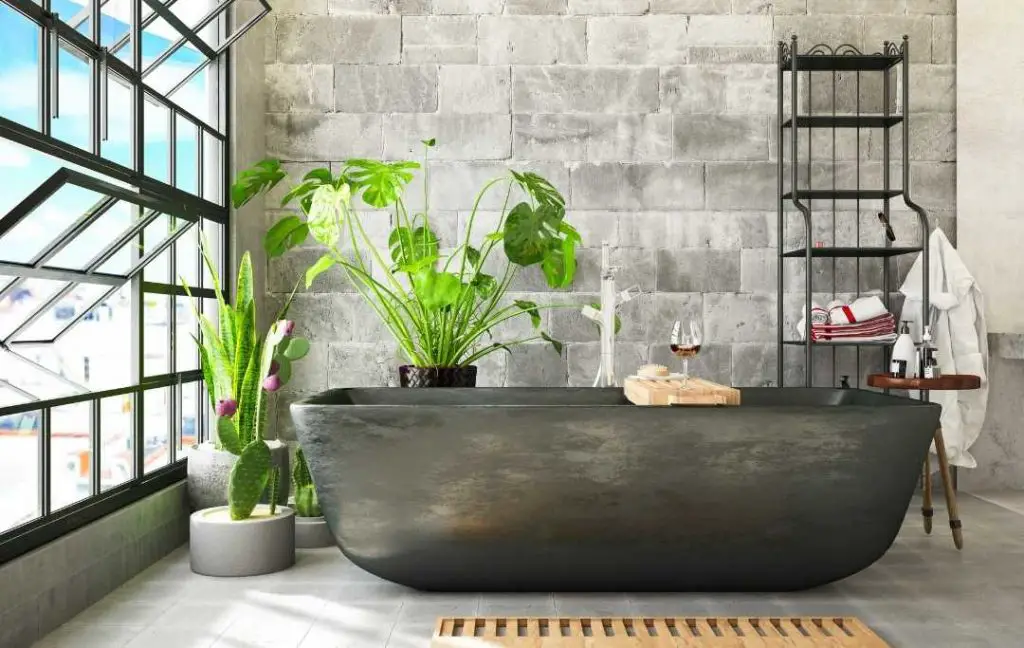 If you think you have no room for growing plants at your home then your bathroom can be a spectacular location for plants. You can do research for this purpose and find many ideas relating to decorating your bathroom with plants. 
You can use some boards with holes to fix pots and tie them with strong wire or rope and hang them from the ceiling. Another way to decorate your garden with plants is to use a wall of your bathroom which is behind the bathtub by making garden boxes to fill the whole wall. 
If you don't want to cover up the entire wall you can use some of the garden boxes. Now your garden will become a relaxing and peaceful place for you.
11- WOODEN PALETTE GARDEN DESIGN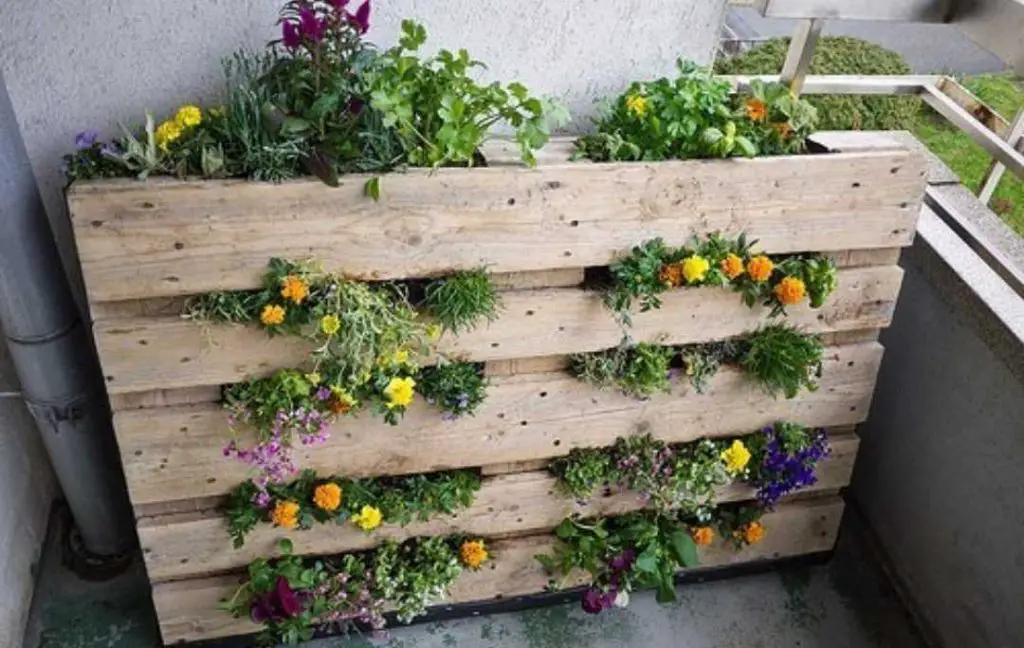 If you have a boring wall in your house you can use a wooden pallet frame to fill the wall with beautiful plants. It is not difficult to find wooden palettes. This frame has many tiny plants with warm string glides. 
The wood, vases, and lights work together to make such a beautiful stunning decoration piece for your drawing room.
12- HYDROPONIC GARDEN
Hydroponic Garden is becoming very trending nowadays in this way of gardening. You can easily grow these plants because little maintenance is required for growing this hanging garden. 
But water supply is very essential for the growth of your plants. Choose the best location where your plants get full sunlight. The plus point of this is that you don't have to worry about root growth because these plants can grow roots on their own. 
The best place for the planting is a corner or against her kitchen wall for getting fresh herbs throughout the season.
13- INDOOR GREENHOUSE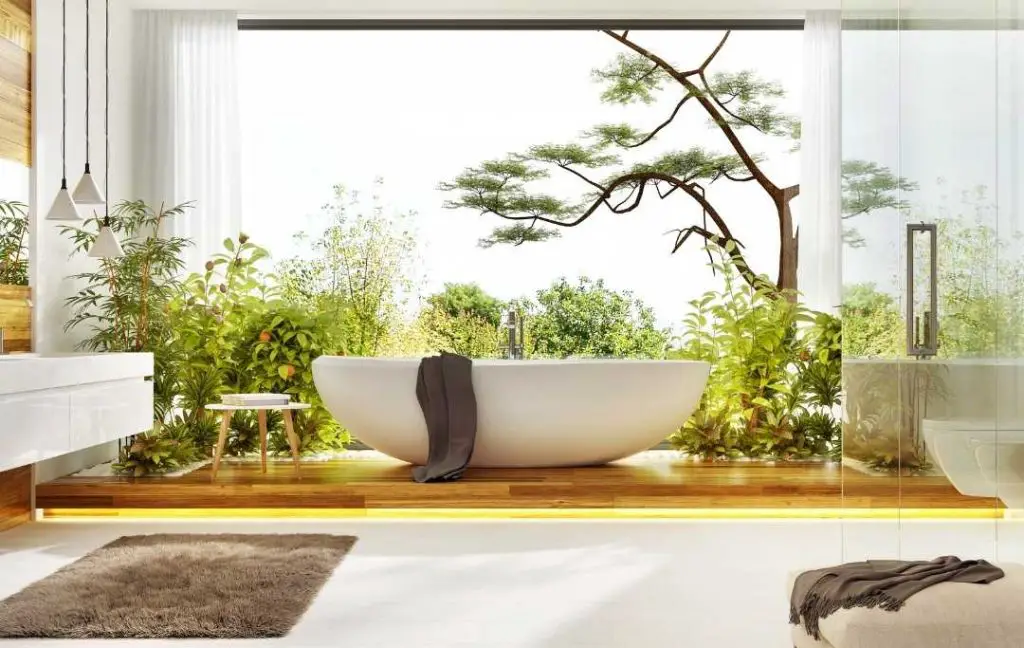 You never imagine that you can create a greenhouse within your Home. But you can do it if you have a place in your home where there are windows all around. 
It may be that your laundry room space instantly gives it greenhouse vibes. This is an interesting way to grow plants because in this way you will change the room that does not always get a lot of love. Now you can grow your favorite plants and this place will turn into your most favorite one. 
14- RECYCLED DRINK BOTTLES AS HANGING VEGETABLE BASKETS
If you like recycling then you might be interested in this idea of growing because the drink bottles are waste material and can be used in creating your own hanging garden. 
You can set this hanging garden at a place where plants get full sunlight It may be the bright kitchen wall. If you grow your plants against a bright kitchen wall then you can easily watch them and there is no worry about caring for them because you never forget to water them.
15- LIGHT PLANTERS 
You will be astonished to see the great combination of lights and planters. This is an interesting concept because in this way you can add a planting reservoir off of a hanging lamp. 
This hanging garden has a unique view. One thing that is very important is that you should make sure nothing can cause any sort of electric current, with little care you can set up this simple idea of planting. 
If you grow your plants in this way you have not to worry about the light because the plants are located right beneath the light. As you know that for indoor plants the most important problem is light. The plants will be able to get an appropriate amount of light.
Read More