Herbs add taste to your favorite dishes and you can decorate your sandwiches, burger, pizza, and salad with them. Your dishes will not complete without the addition of fresh herbs. It is amazing to get herbs in your kitchen where you cook your meal. 
This is not a difficult task to make an indoor herb garden by yourself. It will not cost you too much as it is an inexpensive idea. You can even plant herbs in cans or plastic bottles.
If you want to grow your herb garden then you will not disappoint because in this article you will get all the information about herb garden ideas. The following tips and tricks will spark your inner chef to make tasty meals at any time.
1- THE HERB GARDEN AT WINDOWSILL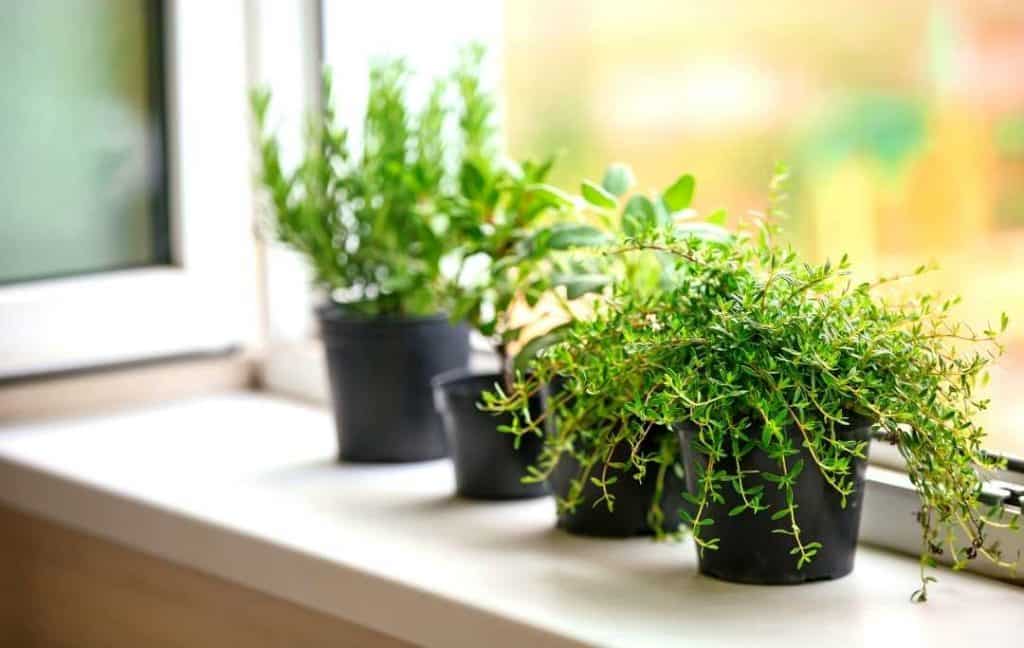 This is a great idea to create an indoor kitchen herb garden. you can establish a windowsill herb garden in the afternoon. You can grow thyme, cilantro, parsley, basil, and more at your windowsill. You can take advantage of the sun and fill your living space with nature.
2- SHELF HERB PLANTER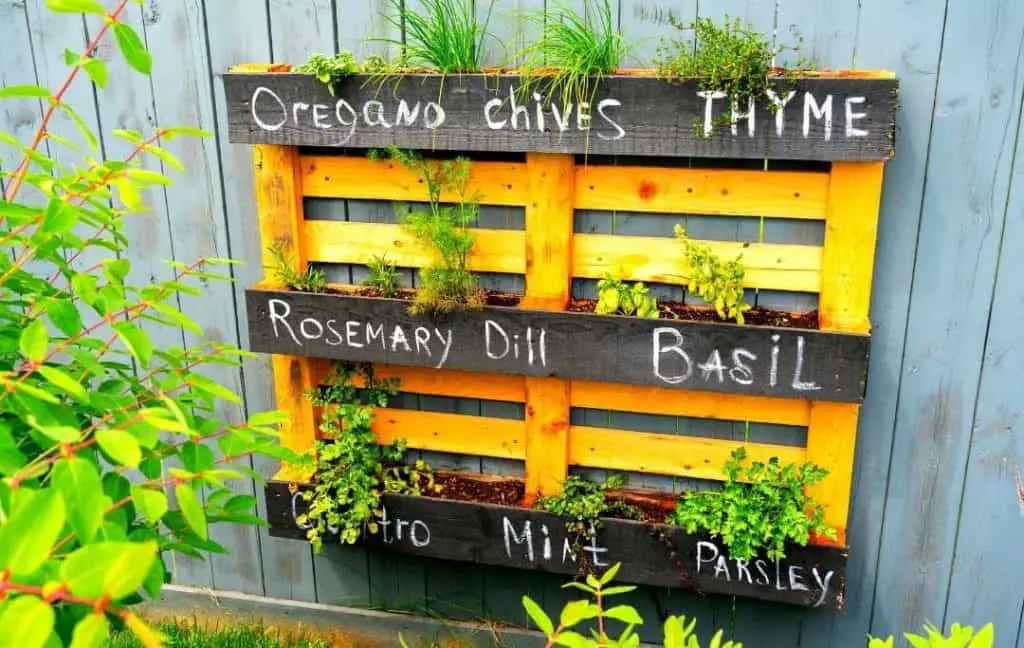 You can build this shelf for plants very easily at home. You need some pieces of pine, nails, wood glue, small clay pots, and lastly, you need a rope to hang this planter anywhere in the home. 
This is a good idea for growing herbs, especially for an indoor garden. The final step is placing the pots on the shelves of the vertical planter. 
3- HERBS IN A MASON JARS
The mason jars can be used for growing your favorite herbs. You can use these mason jars which are not in use; it means that you will not have to spend a single penny on these projects. Growing herbs in mason jars can be fun, in this way you can create your tabletop garden and get fresh herbs right in the kitchen. Use a high-quality potting mix for the better growth of your plants.
Read More: How To Make DIY Mason Jars Herb Garden
4- GUTTER PLANTER
If you have old gutters then you can use them for making vertical herb planters, if you don't then buy from the market. You can show your creativity by painting a pattern on it. 
If you have not enough space then this idea is a good option for growing herbs inside your home or even you can hang this gutter planter outside. Lovers of fresh and healthy herbs will find what you need to provide a high-quality potting mix, light, air, and water to germinate your seeds.
6- ALUMINUM CANS PLANTER
Don't throw your soda cans because you can productively use them. They can be used to show your indoor gardening skills for searching stunning and extraordinary mini planters. You need spray paint, chalk stickers, and a little twine and ribbon. 
This project is related to your crafty skills. At least use six soda cans in this project and convert these cans into unique planters. The most important by recycling these cans you can do your part to keep the environment clean. So try to use such waste material and make nature happy.
7- CHINA TEACUPS MINI HERB GARDEN
You can use your old china cups with silver spoons to make mini planters. You can stack them, group them, or set them on a tray. Whatever you like the most, you can arrange them according to that way, this is up to you which way you like the most. 
You can update your shelves with the help of an old dropped pot unit. Your plants are near you and you can maintain them very easily.
8- ANOTHER MASON JARS HERB GARDEN IDEA 
This is a wonderful project which helps you a lot with your holiday cooking. As we discussed earlier how to grow herbs in mason jars, now we will discuss how to mount these jars on wood panels and create your herb garden. 
First of all, you should space mason jars evenly on a wooden board, with the help of the pencil you can mark placement and easily design and measure. Paint your rectangular wooden boards with chalkboard paints. Your pipe clamps should be in golden color. 
You can secure your wooden board by hammering a nail through the small holes in the pipe clamp. You can place your mason jars into a pipe clamp and tighten it with the help of a screwdriver. In the last nail picture hanger into the wall and finally hang herbs to display. 
9- HANGING HERB GARDEN ON CURTAIN ROD 
This window mount herb garden helps in your cooking adventures. First measure the width of your window where you want to create your herb garden. Install the closed sided mount with the help screws, now it is time to insert the pieces of pipes into the closed-sided mount. 
Make sure that your galvanized buckets have drainage holes. Add soil and plants in the buckets. Now hang your buckets on the pies, your herb garden is ready within your house. Make it possible that your plants get water regularly. You can get all the herbs according to your kitchen needs.
10- THREE TIERED HERB GARDEN
Recycling is a process through which you can create many decoration accessories. In this project, you can create a versatile rustic 3 tiered herb garden by using pallet wood. Pallet wood home decor idea will decor your wall. 
This will enhance the attractiveness of your house. Your walls will be decorated with your favorite plants, especially herbs. The boring wall will fill with nature by adding this unique pallet planter.
11- INDOOR PLANT DISPLAY STAND
You can use a ladder to display your plans in your house,e. First, you should clean your ladder after painting it, if you like it you can use bright colors to create a lovely stand for placing your pots on it. Now you need wooden boards to place your pots. 
Your wooden boards should be rectangular. In this way, you can plant many plants within a limited space. This is a wonderful idea for those who are facing the problem of shortage of space. This will become the centerpiece of your house. You will like to have such a stand which can hold many plants at a time.
12- MASON JAR HERB GARDEN WITH WOODEN BOX
This herb garden can sit on your table, counter, or windowsill. It means your herbs will be within your reach. This idea will not cost you too much as you can use old pallets for making wooden boxes. First, join the pallets and make the rectangular box for your herbs. 
You can paint your box to give it a fabulous look. You can also use chalk paint. Handles will give it an extraordinary look, you can buy handles at a very cheap price. At this stage you need mason jars, fill your jars with soil, and plant your favorite herbs in them. 
Add small rocks or pebbles in the bottom for better drainage. Now place this box at a perfect spot where your herbs get proper sunlight and water.
13- SELF WATERING HERB GARDEN
You can buy a modern and stylish herb garden which has a self-watering system. It means that your plants will get water on time. If you have a busy schedule then you should not worry about watering your plants. 
Your plant will never get dry due to a lack of water. This planter will make your life easier. The important thing is that it will provide water according to your plants' needs and on time.
14- GROW GARLIC INDOORS FOR FLAVOURS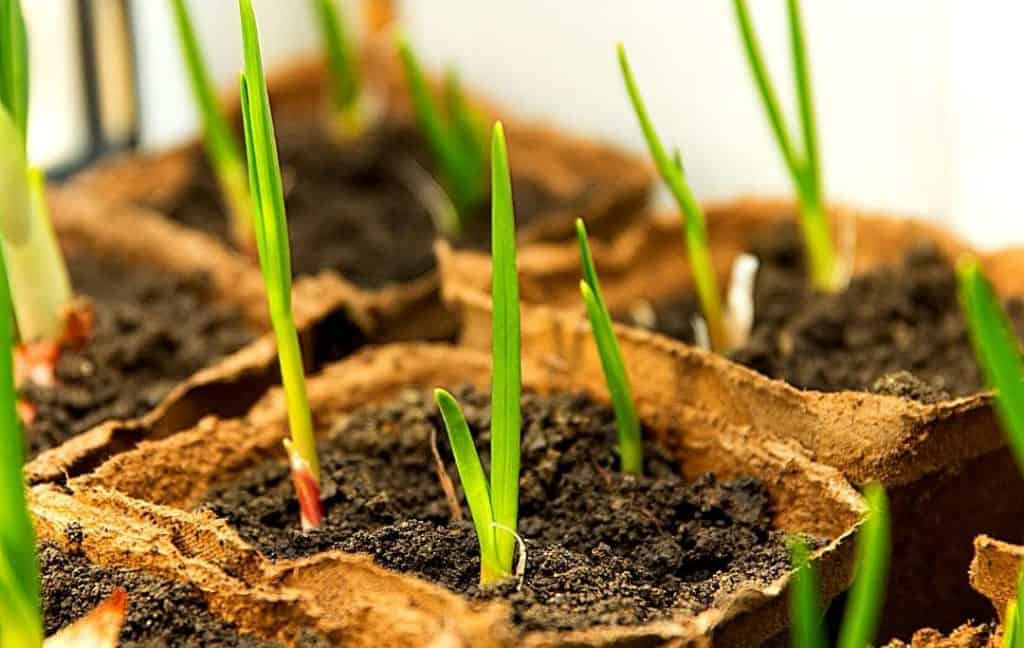 Fresh garlic at home is a great idea for your kitchen. When you buy a whole bulb from the market but you can't use it. This great indoor bulb growing technique will help to get an endless supply of garlic. 
Garlic cloves that are sprouting already will make your work easier. Instead of throwing your old garlic bulbs, you can use them for growing garlic. You need water for sprouting, it means without soil you can grow garlic. 
After a few days, garlic will begin to grow roots but make sure to change the water. The other important factor is that your plant gets full sunlight. These sprouts can grow up to 10 inches. 
Read More: How To Grow Garlic Cloves Indoor 
15- HERB GARDEN YOU CAN MOVE
In this idea, we use a container that can easily be transported from indoors to outdoors. The important thing about this container is that it has six compartments in which you can grow herbs of your choice in these compartments. 
You can grow rosemary, sage, parsley, oregano, basil, and thyme. After making the decision, peel off the top portion of the biodegradable pot, and after that squeeze the whole thing down into all the compartments of the container. 
If you find any gap or see there is a need for more soil then you can add potting soil in the squares. Now your herbs need a small drink of water.  This incredible container will make your life easier and you can move your herb garden anywhere.  
Read More: How To Build A Raised Bed Herb Garden