Hacks make your life easier. In the same way, if you follow some hacks and tips to solve common issues regarding gardening then you are easily able to maintain a perfect and healthy garden. 
1- GROW ROSE CUTTINGS IN POTATOES
A potato will help to survive your rose cuttings. Before putting your rose cuttings in the soil you should place them in a potato. Now they only need some moisture, in this way your garden gets a beautiful rose plant by using a simple hack.
2- EGGSHELLS MAKE THE PERFECT INDOOR SEEDLING STARTER
The sharp edges of eggshells will help to deter the snail, slugs, and other pests which are a hindrance to the growth of your plants. Another useful benefit of shells is that you can use them as perfect seedling starters. You know that the eggshells are a medium of providing calcium to the soil. 
It helps to give a boost to your plants. The other advantage of using eggshells as a planter is that you do not need to remove the shell for transplanting but you can plant it with the plant.
Read More: The Best Uses Of Eggshells In Your Garden
3- USE PLASTIC WATER BOTTLES WITH HOLES TO CREATE A WORRY-FREE SELF WATERING SYSTEM
Moisture is essential for many plants, some plants need regular water. In this hack, we will explain to you how a plastic bottle will help you to provide water to the roots of the plant. Take a bottle and make some holes in it now bury this bottle into the ground beside your plant. 
The top side of the bottle should not be covered with soil, in this way, you will create a brilliant self-watering system for your plants. Now pour water into the bottle and the holes in this bottle make it possible to allow your water to pass straight through.
4- THE SECRET OF ENDLESS ONION SUPPLY
You can get an endless supply of green onions by using recycled plastic containers. Onions are easily available at the market and you can buy it but you can get your own grown onions by using this hack. You need a plastic container and make several holes in it. Now fill it with a potting mix. 
Start pushing the onion bulbs in the hole from outside to grow. You can also use sprouting onions for this purpose. After they are mature enough, the next step comes to take out the mature onion with greens. Now fill the hole again inserting a new onion bulb in the empty spot.
5- REGROW A PINEAPPLE SIMPLY FROM PLANTING IT'S TOP
Pineapple fruit is the favorite of most people. It is used in making different dishes especially desserts and you can also like pineapple cake that is so delicious as no one can live without praising its taste. You will be surprised to see that the head of a pineapple can be planted to produce more fruit. 
The plant of the pineapple and you will get your favorite food from it.  Without seeds and just planting the top of the pineapple is an interesting tip. Hope you will try this hack and grow pineapple for yourself.
Read More: 14 Vegetables You Can Grow Again And Again
6- DIY HOSE HIDING PLANTER
A planter is very important for growing plants in your garden. There are different types of planter available according to your needs and requirements. But this type of planter which we are going to explain is very unique as you can use it for storage purposes. 
You can keep your hose and other garden needs in it. That's why we call it to hose hiding planter. We keep it outdoors to keep our hose in it. The hose is an important necessity for a garden. You need it for watering your plants and filling the pool.
7- RUN YOUR CHICKEN IN A DIY CHICKEN TUNNEL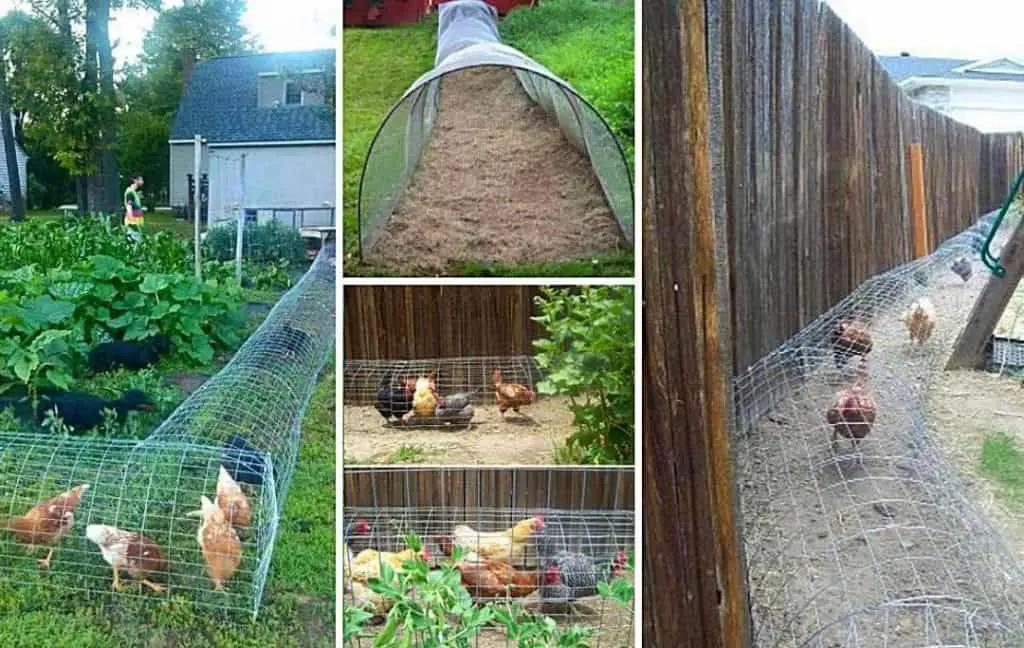 This method can be used to control the pests population in your garden. This effective way is beneficial for both your plants and chicken. These pests are like a treat for your chickens and your plant will get rid of these harmful pests. Chickens will help to control the bugs and at the same time fertilize the soil of your garden. This natural and organic fertilizer is chemical-free.
8- SOAK YOUR SEEDS IN WARM WATER FOR 24 HOURS BEFORE SOWING SEEDS
Sometimes your seeds don't sprout easily. To fight this problem you should follow some tips and tricks. One tip is to soak your seeds for 24 hours in warm water for faster germination. This will speed up the sprouting process. 
Read More: COMMON SEED STARTING MISTAKES TO AVOID
9- PREVENTING INVASIVE PLANTS FROM SPREADING USING A PLASTIC POT
Most of the herbs grow very fast and you can't stop their roots from spreading.you need to do something to stop aggressive roots. For this purpose, you can install a plastic edging underground that will work as a solid barrier. You can't follow this hack for some plants such as tomatoes and mint as they grow above the ground not inside the ground. 
10- PLANT MOSQUITO REPELLING PLANTS
This is an effective and free way to prevent yourself from mosquitoes. You know mosquitoes are the main reason for spreading severe diseases such as malaria and dengue. They are also not good for your plants and if you are living in such areas where mosquitoes are a big problem then you can use this clever hack. 
The tip is that most plants act as repelling agents such as garlic, catnip, lemongrass, lavender, and rosemary. These bloodsuckers will not come after smelling the fragrance of these plants.
Read More: How To Grow Garlic Cloves Indoor 
11- DIY BUTTERFLY FEEDER IS MORE THAN JUST A PRETTY GARDEN ADDITION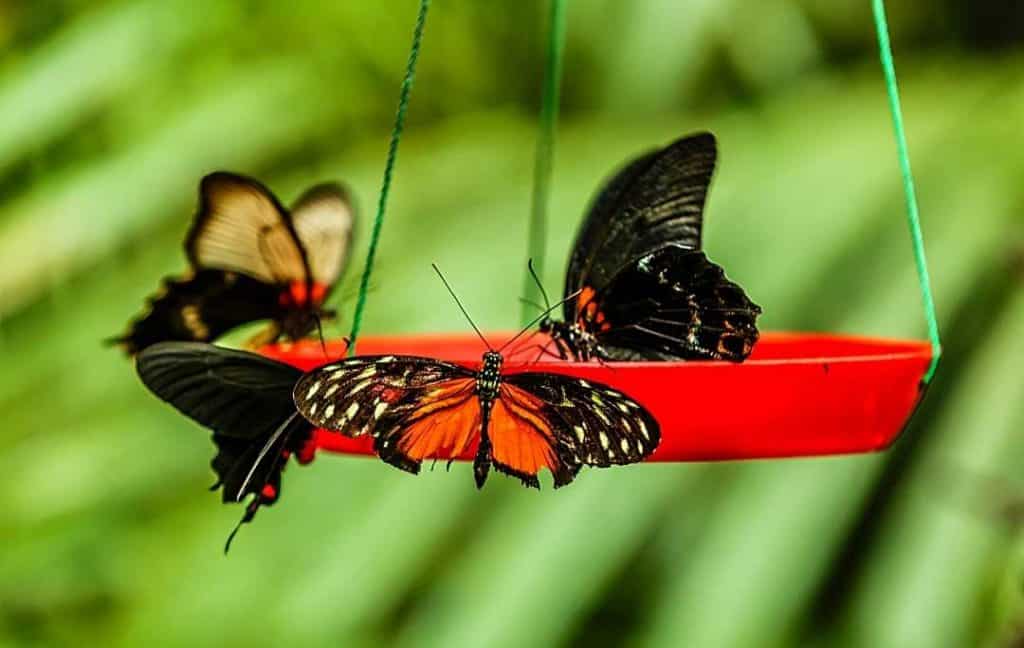 This simple hack will help in growing a beautiful butterfly garden. You will have to just make a butterfly feeder. Which figure will attract butterflies to your garden butterflies will not only add beauty to your garden but they also serve as flower pollinators. 
Pollination is a process which is very necessary for a plant's growth. You can easily make butterfly feeders. For making butterfly feeders you need any type of plate saucer or shallow containers. A simple way of making butterfly feeders is setting a butterfly watering station. It looks great.
12- IMPROVE YOUR GARDEN SOIL USING RECYCLED KITCHEN WASTE
Natural fertilizers are good for your plants.  Most waste things act as the best fertilizer for your plants. You can make compost at home to provide all the basic nutrients to your plants. The things which can easily be used to make your soil more fertile are coffee grounds, peels of vegetables and fruits, and eggshells.  
This is not necessary to compost kitchen waste before adding to soil. You do a simple trick, don't waste these items and directly bury them in your soil. These things are environmentally friendly. They will decompose in the soil because they are biodegradable.
Read More: How To Make Compost At Home Using Kitchen And Garden Wastes
13- FERTILIZE YOUR PLANTS WITH COOKING WATER
Never throw the water which you use in boiling different vegetables and pasta. In this way, you can use water twice. This water is full of nutrients and helps your plants to propagate nicely. This cooking water will act as a natural fertilizer. 
This is a cheap hack for providing all essential elements which your plants need. Instead of buying fertilizer from the market you can use this simple trick and provide all the primary nutrients to your plants which are beneficial for them.
---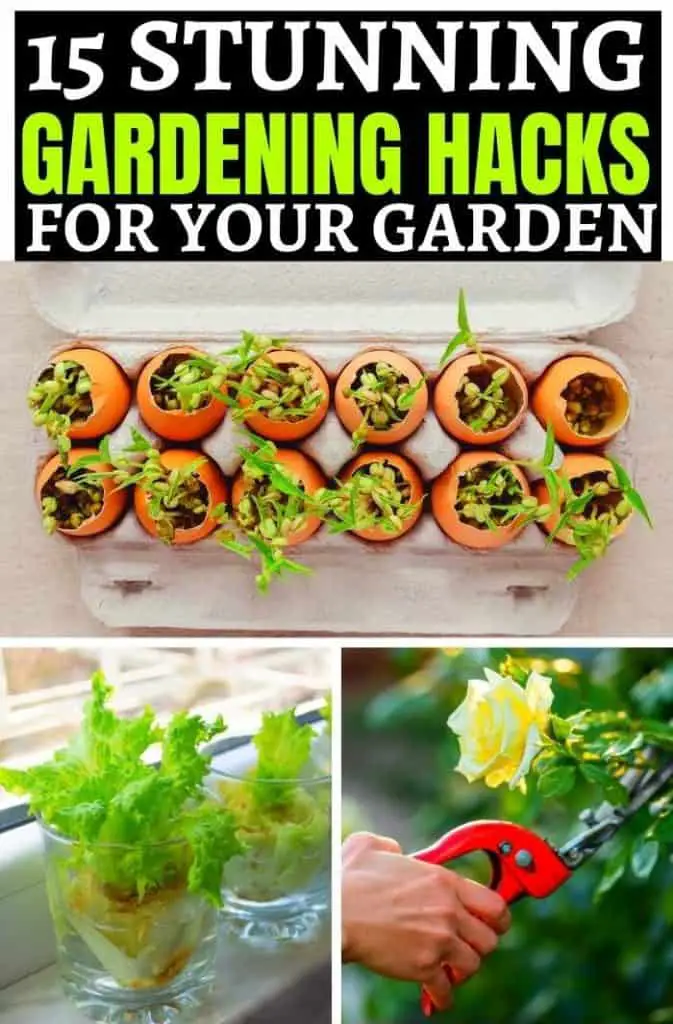 ---
14- DIY ORGANIC INSECT SPRAY FROM NATURAL INGREDIENTS
All the pesticides or insecticides are full of chemicals that are not good for your plants. They work best against insects but they will affect our health. The good thing about this hack is that you can make organic insect spray at home which will work as the readymade pesticide or insecticide. After two applications of this, you will see the result of this spray. 
The ingredients used to make this solution are mint, cayenne pepper, soap, and garlic. First, chop your garlic and mint in a chopper. Mix garlic, mint, and cayenne pepper in water and boil this solution.  Leave this solution overnight. After that strain it and add biodegradable soap to it. Now fill your sprayer and spray on the plants which are facing the problem of pests.
15- USE GALLON JUG AS WATERING CAN
If you don't have water can then don't worry. By using this step you can make your water can at home. Everyone has an old milk jug instead of throwing it, one can use it for making watering cans, without spending money on this item. Take a milk jug and take out its cap and make holes in it. Fill the bottle with water and put the cap on the bottle. 
Your watering can is ready and you can use it anywhere in your garden for watering your plants. The holes you made in the cab make it easy for the water to flow out from the jug. This simple hack will save you money.