In winter, your plants need warmth, in the same way, they need cool in summer. A greenhouse allows you to grow flowers, vegetables, and herbs throughout the year.
The question arises in your mind about how to pick the right type of greenhouse for your plants.  Here are some tips which you should consider before choosing the greenhouse for your yard.
Choose a design which is according to your need. The size of the greenhouse should be fit according to your space or area. You need information about the greenhouse before building or buying it. If you are building a greenhouse then choose the design which you can replace easily.
DIY projects are very cheap as compared to the prefabricated greenhouse as most of the DIY projects include recycled materials as well as natural elements which are easily available at home and there is no need to buy them. If your budget is low and you don't have enough money to spend on buying the greenhouse then you should try to build your greenhouse. It means that it will cost you less if you build it at home.
If you are willing to buy a greenhouse then it will save you time but not money.  Before buying a prefabricated greenhouse then you should do some research.
Try to choose that design that is eco-friendly and supports nature.  If your design includes recycling material, it will be better for the environment. In this way, you can give new life to old materials such as windows, lumber, metal, and plastic. You can help nature by using recycled and renewable materials. 
---
---
Don't buy a prefabricated greenhouse as you can build your greenhouse by using a few tools and supplies. Here is a list of greenhouses ideas, choose the one, and start working on it. 
1- THE BARN GREENHOUSE
This is a stylish greenhouse that can build with sturdy corrugated metal and plastic.
Its shape is just like a barn that's why its name is barn greenhouse. It is a healthy addition to your yard in your yard. You need 12 long pieces of corrugated metal roofing for making sidewalls. You will easily install the corrugated roofing horizontally.
2- LOW-COST GREENHOUSE PLAN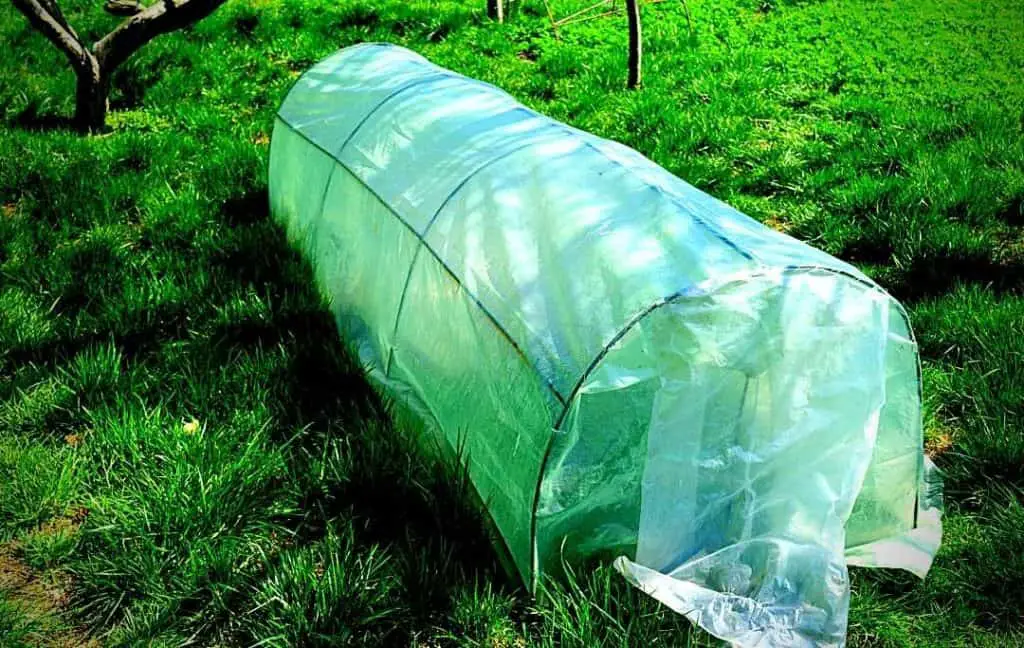 If your budget is low but you need a greenhouse for your plants then this is a good option for you as it is inexpensive. To make this greenhouse, you need little money. If you reuse material which is available at home then it will cost less. Before building the structure of the hoop house do some research, it will be helpful for you.
3- THE GEODOME
This is an incredible design that has a unique look. It has a circular-shape and gives a very interesting view. This greenhouse works better against high winds. 
This cool structure greenhouse has more growing space as compared to another greenhouse. But keep in mind this project is for those who have great carpentry skills.
4- THE UPCYCLED OLD WINDOWS GREENHOUSE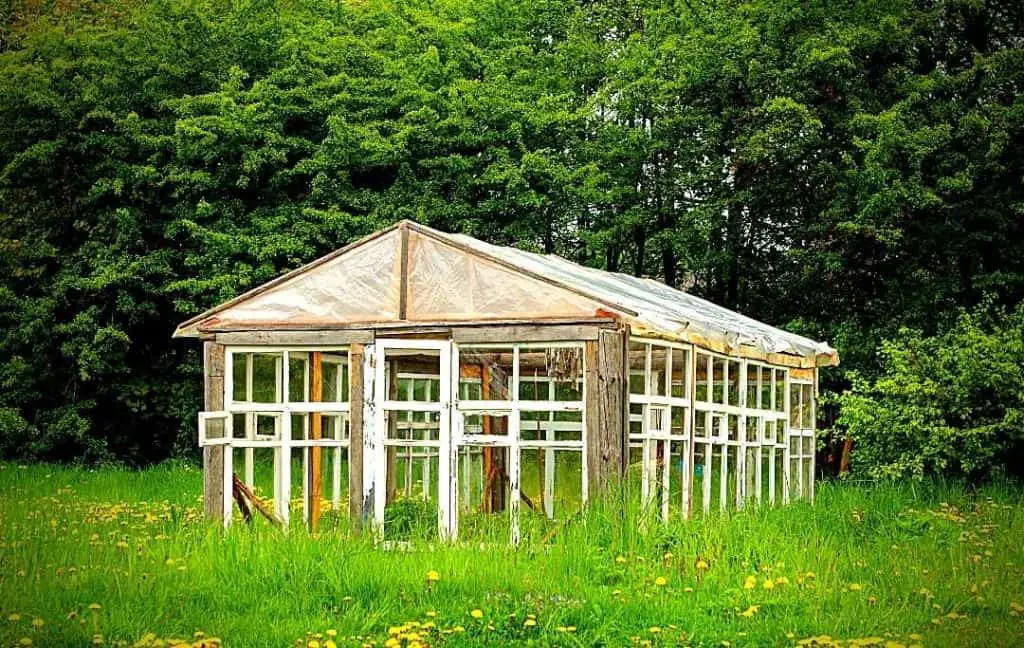 Despite using old windows this greenhouse looks great. This Is another example of an inexpensive and cheap greenhouse. This type of greenhouse is smaller and costs little money. 
This quaint looking greenhouse is a favorite option of most gardeners. After collecting old windows, lay them out and make two pairs of walls of the same height.
5- THE PLASTIC BOTTLES GREENHOUSE
Everyone has wasted plastic bottles at home. Big unwanted material can be used in building greenhouse which is ou can create an A-frame greenhouse or hoop greenhouse. 
Recycling is a good way to make our environment healthier. So this option of the greenhouse can play a very important role to clean our planet.
6- CD CASE GREENHOUSE
This greenhouse shows your creativity and one will be surprised to see the uniqueness of it. This greenhouse has an individual look that is different from other ordinary greenhouses. This is a smaller greenhouse and you can keep two pots in it. 
You can create such a type of greenhouse easily by using several wasted cd cases. The problem you will say in building this type of greenhouse is cutting the gases into angles. It is a hard job to do and it needs patience. You need to make four walls to create the greenhouse look.
Read More: HOW TO BUILD A SMALL GREENHOUSE FOR VEGETABLES
7- THE TOMATO FORT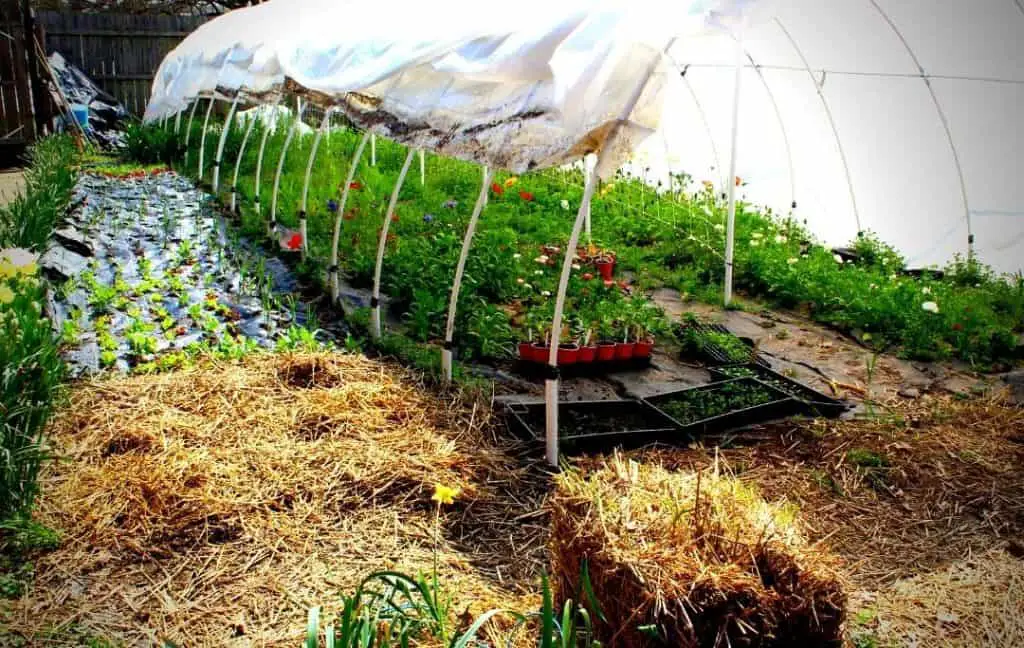 This is a low-cost greenhouse, as the name shows that it is for tomatoes. Tomatoes don't like rain, they like to get water from the ground, not from the rain. This greenhouse can be closed on rainy days and opened on prettier days. This hoop structure is made from PVC pipe and plastic. 
8- THE GARAGE GREENHOUSE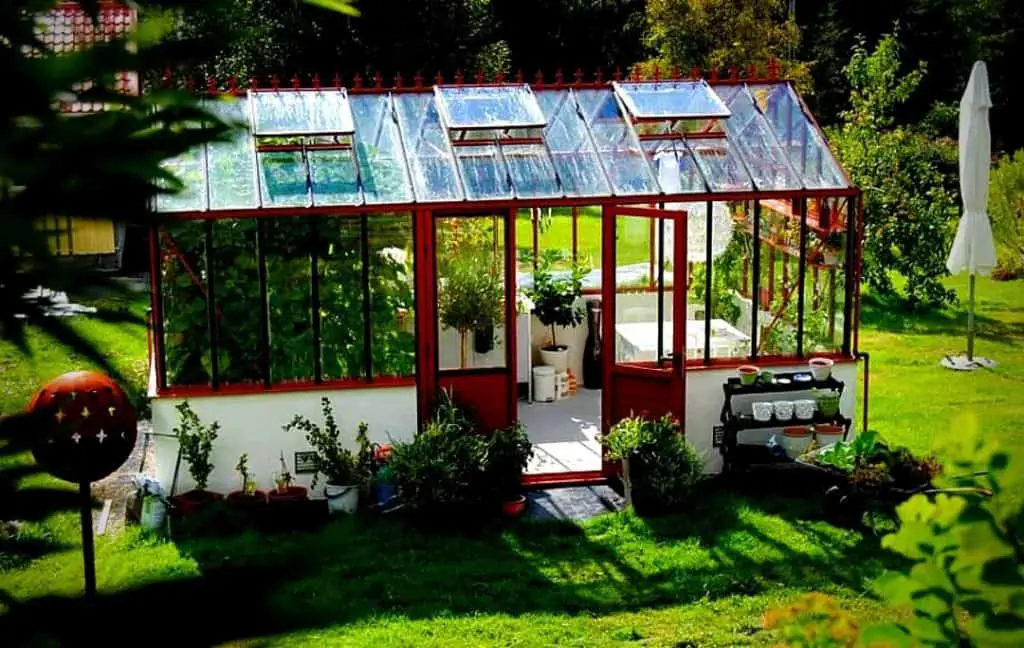 This greenhouse works like a garage that's why its name is a garage greenhouse. This is a unique design of a greenhouse. You can place all your plants against your house. 
You can even build shelves for your potted plants in this house. This is the best way of protecting your plants from harsh conditions. You can fold it back when you don't want it.  This idea is best for those who have smaller yards and there is no need for a greenhouse throughout the year. 
---
---
9- THE MINI-BOTTLE GREENHOUSE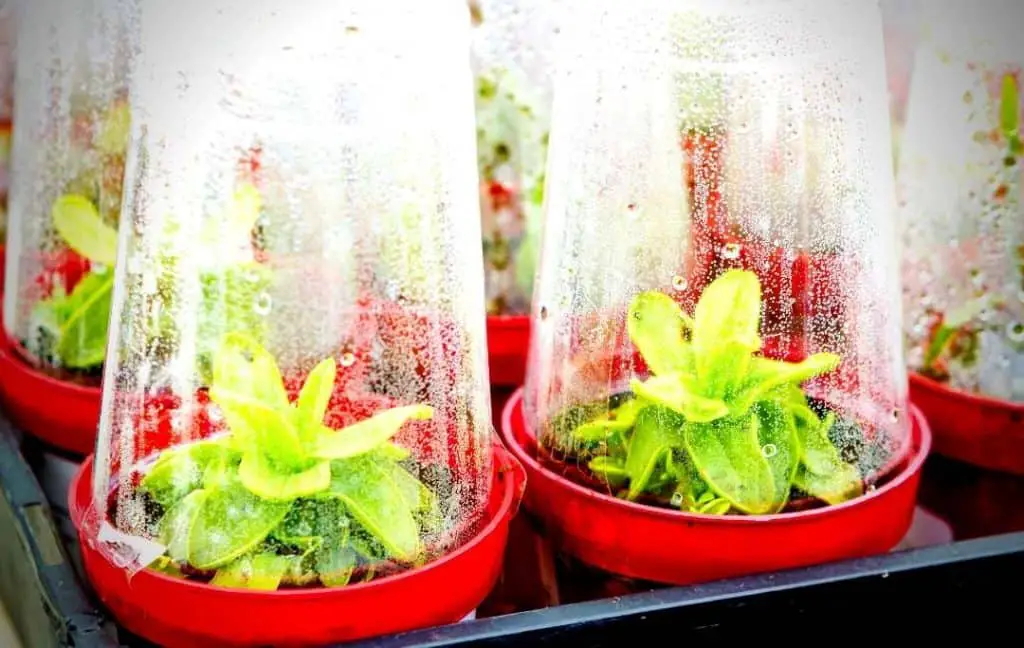 Another way of recycling plastic bottles and making our environment healthier.  This idea will not cost you too much as it is budget-friendly.  You can say that this is a free greenhouse because you have to do nothing but just place plastic bottles over plants to protect them from frost. 
In this way, you can plant it a little earlier. This is a great idea to raise the temperature by 10 degrees.
10- SUPER-CHEAP FLOWER TENT
This type of greenhouse is best for raised garden beds.  Most people are interested in growing plants in raised beds. For such people, this idea is the best way to build a greenhouse to protect their plants. Some people want to start the gardening season in early spring. 
By creating this type of greenhouse you can start your planting season early. You need two pieces of PVC for building the hoop frame. Now you need chip bag clips to attach your plastic to the frame. 
You can easily remove this type of greenhouse when not in use. The best thing about this greenhouse is that it is very budget-friendly.
11- THE TRAMPOLINE GREENHOUSE
An old trampoline can be turned into a greenhouse. One part of the trampoline is used to shape the front while the other half is used to shape the backside of the greenhouse.  
In the last cover, the frame with plastic and your greenhouse are ready.  With the help of the greenhouse, you can maintain the temperature for your plants.
12- THE MINI HOTHOUSE
This is a quick way of making a greenhouse for your favorite plants. You can create a mini hot house without spending money. You need a tomato cage to make the basic frame for this mini greenhouse, place this cage around your plants. Now wrap the cage with plastic. 
This greenhouse will help to hold the heat and become the reason for increasing the temperature of your plants and protect them from the harsh conditions of winter. 
You can buy a tomato cage at a very cheap rate, it means this greenhouse will not cost you too much and you can easily afford and provide a great start to your seeds.
Read More: Easiest Vegetables To Grow In A Mini Or Small Greenhouse
13- THE DIY BAMBOO GREENHOUSE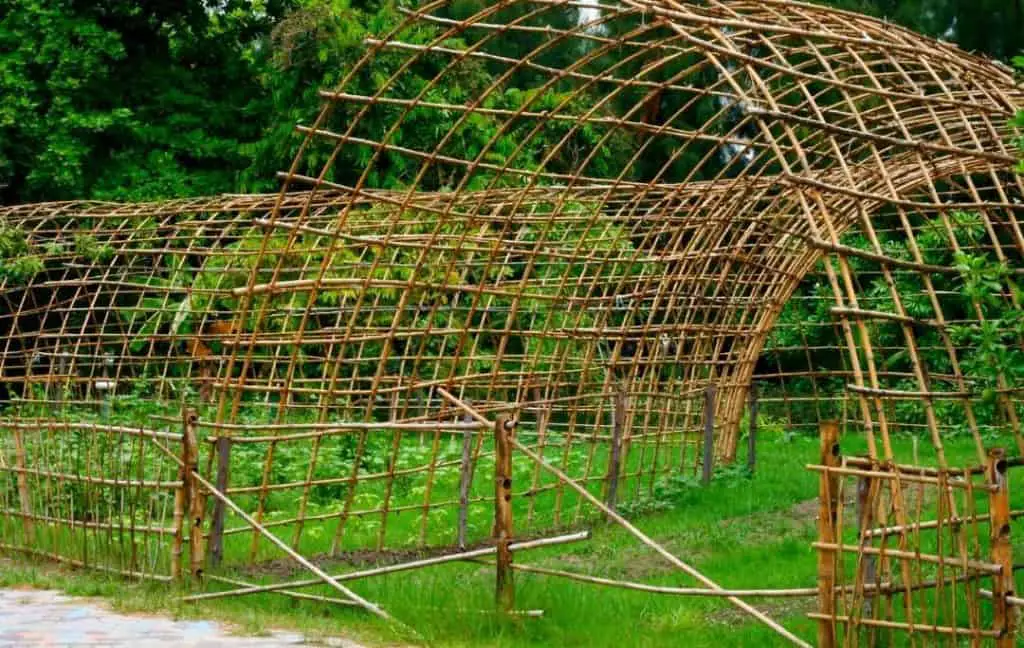 Bamboo and plastic sheeting to simple materials that are used for making this cheap greenhouse. A bamboo greenhouse is a great idea because bamboo is a great building material.  This is an inexpensive greenhouse that does not affect your pocket.  
First, you should take all the necessary measurements so you can easily build this greenhouse. Greenhouses protect your plants from frost and make it possible for you to start [planting in early spring. 
Even you can grow plants in the winter.  When you build your frame with bamboo, wrap the whole structure with plastic sheeting.
14- THE COUNTERTOP GREENHOUSE
This is the perfect greenhouse for smaller plants and herbs. This is an incredible idea because it is portable.  Wood is best for building a little box, insert glass sides for your plants then get sunlight easily.  
Due to glass walls, you can easily watch your plants and herbs inside the box. This is a small greenhouse that's why it will not occupy too much space in your yard.  You can place this greenhouse on your kitchen counter or the back patio.
---
---
15- THE REMOVABLE COLD FRAME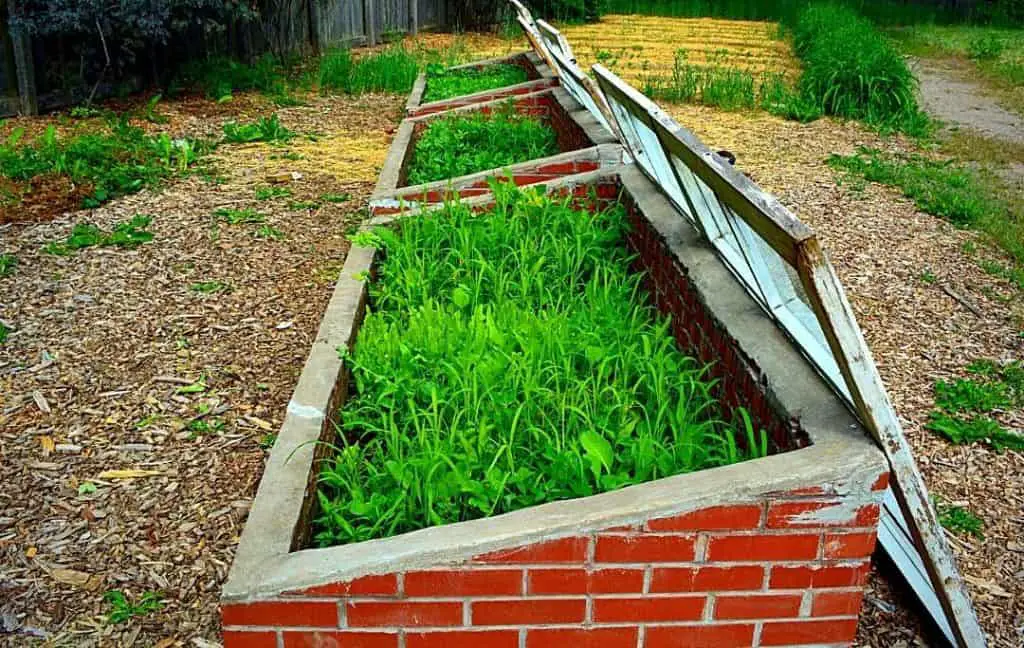 This frame is just like a covered wagon. This idea works great if you have a few ground beds. The cover of the frame provides extra protection to your plants. You need plastic to staple over the frame. You need two hinges between the cover and the base. 
The best thing about this greenhouse is that you can remove it when not needed. The temperature will be increased by about 10 to 15 degrees. Your plants will be protected from pests, critters, and bugs. 
Heat-loving plants enjoy the environment inside the greenhouse. Your growing season will be extended due to this unique greenhouse.
16- THE TABLETOP GREENHOUSE
This greenhouse is similar to the countertop greenhouse but the difference is that you can not move it anywhere. If you have an old table then your problem is solved and you can build a fully functional greenhouse on top of it. A wooden A-frame is perfect for this purpose. This will not occupy too much space in your yard.
17- THE BOX GREENHOUSE
This greenhouse is just like a box and does not appear to be a difficult option to build. You need 4 PVC pipes, a door and a roof for this kind of greenhouse. You need to select the spot which receives the maximum light. You need plastic to cover the entire structure.
18- MY HOOP GREENHOUSE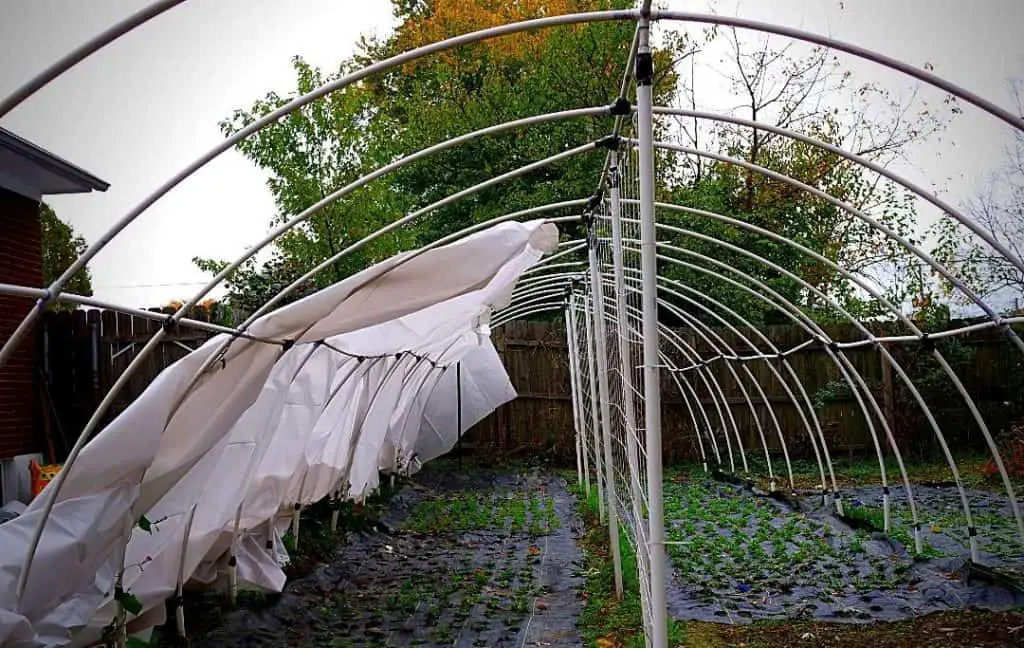 This greenhouse is very unique as you can use waste material to build it.  If you want to create a frame to start planting but your budget is very low then this option is good for you.  Indeed, it may not look pretty but it will perform the function of a greenhouse which you need. 
Read More: Build A Hoop House
19- CASE VERDE- A MODULAR GREENHOUSE
The duration of building such a greenhouse is 2 weeks.  It is a completely modular greenhouse. The first step of the building is to make triangles out of the plastic sheets. You can also create different shapes instead of triangles it is totally up to you and your creativity.
20-  SIMPLE PVC GREENHOUSE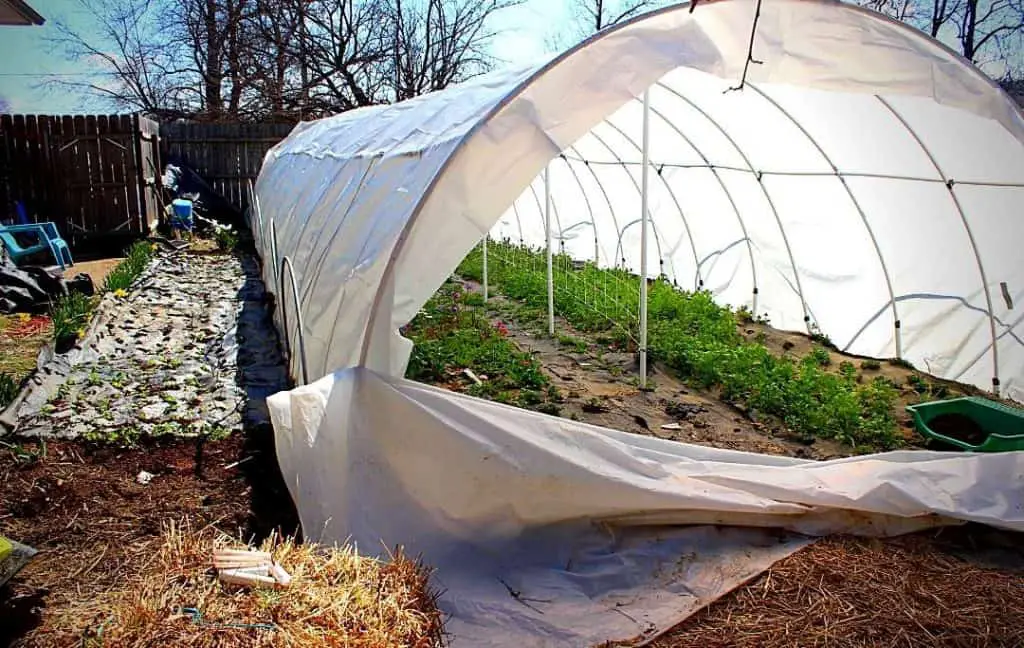 This is a simple greenhouse and you can easily build it without facing any difficulty.  For building it, you need PVC pipe along with a plastic cover.  Your plants will grow well inside the greenhouse as they are protected from the severe conditions of weather.  
---
---