It is very cheap to make compost at home.  A false impression about the compost making at home is that it is a complicated task. If you adopt a wrong way for making it then there is no doubt about this misconception. 
But first of all, you need a compost bin for it's making. There are different kinds of bins available in the market for compost making. You can select the bin according to your needs and requirements. 
Today gardeners want to compose with greater efficiency and ease but in this regard, the decision of a suitable and good composter is very necessary. There are basically three types of composters 
Continuous composters
Batch composters
Indoor composters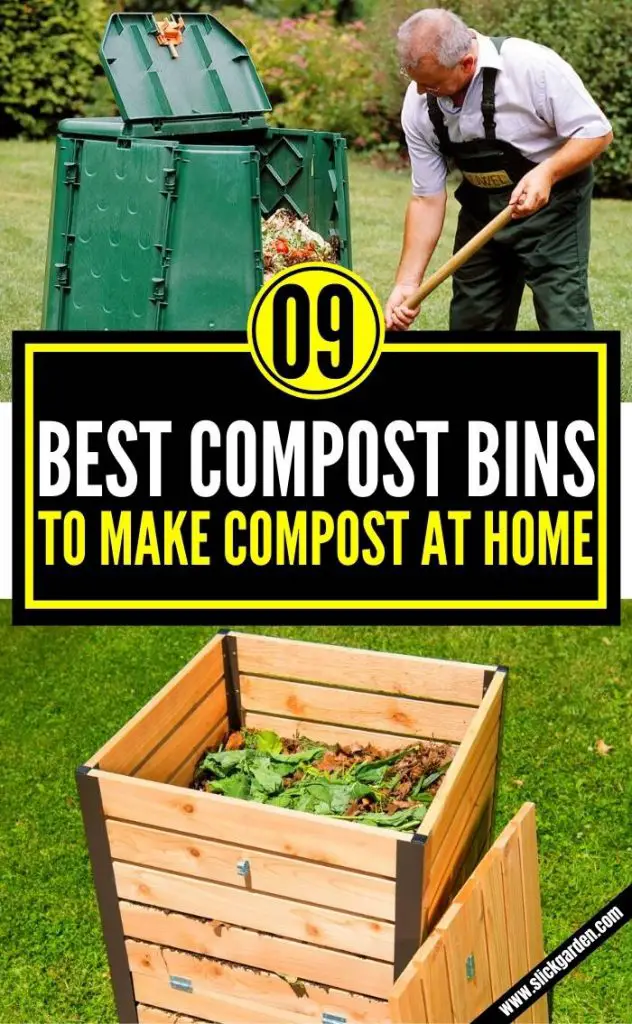 If you want to place your kitchen scraps garden weeds and some yard waste then these enclosed bins are very best the name of these bins is continuous because you can add material in it anytime. 
Compost is created very slowly in this type of composter there is always a sealed lid, so rodents and other critters are kept out from it. It is the best composter because you and your material and forget it does not need any effort don't need to turn it daily.
The gardeners who want the process of compost creating very fast they can use a batch composter, but little hard work is needed for this purpose which is you have to turn it daily and check sufficient moisture for this purpose.  A stockpile can be an open bin, pile, or a continuous composter.
Some people think that it is impossible to make compost at home especially indoor but they are wrong. With the help of specially designed composters and worm bins, you can make your own compost at home. Here are 9 best compost bins that you can purchase from the Garden supply company. 
---
1 – Thermo King 900 Compost Bin
An extra-large container which has insulating qualities, it will help your material to decompose even in winters. It will retain the heat to fasten the process of decomposition and your efficient compost production. The proper ventilation gives it air and its panels give access to adding different materials easily in it.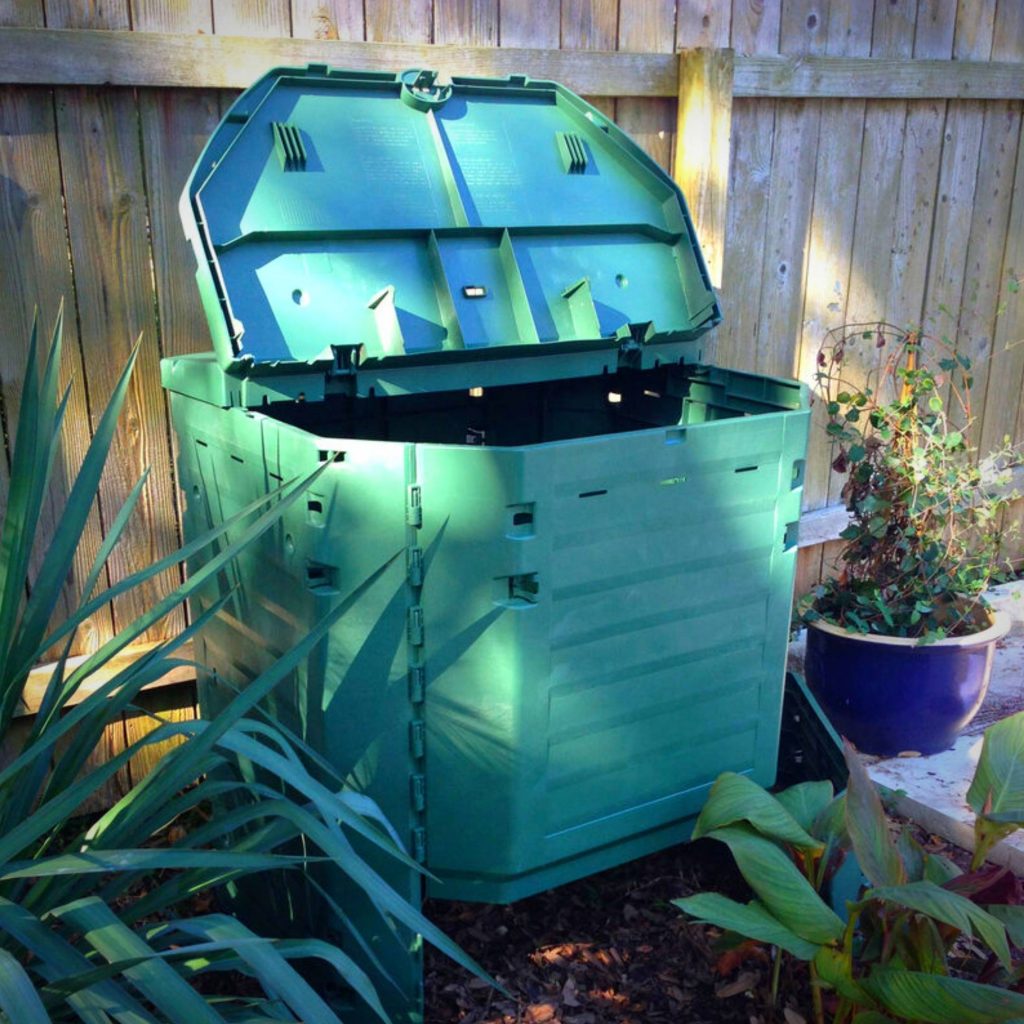 This extra-large compositor has two bottom doors for easy removal of finished compost. It is made from 100% recycled, UV-stable polypropylene. It holds almost 240 gallons 38 cubic feet of compost and its weight is about 51 lbs. Its walls are 4mm thick which makes it extra durable and long-lasting. No tools are required to assemble it. It can easily assemble in 5 minutes.
2 – Aeroplus 6000 3- Stage Compost Bin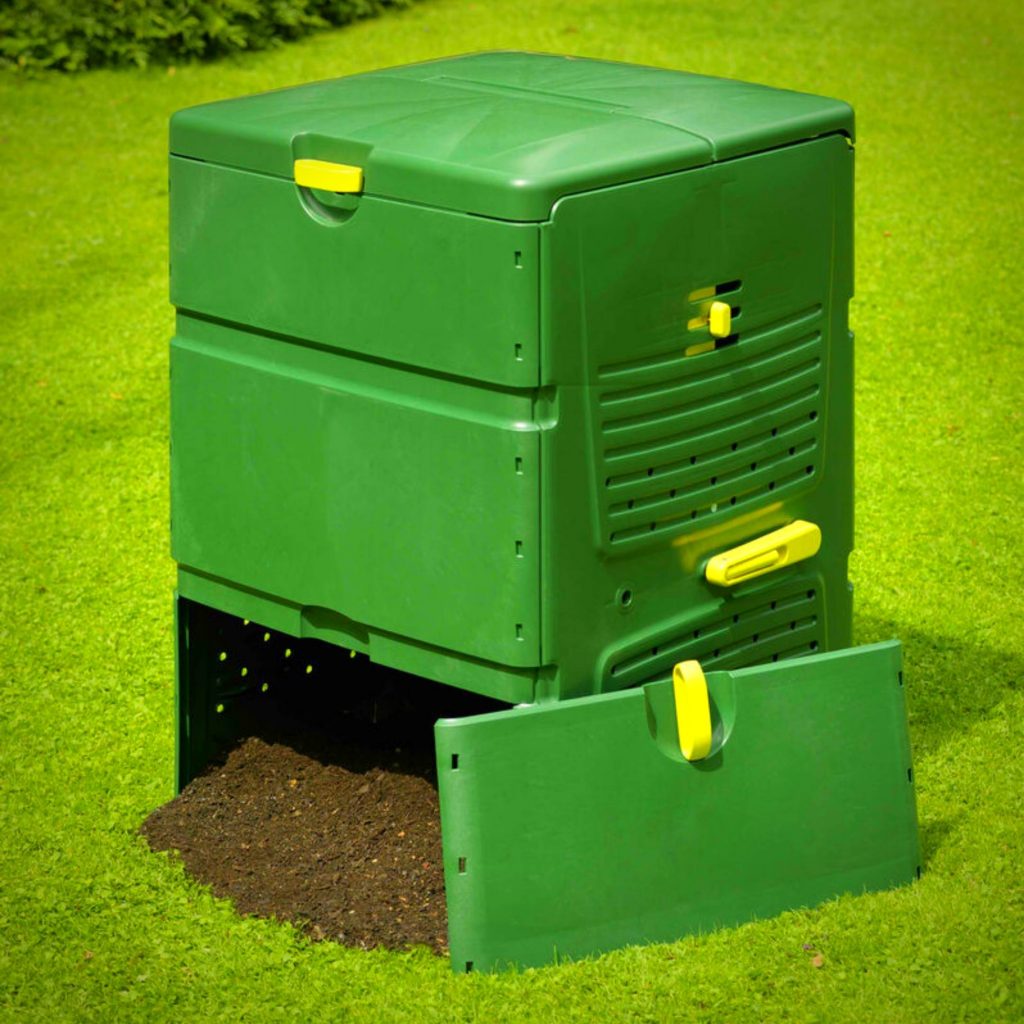 Imagine if your composter has three bins so you can make compost of different materials in one. 3,- state composter gives you high-quality compost with no turning. You can add fresh scraps and yard waste to the top of the composter. There are three stages in the bin. You can easily understand how it works when you  read this explanation:
Stage 1: In the stage when you can easily collect fresh organic matter it is the large top chamber.
Stage 2: In the stage, the breakdown process of waste starts. It is the middle chamber of the composter.
Stage 3: This is the lower chamber of the composter. You can turn the handle and drop all your composted material into this lower maturing chamber.
The place for the fresh scrap is always available in this bin. The supply of fresh compost is never stopped for all types of garden beds and containers. As the material moves between the chambers, the materials get air and fast decomposition takes place in this bin which is the ideal environment for healthy microbial action. There are two large doors on each side for removing fresh compost for your garden.
3 – Cedar Compost Bin
Generally, compost bins are available in plastic. Most people who love natural environments like cedar compost bins. It is different from plastic, long-lasting, natural, rot-resistant, and attractive. When it cooks your compost at that time the bottom access panel locks the critters.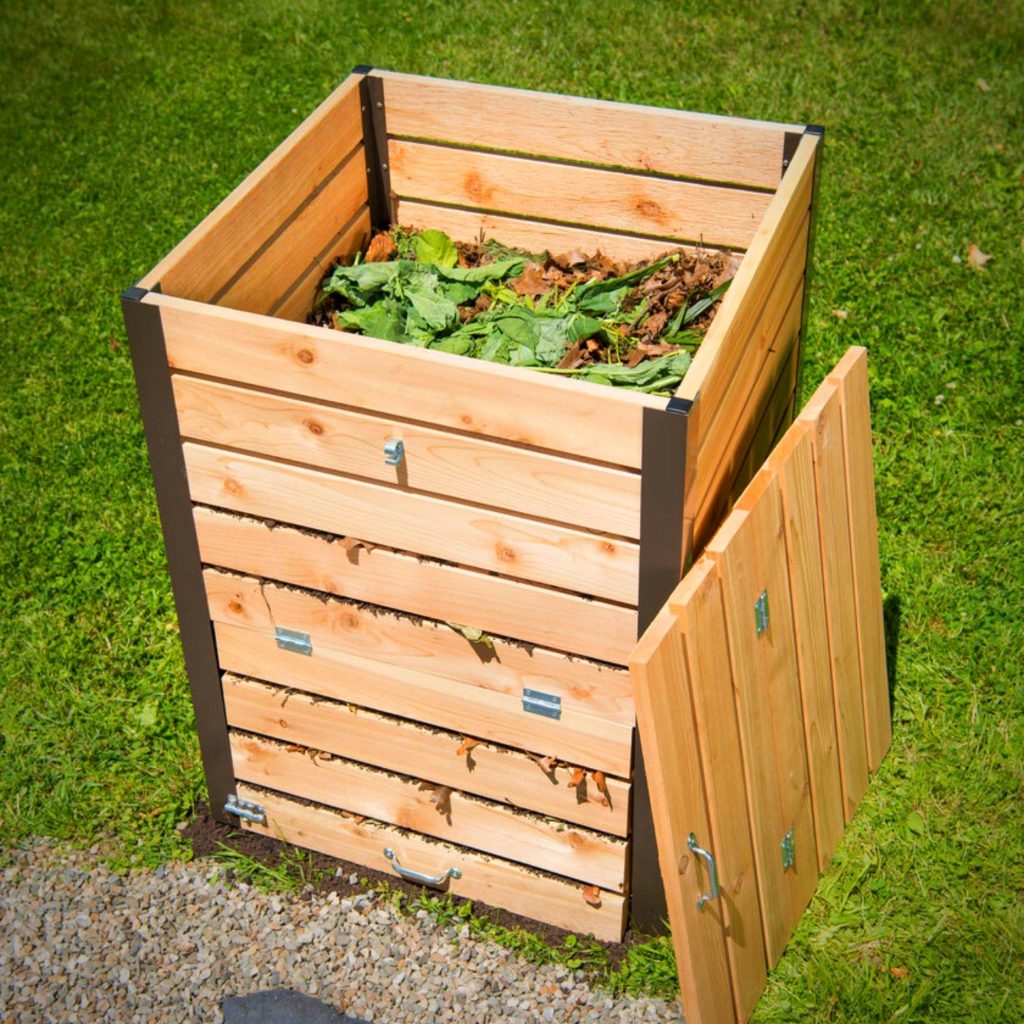 It is just like you build the raised beds for deep-rooted plants for your garden. It's sides provide ventilation and give the way to rain so the process of composting can speed up. You can easily access to its interior part, because of its hinged panel. 
Its unique design helps you to add scraps and brown matter, turning the pile, or removing finished compost. Its capacity is about 16.8 cubic feet. The length of each side is almost 28" and height is 37". It is an attractive addition to your yard so think about it. It is a good option if you are thinking about buying a compost bin from the market.
4 – Green Bin Curbside Organics Collector
This large 12-gallon bin capacity compost bin is designed for easy hauling to and from the street. Due to the wheel, it is easy for us to move it from one place to another.  Easy to handle and different structure from other bins. 
The curbside compost bin has latching lid to critters out. This bin will keep your kitchen scraps till the time come to roll them to the curb. It is made from BPA-free recycled high-density polyethylene. If your program is municipal composting then it is very good to fulfill your intention.
5 – Demeter Metal Compost Bin
As it is evident from the name that this bin is made from metal. It is made from powder-coated galvanized steel and easy to assemble. It has the capacity to hold about 82 dry gallons of compost. Its height is almost 32″, depth is 20″ and weight is 36″. 
It has a small footprint, thoughtful features, and good looks. You can easily use it if your garden is very small. It is best for a Limited area Like other compost bins, it has also a locking door which will help it to keep critters out. 
It has holes which make it possible that air can enter in it and help to cook your compost. If you want to add a large load of leaves or grass clippings, you can easily do it by a two-part hinged lid. This lid is easily removable and helps to prevent animals from getting in through the top.
6 – Exaco Thermo Star 1000 Recycled Plastic XXL Compost Bin
It is an extra-large compost Bin constructed of thermal 100% recycled polypropylene 
(post-consumer plastic). Thermoline is a UV-stabilized and waterproof material. It is durable and long-lasting. It has insulating power which makes it possible to provide heat to your material and they compost it very quickly. 
It will work, even the weather is very cold. There is no need for any tool to assemble it. It can hold 267 dry gallons 35 cubic feet of compost. Its length and width are 51 -1\2″ and height is about 40-1\4″. You can get fresh compost from any side of the bin. The ventilation process is very easy because of the slots in the bin and necessary for cooking.
7- Aero Quick Compost Bin, 187 Gallons
It is made from high-grade polypropylene copolymer. It has 40% recycled material and UV-stabilize to prevent fading. It has two doors that are easy to open and remove the compost. It is very durable and long-lasting because of heavy-duty plastic, with four side panels that have the ability to create high-quality compost. 
Its design is very unique which allows air to continuously flow upward. It has a capacity of 187 gallons of compost, its weight is about 49 lbs, height is 43″ and the length of each side is 37″. You can assemble it according to the instructions. Raccoons cannot enter the bin because of the sliding lock which is designed for this purpose.
8 – Single Bin Wire Composter
It is made from heavy-gauge, powder-coated steel wire and plastic connectors. The length of each side is 28-1\4 and height is about 35-1\ 2 which makes its capacity to hold 16 cubic feet or 102 dry gallons of compost. 
In this unique structure, panels are held by the wire which is wrapped around the plastic clip,s it is very easy to assemble it with little effort if you want it only one type of compost bin for a year so you can store your leaves in every fall. then, a single bin wire composter is the best option for this purpose. You can keep in it, leaves, grass clipping, and garden scraps.
9 – Aero Quick Compost Bin, 77 Gallons
It is constructed with high-grade polypropylene resin with up to 40% recycled material it has a capacity of hold 77 dry gallons of compost. Its waterproof properties  make it different so you can keep it outside without the fear of getting wet. There is a 5mm high great polypropylene copolymer resin that is UV-stabilized to prevent fading. 
Its weight is about 22 lbs, the length of each side is 22-½" and height is 31-½". It is waterproof and very easy to assemble according to the instruction. The air which is entering from the holes makes it possible to cook the composite quickly and completely. Hinged lid not allowed the animals to get inside.
These nine types of different kinds of compost bins have different capacity of holding compost. You can buy it according to your needs and space. If you have a large space you can buy a strong and large composter, for limited space, you can buy a smaller one.