Terrariums are incredible miniature gardens that can help to decorate your house naturally. Terrariums need little maintenance because plants water themselves through condensation and transpiration. 
This is a creative and contemporary way to liven up your house. Most people like to grow plants but they are facing the problem of limited space. In that case, a terrarium is a simple and easy solution to this problem.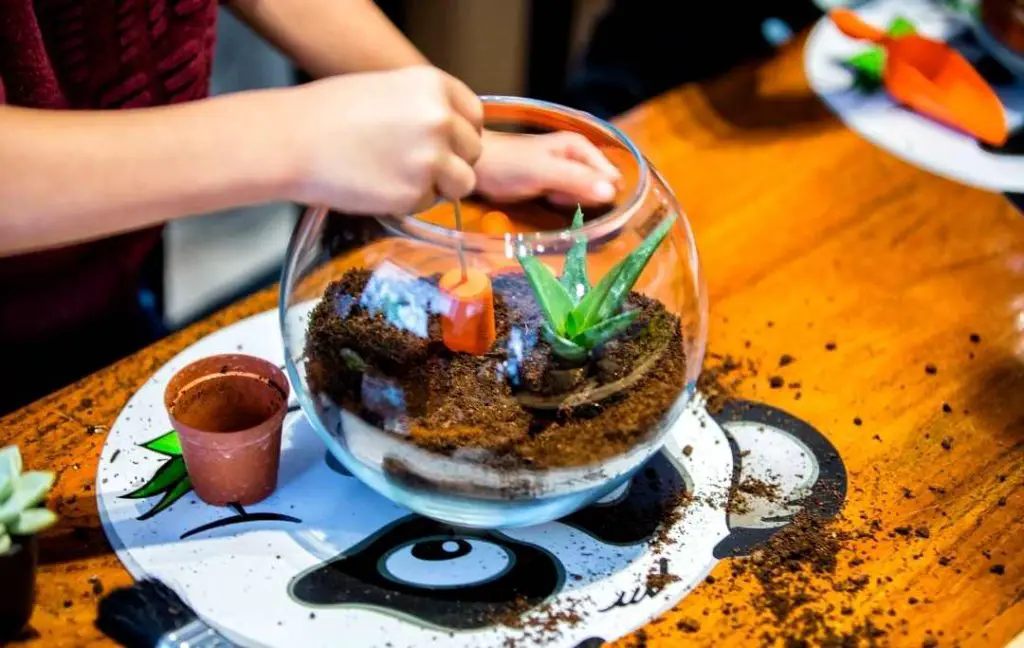 You can grow different types of plants such as succulents, ferns, strawberry begonia, moss, and many more. In this article, we are going to discuss different ideas for creating a fantastic moss terrarium. 
You can decorate an empty table with a moss terrarium. You need a glass case such as a mason jar, bell-shaped glass case, or a fishbowl for creating a moss terrarium. 
Following are some ideas that will help you to create a moss terrarium at home. You can choose one and make a dull room colorful by adding green plants.
1- Fairy Garden Magic
This is a very interesting and creative way of making a moss terrarium. Kids also enjoy such projects especially girls as they love fairy tales. You can combine your imagination and aesthetic sense to create a wonderful and attractive magical terrarium.
2- Led Night Lights
Filtered light is the requirement for the growth of moss. Direct sunlight is not suitable for your moss terrarium. If you keep your terrarium near the window sill then the glass of the window amplifies the sun rays. LED night lights are recommended for growing moss terrarium; they will give your room a sense of nighttime.
Purchase best selling terrariums on Amazon
3- Hanging Moss Terrarium
You can also hang your moss terrarium to decorate your room with this mini garden. You can make a hanging terrarium with the help of a small stoppered bottle and beautiful air plants.
4- Light Bulb Terrarium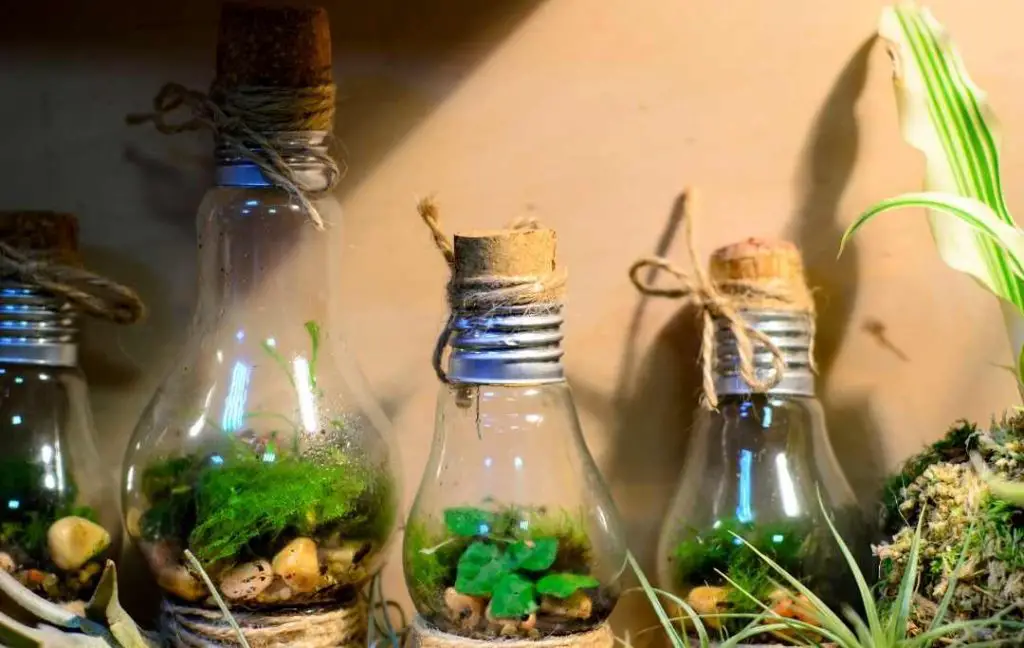 This is a very easy and cheap DIY project. You can make a moss terrarium in a useless light bulb. Recycling is a good way of using things that are not in use and can be a perfect container for moss terrariums. You can use your creativity and make a light bulb a perfect decorating piece. 
5- Terrarium Lamp
You can decorate the boring and empty corner of your room by making a terrarium lamp. This DIY project is perfect for small spaces. Little light and a little greenery will brighten up your room. 
You should choose moss because they need little maintenance. A glass jug or clear container with a lid is best for making a terrarium lamp. You can remove the lid of the container and easily access your moss plants in the terrarium.
6- Diy Miniature Waterfall
This is a stunning moss terrarium. You need a styrofoam board, glue gun, acrylic paint, transparent bottle, high-quality potting mix, stones, and moss to create a waterfall moss terrarium. 
When you add some clear thick glue, it will look like falling water. The first layer in the container is of stones or gravel at the bottom.  After that the layer of soil. Before filling the container with the soil, you can use a fabric or coffee filter to make a barrier. 
Locally harvested moss is suitable for finishing your waterfall terrarium. Moss can easily grow in low light and closed spaces. With proper care and maintenance, your terrarium will last a long time. 
Avoid placing your terrarium under indirect light because it will heat it too much.
7- Using A Glass Container For Making A Moss Terrarium
This is a budget-friendly way of creating a terrarium. You need a glass container with or without a lid, high-quality potting soil, some pebbles, and live moss.  
All these things combine and make an attractive terrarium for decorating your living room. Add a layer of pebbles or gravel at the bottom of the container then pot soil and moss. 
8- Fishbowl Terrarium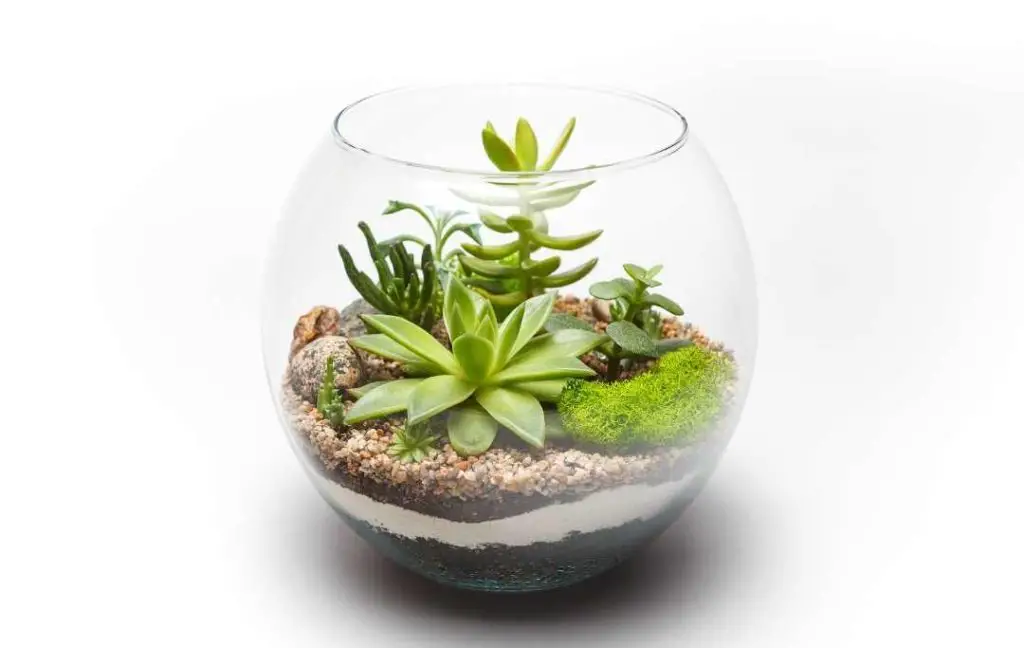 For this DIY project, you need a fishbowl, charcoal, pebbles, high-quality potting mix, and moss. First spread a layer of the pebbles at the bottom of the fishbowl. It is good for drainage. 
Set the pebbles like a ring and fill the charcoal at the center of the pebbles. Now on the layer of pebbles and charcoal.
9- Mason Jar Terrarium
For creating this stunning and inexpensive terrarium, you need glass mason jars, small rocks, potting mix, moss, and gardening tools. Put small rocks at the bottom of the jars then add a layer of potting soil on the small rocks. 
After that add a layer of moss and small plants which are suitable for growing in the terrarium. After planting the plants you should water them so they can adjust to the new environment. You can use the cap of the glass mason jar to keep the terrarium contained. 
Purchase best selling terrariums on Amazon
10- Terrarium Placeholder
For making this beautiful terrarium, you need a glass Christmas ornament, mason jar lid, sticks, and wine bottle cork. First, you should remove the silver from the Christmas ornament. 
11- Mini Magnetic Terrarium
Now fix the jar on the lid and fill the glass ball with moss and sticks. Seal the hole of the glass ball with the help of a wine cork. 
Mini magnetic terrariums are pint-sized packs of greenery that can bring you close to nature. These mini terrariums look exceptional. 
The things you need for making these mini terrariums are open-faced tins, plastic films, white gravel, reindeer moss, and air plants. 
Cut the plastic films according to the size of open-faced tins. After that place a layer of white gravel. Fix the moss and air plants in this terrarium.
12- Spice Jar Terrarium
You can turn the spice jars into fantastic terrariums. This is a simple project, especially for kids. You can green up your living room with tiny terrariums. The interesting thing is that this is a cheap way of making a terrarium. 
Recycling is a good habit and turning useless things into useful is very interesting. First clean and dry all spice jars which you are using in this project. 
You need terrarium soil, polished gravel, and fresh moss. Spread a layer of gravel at the bottom of the spice jars after that terrarium soil and moss. If you want your terrarium healthy then you should spray it every three to four weeks. 
13- Diy Woodland Terrarium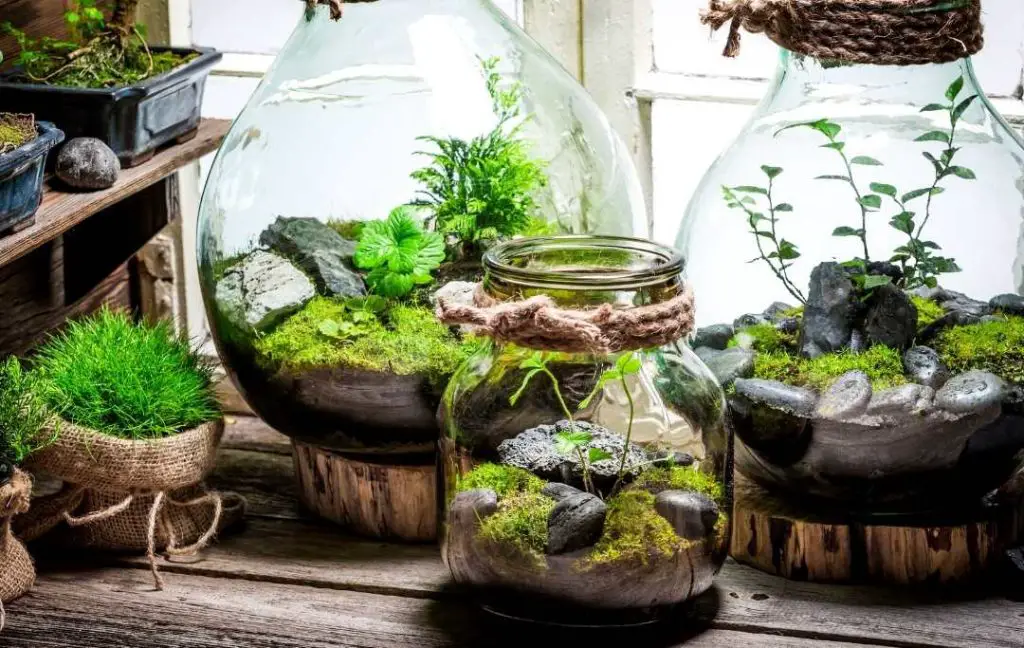 The things you need for creating this awesome nearby woodland terrarium are mini bell jars, twigs, bark, a hot glue gun, gravel, and acrylic paint. You can make artificial mushrooms and create a fabulous mini terrarium. 
14- Diy Hanging Glob And Geo Terrarium
Succulents and moss can create a good combination in a globe terrarium. You need terrarium soil, rocks, pebbles, charcoal, sphagnum moss, and succulents. Arrange all the things one by one in a hanging terrarium. 
You can use shiny rocks and aquarium decoration to make your terrarium stunning. You can show your creativity and aesthetic sense by making this extraordinary hanging terrarium. 
This unique idea will bring beauty and liveliness to your decor. Pick the container and all the necessary things with moss and start creating this wonderful project. This will be a great addition to your living room. 
15-  Diy Terrarium Table
Use your skills and turn a glass cabinet door into an attractive terrarium table. After building your table, you can use moss and other plants, potting soil, charcoal, decorative rocks, and your project will be completed very easily.  
Purchase best selling terrariums on Amazon
16- Picture Frame Greenhouse Terrarium
You can recycle your old useless picture frame into a mini greenhouse terrarium. When you create this terrarium then everyone will admire your creativity. 
If you don't have frames at home then you can also buy lightweight frames. You should use lightweight frames so they can hold together easily with hot glue. 
First, remove the glass from the frames and paint them with the help of spray paints on both sides. When the paint is dry now it is the turn of hot glue to show its magic. 
After joining all the frames with hot glue now it's time to construct your mini greenhouse. You can place small pots with moss and other small plants in this mini greenhouse. 
17- Diy Wire Cloche
This is a wonderful idea for home decor. With the help of chicken wire, pebbles, a serving tray, potting soil, plastic planter liner, rock, and other accessories, moss, and succulents, you can create an amazing masterpiece. 
Take the plastic planter liner and spread the pebbles and layer after that fill the liner with potting mix. Now, this is the time to plant moss and succulents in the soil. Now place the liner in the serving tray. 
According to the size of the liner, cut the wire to create a cylindrical shape. Cut the chicken wire in a circle shape to make the roof of the cloche. This terrarium looks great when you place it in your room.
18- Plastic Bottle Terrarium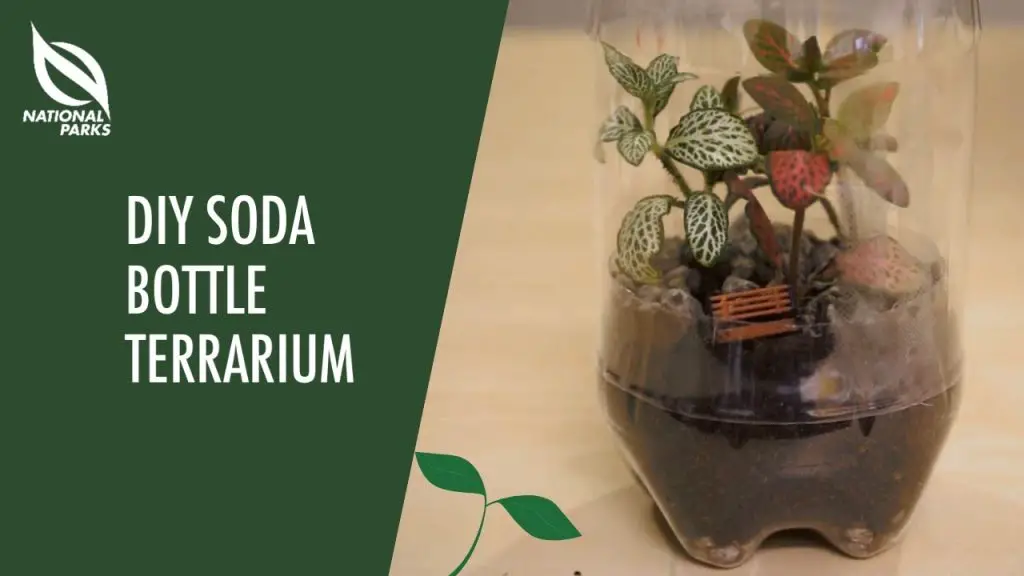 You can recycle plastic bottles and create a beautiful terrarium. The things you need for this project are moss and other plants, pebbles, charcoal, and a 2-liter plastic bottle. 
First, clean the bottle and then start spreading a layer of sand and pebbles. After that spread charcoal and plant your desired plants in it. 
19- Indoor Tabletop Terrarium Water Garden
The things you need for creating this mini terrarium water garden are a wide-mouth vase, charcoal, plastic pots but shorter than the height of the glass vase, plants that can stay in water like fairy moss, water lettuce, and duckweed.
20- Apothecary Jar Terrarium
An Apothecary jar without a lid can turn into an attractive moss terrarium. The moss will keep the soil moist and provide the best environment for succulents.
Purchase best selling terrariums on Amazon
How To Take Care Of Moss Indoor?
Mosses don't need heavy watering that's why they are different from other plants. They live happily in little moisture. Just keep the surface of the moss wet and avoid direct sunlight exposure. 
Only a few species of mosses need little sunlight. For creating an Indoor small terrarium, moss is a good choice. It should be noted that they don't grow rapidly but survive in different weather conditions. In short, most are quite inspirational plants.