Picking fresh tomatoes for your kitchen is not a dream now. In this article, you will get all the necessary information on how to get ripe fresh cherry tomatoes from the vine. 
If you are a beginner then you should not worry it is a productive and vigorous plant to start. A single tomato plant can supply fruit from early summer till fall. 
Cherry tomatoes are bite-sized fruit that becomes mature within 45 to 80 days. The maturity periods depend upon the variety in which you are growing in the greenhouse. 
WHY GROW TOMATOES IN A GREENHOUSE?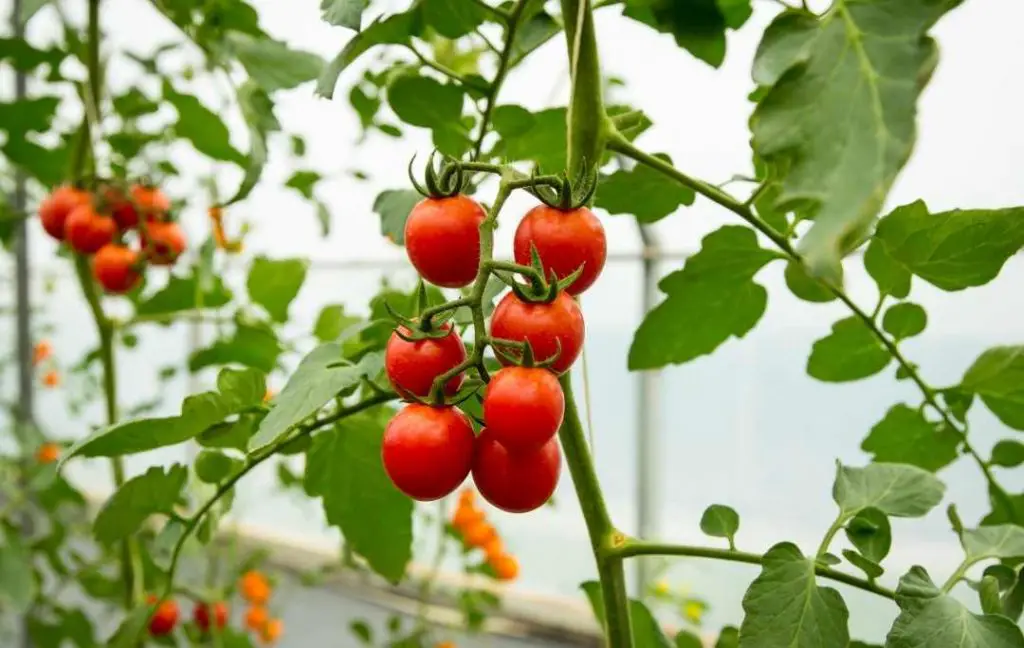 If you want to extend your growing season then a greenhouse is a great option, A greenhouse is the best place for getting a successful crop of tomatoes. 
There are many advantages of growing cherry tomatoes in the greenhouse that's why greenhouse always wins the competition of the best growing place. Following are many reasons and benefits of growing cherry tomatoes in a greenhouse. 
> The first benefit is that you can start growing plants earlier. Start growing season earlier picking the tomatoes earlier. If you are living in a short-season area then you should grow your edible crops in a greenhouse. 
> The second benefit is the long growing season means when cherry tomatoes that were grown outside have long finished, the greenhouse enables you to still pick them. You can extend the harvest season by several months up into late fall. The short duration of the summer months will not limit your harvest season. 
> In the rainy season, your plants are affected because the greenhouse provides a shield from rain. Rain is the reason od drenching the leaves of cherry tomatoes. 
> Harsh weather is one of the big reasons for not getting high production of crops. Wind, thunderstorms, and dust storms can damage your crops if you grow them outside. Greenhouse works as a shelter for your plants.
> The useful structure of the greenhouse retains the radiation of the sun for consistent heat. In hot summers sunlight also become harsh for delicate tomatoes. 
> Greenhouse provides a safe growing environment for tomatoes. It will protect your juicy tomatoes from rodents, birds, and large mammals. There is no danger of potential damage to your edible fruits like tomatoes.
> An enclosed structure such as a greenhouse keeps away insects like praying mantids, ladybugs, and other pests.
> You can maintain the temperature inside the greenhouse for your plants. The best temperature for tomatoes is between 20C to 24C during the daytime. At night the temperature should be 18C. You can use fans for maintaining the temperature in hot summers. 
> Air circulation is very important and you can install exhaust fans for proper air. Another important thing is proper spacing between the plants. If your plants get air for breathing then there is no problem with humidity and diseases. 
DIFFERENT VARIETIES OF TOMATOES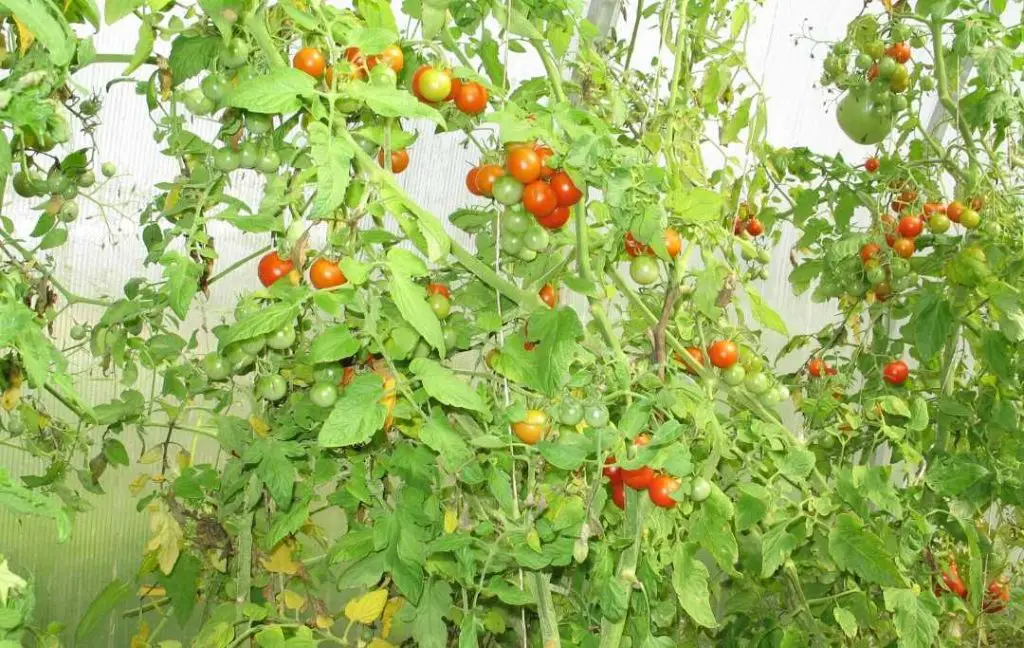 The first step is the selection of variety before started growing cherry tomatoes in a greenhouse. There are many varieties of tomatoes are available in the world. Here we are going to discuss the best varieties that help you in selection. Choose one from the suggested varieties to get a start.
BABY BOOMER
This is a compact hybrid variety that can produce over 300 fruits per plant. You can enjoy fresh tomatoes all summer long and till the first frost, the production will not stop. The maturity time of fruit is 50 to 55 days. 
BLACK CHERRY
This variety has a sweet flavor and firm texture. The one-inch fruits of resistant variety have a deep and dark brown color. The plant can be 60 inches tall. The fruit will be matured in 64 days.
SUNGOLD
Sungold is the most popular variety of cherry tomatoes. The maturity time of this fruit is 57 days. Proper support such as caging or staking is needed for their healthy growth.
POWER POPS
The tomatoes of this variety have a bright red color.  The size of the fruit is about one inch and will ripen in 45 days. The cultivar can grow up to 12 inches high. It is the best choice for those gardeners who are living in our short summer growing seasons. 
ITALIAN ICE
This variety has a sugary sweet taste. This plant can't tolerate the frost and produce fruit until the frost arrived. The fruit is ready to harvest within 65 days and the plant can grow 60 to 72 inches tall. You can use these little treats in your salad or snake. They also give you a fresh taste in your pasta.
GREEN ENVY
This is a hybrid variety that has a delicate flavor. The color of green envy is deep and translucent green. You can enjoy the fruit continuously until fall. This variety is suited to grilling or roasting and adds a fresh flavor to your salad. 
The maturity time of the fruit is between 63 to 70 days and the height of the plant can be read 63 to 67 inches. You should install proper support such as a cage for stakes for this fruit.
TINY TIM
This variety can produce an abundance of deep red fruit. The maturity time of ripened fruit is in just 55 to 60 days. You can easily grow this variety on the patio or in the hanging basket but the greenhouse is the best place for high production. 
GROWING TOMATOES IN A GREENHOUSE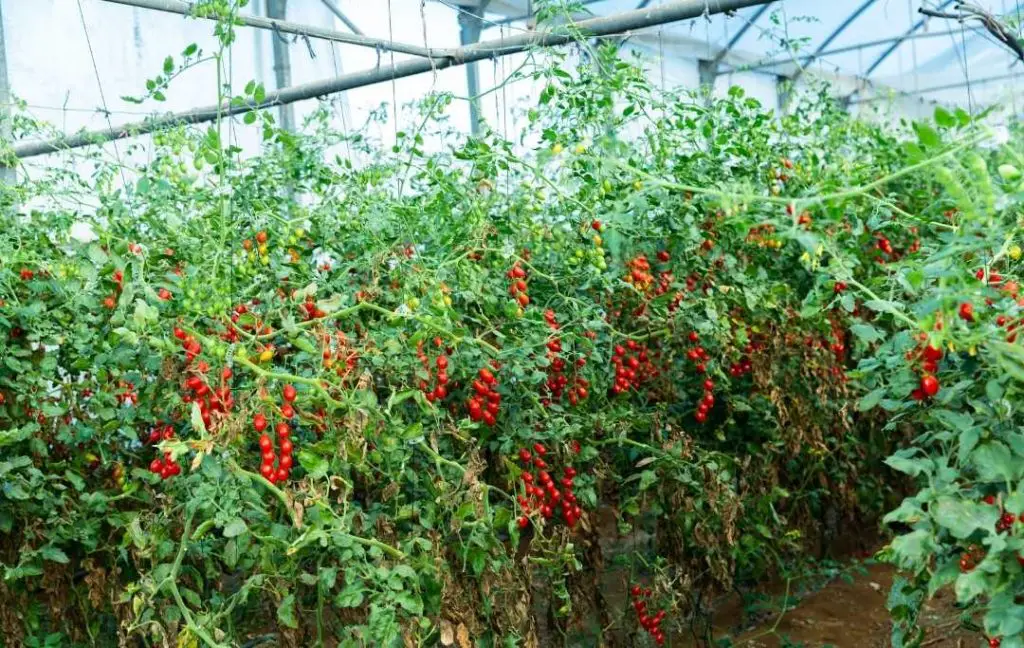 This is a misconception that greenhouse can be used only for growing flowers, herbs, and seasonal crops like leafy green vegetables. You can also grow summer vegetables such as tomatoes and peppers in a greenhouse in late winter or early Spring and later move them outside when the weather warms up. 
If you grow tomatoes outside then it can be challenging for you. Especially if you are living in an area where the weather is unreliable. In a greenhouse cherry tomatoes produce fruitful crops. 
Before starting a crop in a greenhouse, maintain the proper environment for your crop. For example, you are growing summer crops in the fall and thinking that you are growing in a greenhouse so you can start. 
But keep in mind for this purpose, you have to provide artificial light. You can also add heaters and timers to maintain the temperature inside the greenhouse. So you can maintain a temperature of about 22 to 28 degrees in the daytime and 15 to 18 degrees at nighttime.  
SETTING UP
The following are simple steps of preparing the environment in your greenhouse before planting tomatoes.
STEP 1: CHECK TEMPERATURE
Make sure, maintain the temperature in your greenhouse for several months before planting cherry tomatoes. 
If the temperature is low then raise it with the help of heaters or in case of hot summer bring the temperature to the lower end with the help of exhaust fans. 
Maintain the humidity below 90% to prevent your cherry tomatoes from excessive leaf mold. Maintain proper ventilation inside the greenhouse to bring fresh and dry air. 
STEP 2: SELECT TOMATO VARIETY
There are thousands of varieties available in the world. Some of them explained above, choose one according to your climate and choice. You can also ask any local nursery or gardening store about the suitable variety according to the climate of the area. 
As you are growing cherry tomatoes in the greenhouse, so choose that variety that can tolerate greenhouse conditions.
Another important tip is always to choose a disease-resistant variety. 
Indeterminate variety of cherry tomatoes produce fruit indefinitely. But if you are facing a problem of limited space then choose a determinate variety. 
STEP 3: CHOOSE A GROWING MEDIUM
Well-drained soil is recommended for tomatoes. You can use a soil-less mix but the following are some options for you. 
If your budget is low and you want healthy organic soil for your plants then you should use perlite bags or rock wool slabs.
You can also use a 1:1 mix of sphagnum peat moss and vermiculite.
The best option is purchasing a sterilized soil mix. You can also make your healthy soil mix. If you are using your garden soil then never use it without sterilizing.
STEP 4: INSTALL AN IRRIGATION SYSTEM
Most gardeners like to install drip tubing. This will help to provide water to each plant. You can also attach a fertilizer injector to the tubing, it will help to fertilize your plants automatically as well. 
---
Read More: 
---
PLANTING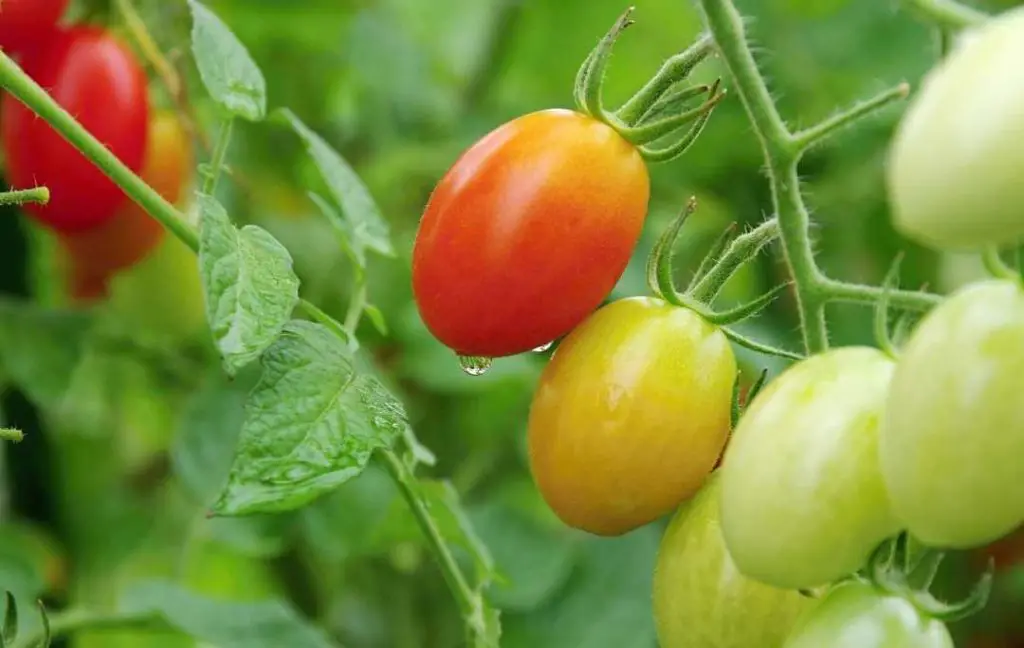 You should follow these simple steps for preparing seedlings of cherry tomatoes. 
FILL A STARTING TRAY WITH POTTING MIX
First, wash the starting tray properly with soap and water. This step is important for disinfecting the tray for sowing seeds.
Now fill the tray with a potting mix which is mentioned above in detail.
In case you are using soil-less mix then it is suggested that you should ass seedling nutrient solution.
PLANT EACH SEED IN ITS CUP
At this stage when your tray is ready with potting mix, poke a ¼ inch hole in each compartment of the tray. Now, drop one seed per hole in the starting tray. A light layer of the potting mix is needed for covering the seeds. 
You should plant more than 10 to 15% seeds in the tray. When the seeds sprout and your seedlings grow taller then discard the weak seedlings and keep healthy ones. 
MOISTEN WITH WATER OR DILUTE NUTRIENT SOLUTION
You can use simple water for moisturizing the soil but seedling nutrient solution is also good for soil-less mixes. In each case, you should damp the soil enough.
 Regular water is very important for the germination process of seeds. The dilute nutrient solution has calcium and magnesium which is ideal for Cherry tomatoes. You will get all the information and instructions on the label of the solution.
KEEP THE TRAY ON A WARM WINDOWSILL
Keep in your mind that do not bring the seeds in the greenhouse without sprouting.  When the seeds sprout then you can keep them. The cherry tomatoes need plenty of sunlight and suitable temperature during the day. 
The best temperature for growing them is about 75 to 80 degrees Fahrenheit or 24 to 27 degrees Centigrade.
You can control the temperature by placing the tray in partial sun. When the seeds sprouted then you can expose them to full sun. This process takes 5 to 12 days.
TRANSPLANT TO LARGER CONTAINERS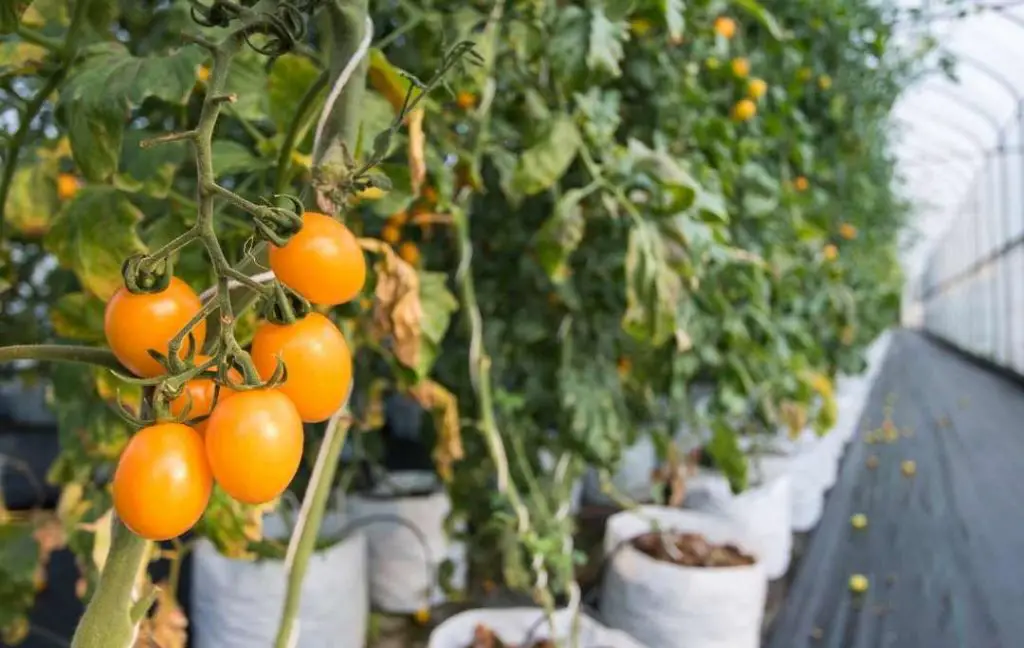 The best time for transplanting the seedlings to pots is after two weeks when they emerge from the seeds. When the seedlings are 4 to 6 inches tall then you can transplant them to larger pots or containers. 
At this stage, your seedlings are about six to eight weeks older. Remember, if you will grow your cherry tomato plants in smaller pots then they will produce less fruit.  A typical plant usually needs half to 1 cubic foot of potting material.
Plant tomato plants in proper space, generally, 4 square feet of space should be left between two plants. If plants are too close then it will reduce airflow and encourage disease.
HARVESTING OF CHERRY TOMATOES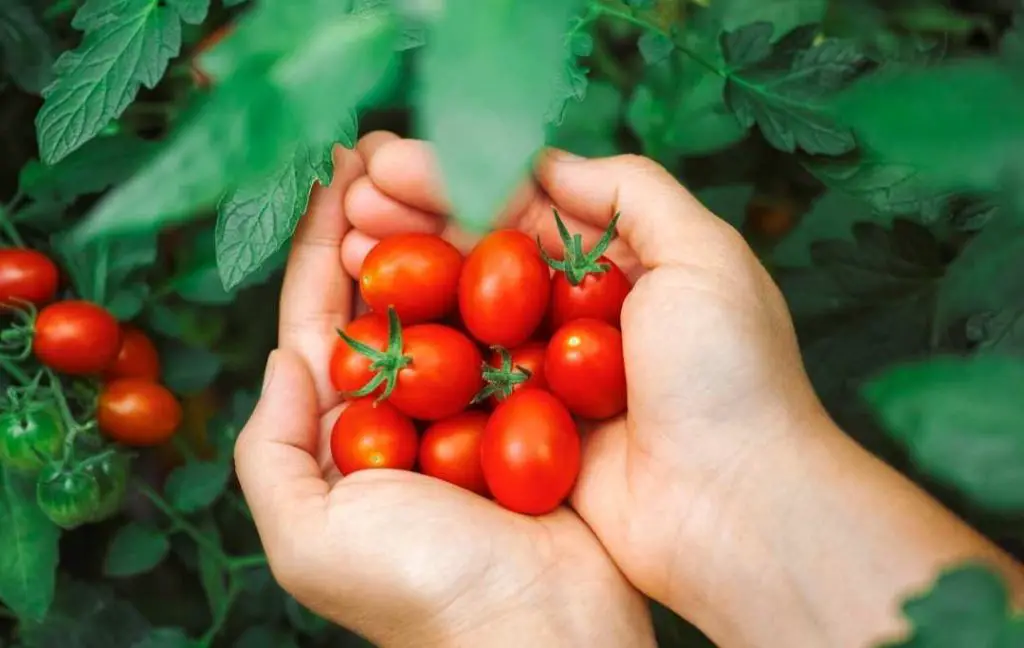 Now your crop is ready and you can pick your fruit. Here are some tips regarding harvesting cherry tomatoes, hope this information will help you.
If tomatoes stay longer on the vines then they become redder and fuller. Commercially growers typically harvest the tomatoes early. The color of the fruit is about 60 to 90% red but they pick them. The reason is that they need time for shipping. 
When you see the tomatoes are well colored then this is the best time for picking them.
 After 4 to 5 months of sowing, your crop will be ready for harvesting. The harvesting time depends upon the variety which you choose for growing in your greenhouse.
 You can also harvest the tomatoes when they are green because you can also make green tomato jam from them. This jam is very delicious and you will love it 
Read More: