Succulents are best for growing as houseplants or outdoor plants. You can grow succulents in any type of pot or container. They come in different sizes and beautiful colors which will change the look of your garden or living room. 
The texture and shape of this stunning plant are very attractive. You can start these low-maintenance plants in containers or ground. These plants can tolerate drought and heat, these qualities make them easier to care for. 
In this article, we are going to discuss some interesting ideas for decorating your containers with succulents. All the ideas are very unique and simple so you can choose any and decorate your house with attractive succulents. 
1- Succulents On The Half Shell
The clamshells with succulents can be used for decorating your table. You can grow different succulent plants or only use one type in the shells. You should use a potting mix for growing succulents so they can grow well. 
Make sure that the container which you are using has drainage holes. If you find there are no holes at the bottom of the container then you can punch or use a drill to make holes. Drainage is very important to keep any plant healthy.
Sunlight is the key to growing plants healthy but if you are living in a hot climate then you should keep the plants in partial shade. Overwatering is not good for any plant so avoid it. Keep the soil moist by checking it with the help of your finger. If the soil is not wet then don't water the plants.
2- Succulent Concrete Container Idea
You can use cute mini concrete planters or containers for growing succulents. You need two recycled cartons and containers for this DIY project. One carton is bigger than the other. 
Now cut off the extra part of the cartons. Add water to the cement mix to make concrete. fill half of the larger container with mix and after that push the smaller container into the center of the larger one. Make sure there must be a half-inch space on the bottom. Leave them for 24 hours. 
It is dry When you see it is dry then carefully remove both cartons by twisting and tearing. With the help of sandpaper, you can smooth the surface of the concrete planter. You can paint this mini planter or use it without painting it. It's up to you.
3- Succulents In Spray-painted Pots
If you have simple terracotta pots then you can transform them with your painting skills. You need spray paint, paintbrush, tape, and white paint for this easy and creative project. 
Paint your pot by using spray paint. When the first coat of the paint is dry then again do your second coat. When the paint is dry then take two strips of the tape and make a triangle. 
Fill the triangle with white paint. Four complete coats of white paint should be done. When the paint is dry then peel the tape from the pot.
4- Succulents Arrangements In A Glass Container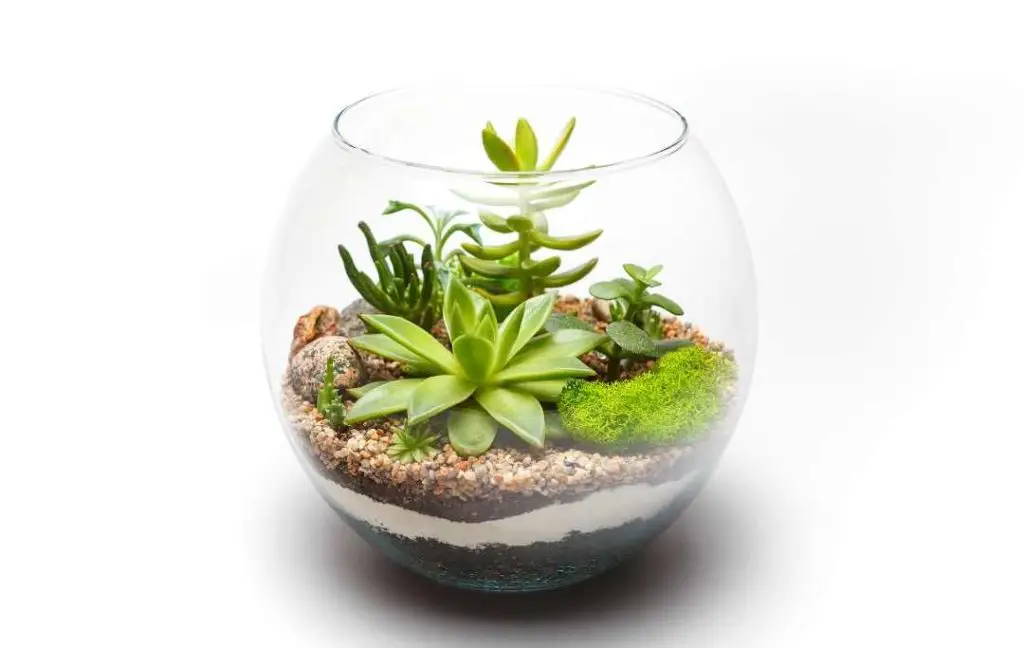 You can use a mason jar for growing succulent plants. You can make a beautiful pineapple container. You need a mason jar and yellow paint for this purpose. 
Paint the jar with yellow color after that fill it with potting soil and plant succulents. Now you will get a perfect pineapple look when your succulent plant will grow. 
5- Glass Candleholders For Succulents
You can use glass candle- holders as containers for growing succulents.  If you are an indoor Gardner then this idea is best for you. You can reuse candle jars. In this way, you will save your money and get beautiful jars without spending a single penny. 
First, you should clean the candle jars. Cover the jar in foil and put it into a pan. Oven them so the wax will melt.  At this stage, wipe the interior with the help of a paper towel.  Now your jars are ready to use. 
For growing succulents in the jar, you need smaller stones, potting soil, and small succulents.  First, put the rocks at the bottom but less than one inch.  After that, fill the jars with potting soil.  Now plant your succulents and press the soil gently. A windowsill is the best place for your jars to get sunlight. 
6- Succulent Plants In A Strawberry Pot
Strawberry pot looks fabulous when you grow succulent in it. The size of this pot is medium and it can hold lots of plants. Make sure your pot must have drainage holes because succulent plants don't like to be too wet. 
With the help of a drill, you can make some holes. Now fill your strawberry jar with potting soil. All the pockets of the pot should be filled well.  at the top of the strawberry, you can plant the largest succulent.  
You can plant smaller succulents in the pockets.  After planting, water the plants gently.  Succulent plants need moist soil but not wet. If you are living in a cold climate then you should plant succulents inside your home. 
7- Hens And Chicks In An Old Metal Basket
If you have an old metal basket then you can use it for growing succulents. Soak the moss in water and after that squeeze the excess moisture. The next step is lining the basket with damp moss. 
Now fill the basket with potting soil without disturbing the moss liner. Now plant hens and chicks in this metal basket. These sorts of succulents multiply them rapidly.  
Make sure your plants get sunlight and be protected from strong wind.  Water your plants when you feel the soil is dry.  You can use diluted liquid fertilizer or fish emulsion for feeding. 
8- DIY Succulents Wall Planter
You need an upcycled shadow box for this project. The shadow box will turn into a beautiful wall planter. First, remove the glass from the frame.  take the chicken wire that has larger holes and cut it according to the size of the frame. 
Staple the wire in the frame to fix it. Now down the face of the frame and add the moss then the soil. From the holes of the wire plant the succulents and fill up the frame. Left space around each of the succulent plants. When they grow, they will get space and fill the frame. 
9- Mini Teacup Succulents Planters
For this simple and easy project, you need vintage teacups,  small succulent plants, mini gravel, and potting soil. Add a layer of mini gravel to the bottom of each cup. 
When you add gravel to the cups then there is no need for drainage holes at the bottom of the teacups. The water will drain easily without drainage holes. Now add a one-inch layer of potting soil in the teacup. 
After that, place the plant in the center of the cup.  Fill the surrounding area of the plant with the potting mix. 
---
Did you know you can shop for succulents on Amazon!? Click here!
---
10- Unicorns Pots With Succulents
You need terracotta pots, hot blue, paint,  paintbrush, scissors, and last but not least succulent plants. Paint your Terracotta pots with white color. It is suggested that you should use two to three coats of paint. 
When the paint is completely dry. Cut a leaf shape from green cardstock. You need at least two to three leaves for each pot.  After that you need a horn,  you need gold glitter cardstock for making a triangle shape for the horn.   
Now make paper or fabric flowers and paste them with the help of glue on the top front of the pot. Paste the horn at the center to look like the Unicorn. With the help of a pencil draw eyes onto the pot. 
After that trace over the pencil with black paint or a permanent marker.  For making rosy cheeks, you need pale pink paint. Dip your fingertip in the paint and make rosy cheeks. 
Now your pot looks like a Unicorn. Fill it with potting soil and plant your succulents. When you see the soil is dried then water your succulent plants.
---
Read More
---
11- DIY Copper PVC Wall Planter
This is a very delightful way of displaying your beautiful succulent plants in your home. This wall planter will become a modern art piece in your living room. 
You can make this easy DIY wall planter effortlessly. If you want to decorate your house in a new way with indoor plants then this is a great idea for you.
You need PVC pipes, metallic copper spray, and elbow fittings to create this masterpiece for your succulent plants. Assemble the pipes according to your design. 
Use copper spray paint to give a  stunning look. When the spray paint dries then you will be surprised to see that your wall planter gets a beautiful copper color. 
Now filter pipes with potting soil and plant your favorite succulents in each pipe. With the help of the hammer and nails, fix the planter on the wall. 
12- DIY Hanging Plant Holder
You need 6 straws, golden spray paint, golden wire, scissors, and a small terracotta pot with succulents. First, paint the straws and let them dry. Cut each straw in half so you will get 12 pieces. 
Take 4 pieces of straw and insert each of them in the wire. Now make a square shape by wrapping the wire extremities together. Now you need pieces of stores and insert the wire and cut.  
The next step is to fix the extremity to a corner of the square and the other extremity to the other corner on the same side of the square. Repeat this step with the other two pieces and attach them to another side of the square. Join these two triangles with a little piece of wire. Again repeat this process, on the other side of the square.
Now put the small terracotta plants in this hanging structure which you made with wires. Take wire to hang this cute hanging planter. 
13- DIY Shamrock Succulent Wall Planter
This is a unique way of displaying your succulents. First, cut your design of shamrock on plywood. Use a drill machine to make a hole so you can easily thread the scroll saw blade through. 
When you cut your design then paint the wood. Then add the frame which is according to the board and sides. Leave a gap in the back so we can fill it with soil. 
You can use a glue gun and nails to attach everything to make your planter. Now add chicken wire and fit it inside your frame. Add a layer of moss and after that potting soil. Now plant your succulents in the wall planter.  
Did you know you can shop for succulents on Amazon!? Click here!