For your home decoration, you can use terrarium miniature gardens.  If you like gardening and have creative skills and aesthetic sense then you might be interested in spending time designing beautiful terrariums.  
Miniature terrarium gardens enhance the beauty of your drawing and living room.  Your imagination and creative ideas will turn into fascinating artwork. 
A  terrarium miniature garden is an ecosystem of plants in a transparent container or jar or round glass globe. In a terrarium, you have to arrange plants in such a way that they give an attractive look and feel of a miniature garden.  
You can use a combination of moss, soil, sand, gravel, and different decorative beads as a base. You can create a gorgeous miniature word in a glass container.  
Instead of purchasing expensive decoration pieces for your living room, you can create a small masterpiece to draw the attention of your guests. 
For creating an appealing design terrarium you have to work hard.   First, you have to think about an interesting idea to work on it. If you don't know where you have to start then we are going to give you some interesting ideas. 
For this purpose, you need soil, moss,  tropical plants such as cacti and succulents, decorative rocks, and pebbles to create a miniature garden for your living area.
1- DIY TERRARIUM PLACEHOLDER
If you want to make your table setting appealing then choose the idea of a terrarium. You need a clear glass ornament,  sticks,  mason jar lid, moss, cork,  thread,  flash card, and paper flowers. 
The first step is removing the silver hook from the Christmas ornament. The platform for the glass ball is the mason jar's lid. You need sticks and moss for filling the glass ball. 
For adding colors to this terrarium, you need paper flowers after that seal the glass ball with the cork.  To make your terrarium more attractive you can tie a ribbon or a string. 
2- MINI FAIRY GARDEN
You can add a fairy tale effect to your terrarium by adding miniature scenes with figures. The same can be a forest with little mushrooms or a beautiful landscape. Little fairy figures will make a perfect miniature fairy garden in your terrarium. 
3- BIOACTIVE TERRARIUM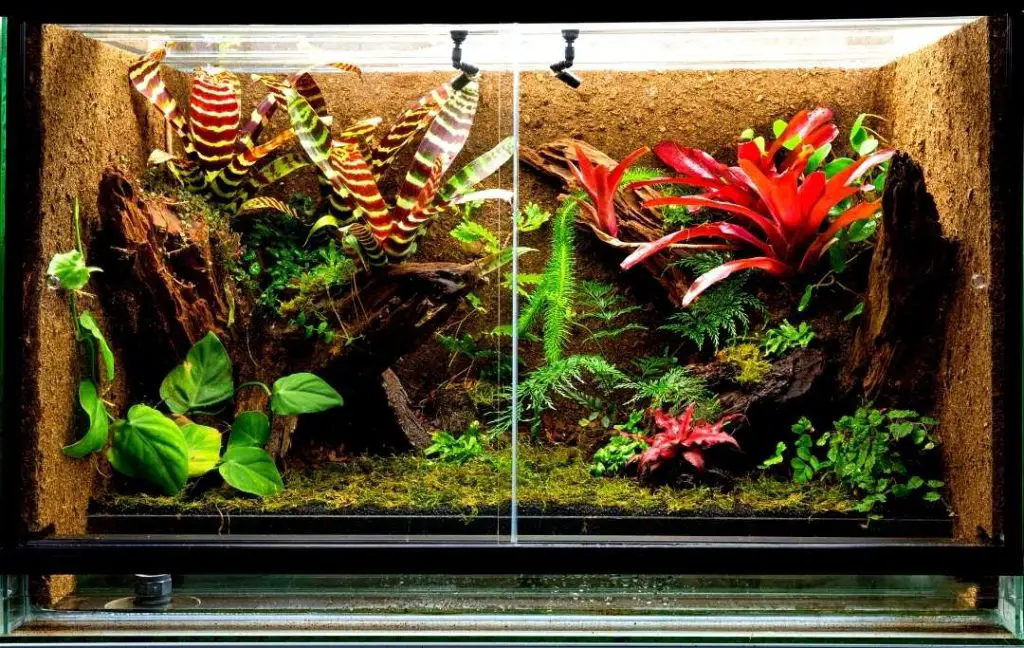 A bioactive terrarium is a combination of small invertebrates,  microorganisms, and living plants.  In this terrarium, the waste product will be broken and used. 
Microorganisms and bacteria help to break down waste. The nitrogenous waste is easily absorbed by the plants in the bioactive terrarium.
4- LIGHTBULB TERRARIUM
As we are using LED lighting so the old incandescent bulbs are useless now. You can use these bulbs for making mini terrariums. First, remove the innards of the bulb. 
Now dispose of the filament and broken glass properly. Now your lightbulb vase is ready for planting air plants with sand and moss.  You must use their plants in the terrarium because they get all the nutrients from the air and they don't have a proper root system.  
You should not use live moss or soil in your tiny terrarium.  You can use spray water to water the plants in the terrarium once a week then your terrarium will live happily. You can also use a few items such as small toys and beads to decorate your terrarium. 
5- FISHBOWL CACTUS TERRARIUM
If you have an old fish bowl then you can make a cactus terrarium in it. The things you need for making a fishbowl cactus terrarium are charcoal,  potting soil, sand, some rocks, and cactus plants.  
First spread the layers of charcoal and rocks on the bottom of the fish bowl. After that, put some potting soil on the layer of rocks and charcoal.  Now plant your favorite cactus in the bowl and cover them with little potting soil. For decorating your terrarium, you can also use seashells and beads. 
6- MINI LANDSCAPE TERRARIUM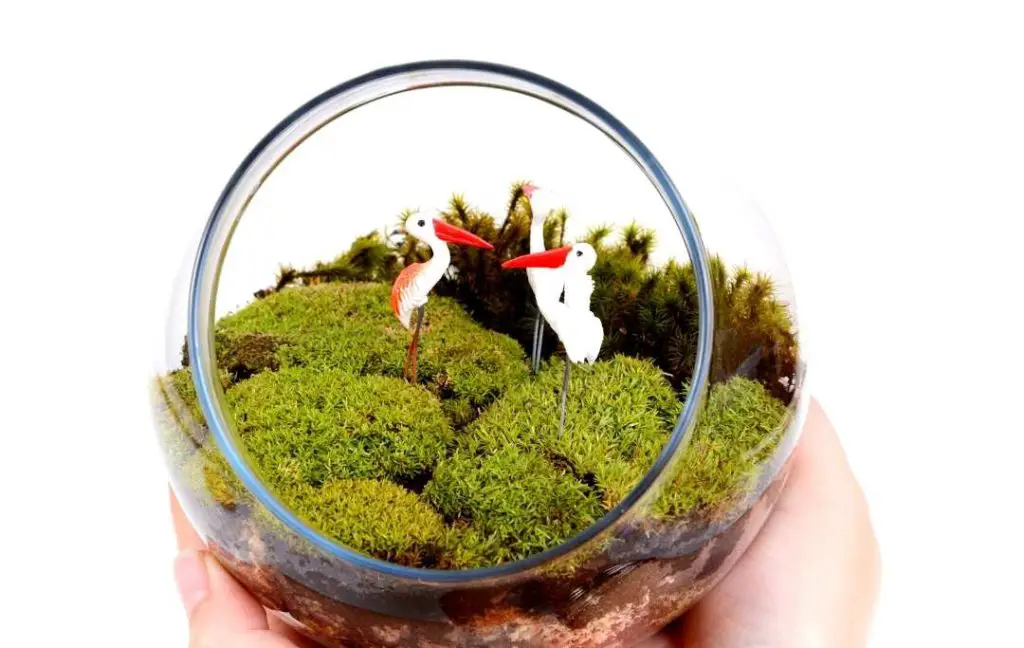 You need inexpensive plants and a glass jar with a lid to make a landscape terrarium. The other things you need are potting soil, dark rocks, charcoal, and succulents. 
For decoration, you can use crystals or sea glass and moss. First place a layer of dark rocks at the bottom of a vessel for drainage. Now apply a layer of charcoal to the dark rocks so they can absorb excess water and moisture.  
It also helps to protect your plants from root rot. Now put a thick layer of high-quality potting soil. First, you should plant larger succulent plants. After that, fill the gaps with smaller succulent plants. Now you can use many decorative items to make your terrarium more attractive.
Purchase Best Glass Terrariums On Amazon
7- DIY MINIATURE WATERFALL
You can create a beautiful mini terrarium of waterfalls in your house. Take a bowl of glass cloche. You need styrofoam to make rocks. Randomly layer the rocks so they look natural. 
You can use hot glue to join the pieces of styrofoam. The next step is painting the rocks with grayish acrylic paint. For creating a natural waterfall you need strips of plastic bottles. 
Allow a candle to melt over it so a perfect waterfall can be created. Now fill the container with stones, gravel, charcoal, damp soil, and plants. 
8- RECYCLED PLASTIC BOTTLE TERRARIUM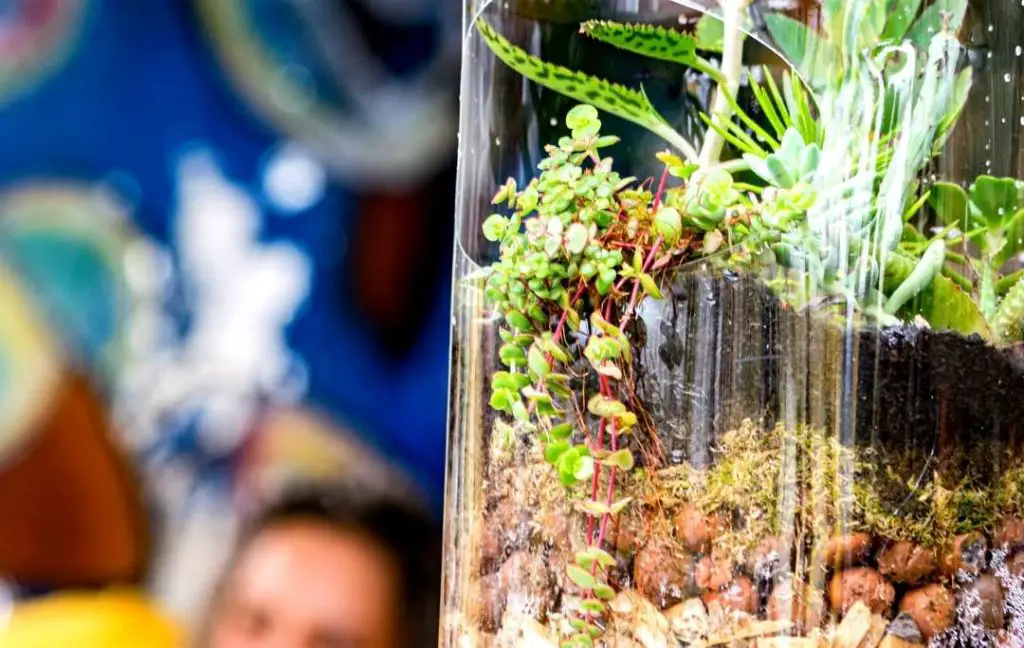 When plants and recycling merge then it will create a Masterpiece.  This can happen when you use useless soda bottles for creating a unique bottle terrarium. Select the best type of soil and plants for your terrarium.  
It is better to choose humidity-loving plants because they can easily adjust to the environment of the terrarium.  These plants can thrive well in a sealed enclosure jar or container.  
Nutrient-rich organic soil will provide all the essential materials to your plants. If you add charcoal so your plants will absorb water according to their need and mold will not grow in the terrarium. 
9- HANGING TERRARIUM
You can create an attractive hanging by using an antique mason glass jar. You can simply screw in the wood ceiling of the bay window so you can hang your terrarium. 
The plants will also get enough light from the window. When you are using such glass jars for making a terrarium then there are no drainage holes at the bottom.  For drainage, you can use some small rocks to the bottom.  After that, put the cactus potting mix. 
Two mini plants are enough for such a terrarium.  Don't use large and overgrown plants. For making your terrarium more attractive, you can use different colors of rocks and moss.  
This will add more visual interest to the terrarium. For watering your Mini plants in the terrarium you can use a mister sprayer.  avoid overwatering because the wet potting mix is not good for your mini plants. 
Purchase Best Glass Terrariums On Amazon
10- SAND ART TERRARIUM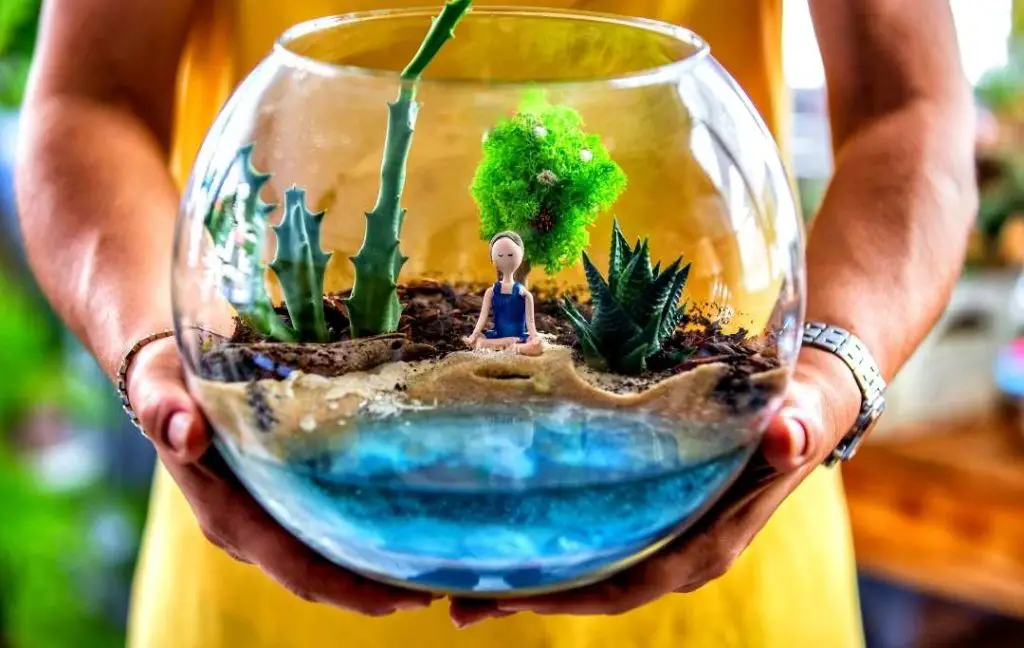 The things you need for creating a sand terrarium are glass containers,  charcoal, aquarium gravel,  potting soil, colored sand,  crushed glass for decoration, and finally desert plants.  
You can choose any size of glass container for making this interesting terrarium. Applying one inch of aquarium gravel at the bottom.  After that, you should add a layer of charcoal with the help of our spoon.  
If you want to keep your terrarium fresh and clean you should use activated charcoal. At this stage, you can add high-quality potting soil and desert plants to the terrarium. Now decorate your terrarium with the help of all the items you gathered the colored sand and crushed glass pieces.
12- DIY GEOMETRIC TERRARIUM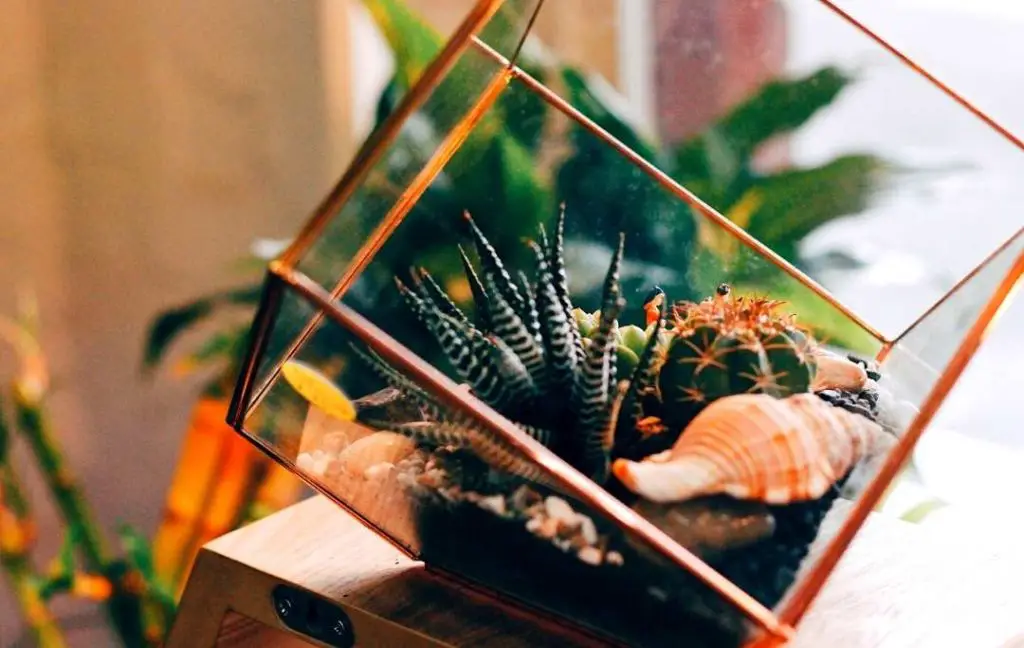 Geometric terrariums are so attractive that they bring liveliness to your decor. It is suggested that you should use succulents for your geometric terrarium because they can easily tolerate drought. 
The other things you need are cactus soil, sphagnum moss, rocks,  charcoal,  decorative accents, and sand. First, add a layer of small rocks then charcoal or carbon pebbles after that fill your terrarium with cactus soil. 
13- COFFEE POT TERRARIUM
A coffee pot terrarium is a unique idea. Take a coffee pot and wash it with warm soapy water, let it dry, and apply an inch of a layer of sand. You need some river rocks on the layer of sand. 
Take two air plants and place them inside the terrarium.  For decorating your terrarium, you need desert rose crystals and place them between both air plants. The extra bit of moss and a large aqua quartz crystal will make your terrarium more catchy. 
14- TERRARIUM LAMP
Another unique idea that is added to our list is the terrarium lamp.  Light with greenery will brighten up your living room.  When you add air plants and moss to the terrarium lamp then it looks fabulous. 
You can easily create this without any skill. For this terrarium, you need a lampshade,  lamp kit,  light bulb,  glue gun, clear glass container, moss, sand, air plants,  rocks, and some gems for decoration. Fill your container with sand, rocks, colorful moss, and air plants. 
You will get all the instructions with the lamp kit.  you have to just assemble the lamp according to the instructions and tips.  After assembling, add the light bulb. 
With the help of a hot glue gun, you can join the top lid of the container and the base of the lamp. After that add the lamp shade to complete your project.
Purchase Best Glass Terrariums On Amazon
15-  INDUSTRIAL TIERED TABLETOP SUCCULENT GARDEN
This is an amazing way to decorate your living room with a tabletop school and garden. It is recommended that you should choose succulents for your terrarium because they are the easiest plants to keep alive. 
When industrial metal tubes are used for growing greenery then it looks gorgeous. The things you need for this project are galvanized vent caps, round aluminum tubes, and rubber washers. 
First, you should cut your pipe and aluminum tube with the help of a miter saw. Thread the road through the end cap and secure the pipe with a nut. At this stage, you should add a rubber washer to the rod and then add a metal tube on the top. 
A smaller galvanized cap will be secured with a brass nut and then add another piece of aluminum tubing. Now add gravel, dirt, and succulent plants to complete your project.