Well, drained soil is necessary for growing most of the vegetables.  But some people are living in such areas where they are facing the trouble of dealing with clay soil. I know it is not an easy task to deal with clay soil but if you follow some precautions then your problem can be solved. 
Clay soil has many benefits such as it is a great source of nutrients but without maintenance and care, these nutrients are useless. If you want to take advantage of such type of soil then aeration and the addition of proper amendments are essential.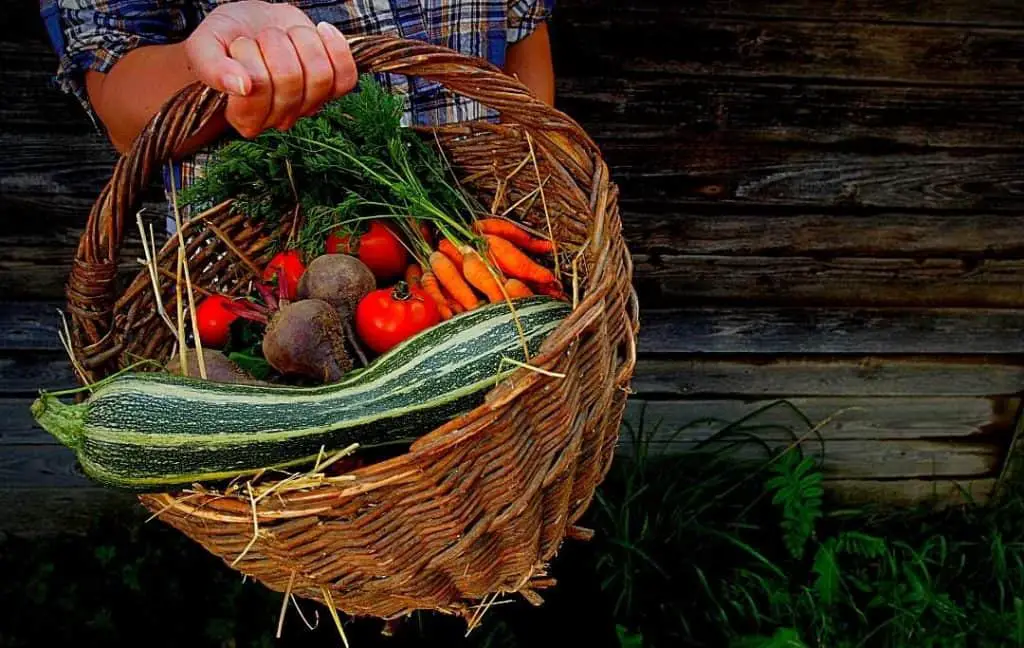 Clay soil is not easily manageable but it doesn't mean you can't grow vegetables in this soil. Shallow rooted vegetables can take advantage of the heavy clay soil.  Some plants like radish and potatoes help to break up such types of soil.  It is not possible to grow early spring plants in clay soil because it takes a long time to warm. 
WHY CLAY SOIL IS FRUSTRATING?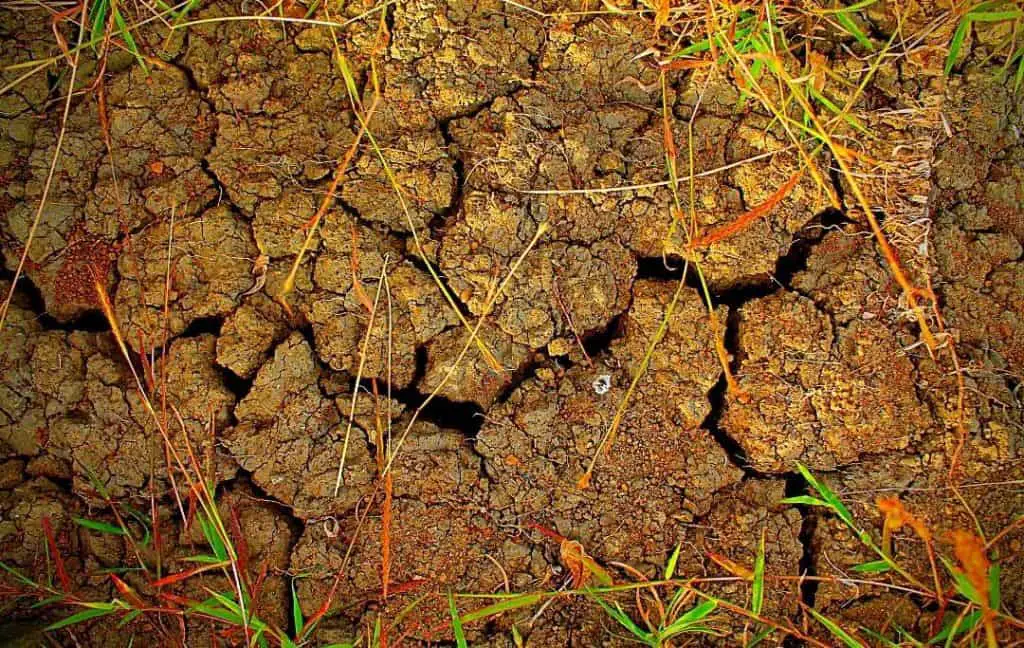 Clay soil has very small particles that hold together and make the soil compacted which retains the water for a long time. Wet soil makes your work difficult. The most important thing about clay soil is that it lacks oxygen which is the reason that your plants can't access important basic nutrients. 
Clay soil has little aeration and its soil is very compacted. It is not easy to grow vegetables in clay soil as it is hard for vegetables to survive in tough conditions. Clay soil has a poor quality of draining water.
The crops can't grow well in especially wet weather. You can use different tools to aerate the clay soil which helps a lot to your vegetables to get access to important nutrients.
HOW TO IMPROVE THE QUALITY OF CLAY SOIL?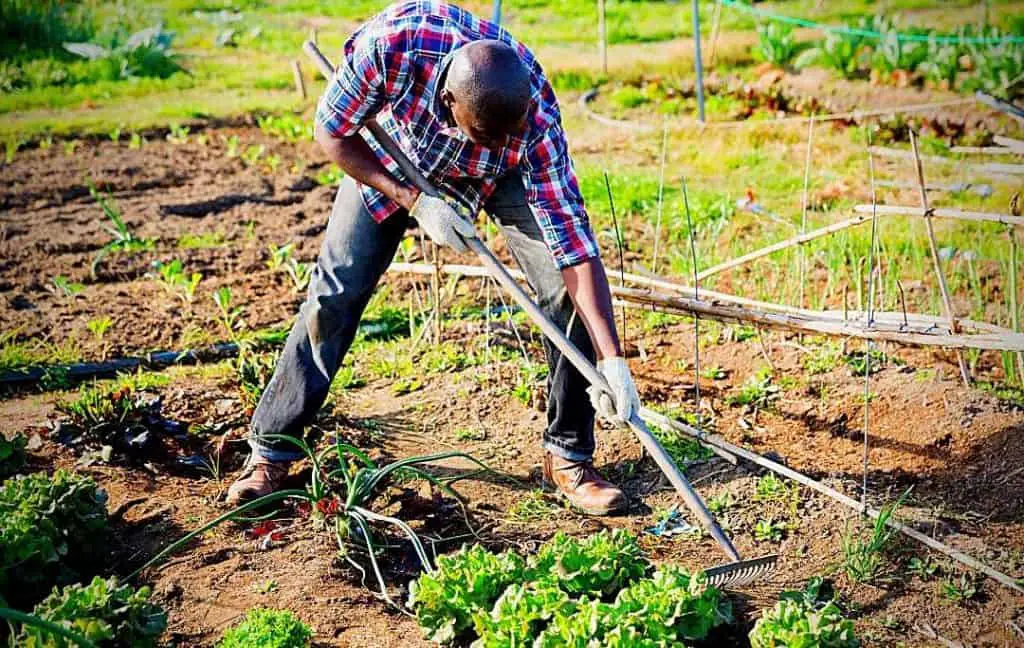 With proper maintenance, the clay soil can be able to grow healthy vegetables. Your little hard work can make clay soil more friendly for vegetables. First, you should work on the aeration of the soil. After that add amendments to the soil. 
1- PROPER AERATION FOR SOIL
This simple step can bring life to your stubborn clay soil. There are different tools available that can help you a lot to make your lay soil aerated. Aerating means making small and deep holes in the soil. These holes make it possible for the roots of your plants to get water and essential nutrients from the soil.
The other way is adding some materials such as sand or dirt to the soil, they will help to provide oxygen to your plants. But these materials will raise your expenses if you have a large area of growth. 
2- ADDITION OF ORGANIC MATERIALS
After improving the variation of your clay soil the next step is the addition of compost, fertilizer, fish emulsion, and manure. Most of the materials are easily available at home such as peelings of fruits and vegetables, coffee grounds, and even boiling water of vegetables. 
These organic materials provide all the fundamental nutrients to your soil for your plants. These materials help the clay soil to build fertility which is the requirement of most of the plants.
3- MULCHING
The last step is very important. The clay soil takes a long time to get warm in spring. Mulch will help you a lot to maintain your sticky earth. If you want to maintain moisture level within your soil then mulch is a great option. It will also help to reduce weeds which is a big problem for your healthy vegetable crop.
Read More: A Complete Guide To Amend lay Soil For Vegetable Gardening
THE VEGETABLES WHICH CAN GROW WELL IN CLAY SOIL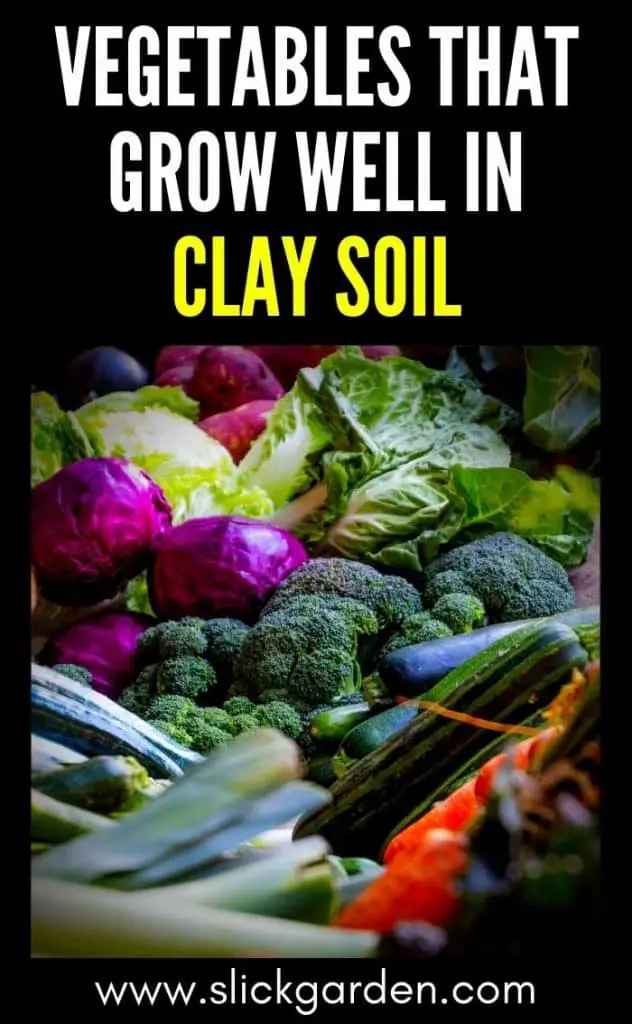 Shallow rooted vegetables can easily tolerate heavy clays. They also help to break up heavy clay soil. Clay soil is suitable for spring crops as it warms slowly. Here we are going to discuss some vegetables which can easily grow and tolerate extra moisture of the clay soil.
1- POTATOES
Potato is such a type of vegetable which can grow easily in a wide range of soil. But you should keep in mind that alkaline soil is not good for potatoes and they prefer acidic soil. So you should add those organic matters to relatively acidic clay soil.  
Potatoes can reduce compaction in clay soil and create a better environment for other vegetables. Don't grow early varieties because clay soil stays colder even in spring as compared to other types of soil.
Read More: AN EASY WAY TO GROW POTATOES IN RAISED BED
2- PEAS
Peas grow well in clay soil. They prefer the pH of soil 6 to 7.5. They need to grow both in alkaline and acidic soil. Overwatering is not good for peas in clay soil. After harvest leave the roots of pea plants inside the soil because they provide nitrogenous and organic nutrients to the soil. 
In this way, drainage and soil quality can easily improve. Frequent fertilize your soil so your plants are able to get all fundamental nutrients to grow well. Pea plants can't grow without good support so a trellis is the best solution for this problem. 
When your pea plant gets full support of trellis it will grow well. Trellis stops the plants from spreading on the ground and maintain your plants. Harvesting becomes very easier after installing trellis support.
Read More: How to Grow Peas in Raised Beds
3- CABBAGE
Clay Soil is not a problem for cabbage plants; they can tolerate a salty environment and grow well in winter.  As is mentioned above clay soil is very cool as compared to other soil so cabbage is a good option for clay soil. 
Make it possible to amend your clay soil with compost before growing cabbage. After planting your cabbage plant needs compost tea or fish emulsion for around a month.
4- BRUSSELS SPROUTS
Brussel sprouts are relatives of cabbage. It grows well and produces firmer heads in clay soil and it likes cool weather.  For better production, you should keep an eye on the pH and moisture of the soil. 
The important thing is that Brussels can tolerate light frosts. If you add proper amendments to the soil then it is not a difficult task to deal with the clay soil.
5- BROCCOLI
As you know clay soil can retain moisture. So it is not necessary to provide heavy watering to the soil as broccoli loves moisture. Broccoli likes heavier soil and grows well in clay soil. Your proper care and attention make it possible to grow vegetables in such a difficult type of soil.
Read More: How to Grow Broccoli in Your Raised Beds?
6- BEAN VARIETIES
Bean plants do not need any specific conditions for their growth. They can easily thrive in compact clay soil.  It is necessary to add compost to improve the condition of your clay soil. 
If you want to get a better yield of bean plants then you should be careful about the temperature of the soil as you know that clay soil takes time to get warmer in spring and bean plants need warm soil.  
So you have to wait to increase the temperature of the soil to 60 degrees Fahrenheit before planting beans. You should be careful while harvesting because you will get more beans continuously.
7- CAULIFLOWER
It is not difficult for cauliflower to grow in clay soil.  but you should add compost or other organic nutrients to your soil before planting cauliflower. 
The mature manure is another option for improving the condition of your clay soil. In this way, the condition of your clay will be improved as cauliflower needs nutrient-rich soil.
8- KALE
Another cool weather vegetable that can grow well in clay soil. Cold lover vegetables get the environment according to their need for clay soil. If you add aged manure with compost to your soil then you may get outstanding quality kale from your garden. 
There is a lack of oxygen for your plants in clay soil. The roots of the plants want to breathe, for this purpose, you can make small holes in the soil with the help of any tool of your choice.
Read More: How To Grow Your Salad Greens Without A Garden?
9- SWISS CHARD
After adding the compost to your soil, it is not an uphill task to get healthier vegetables from clay soil. Although well-drained soil is very important for the favorable improvement of your veggies, your hard work on clay soil will give you promising consequences. 
Swiss chard is one of the vegetables which can grow easily in clay soil. The leafy vegetable can grow well in fall and spring. 
The best temperature for the growth of this healthy vegetable is 40 °F. So make it possible the temperature if the soil is according to the swiss chard and availability of major nutrients by adding to your soil. 
10- CARROTS
If you grow carrots in clay soil then it is not possible that you will get long plump tubers of carrots because it is hard for them to penetrate in clay soil. 
But you will grow short tubers in clay soil easily. For favorable yields you should work on the soil, so you will get proper aeration and availability of main nutrients. 
11- DAIKON RADISH
This is another vegetable that can easily break up your clash soil. This radish likes to grow in winter as clay soil takes longer to get warmer in spring so you can easily grow daikon radish. 
The maturity time of this type of radish is about 70 days. Your radish will grow well if you make it possible to fulfill all the essential requirements of it.
Read More: How to Grow Radishes From Scraps? 
12- PUMPKINS
Everybody wants basic nutrients to grow well in the same way pumpkin also requires fertility although it is not fussy about soil texture. Manure and compost will solve your problem and you can grow pumpkins in clay soil.
Read More: An Easy Way To Grow Pumpkins In A Raised Bed
13- SQUASHES
Squashes can grow well in clay soil. Both varieties of winter and summer squashes need well-drained soil. For this purpose, you should add rotted manure and compost to clay soil.
14– Bulbs LIKE ONIONS AND LEEKS 
Fish emulsion and compost tea help in the fast growth of onions and leeks. Prepared your clay soil with more compost as onions like well-drained soil. Aeration is very essential for the supply of basic nutrients to your favorite vegetables.
TIPS FOR CLAY SOIL
Avoid walking on the clay soil as it causes compaction and makes it heavier which is not good for your plants.
When your soil is wet don't try to plant in it.
If it is necessary for you to walk on the soil then you can put down wooden boards to walk.
Leave the soil surface in winter so frost can get in and have to break up the clumps of soil.
Try to plant woody varieties like trees and shrubs these plants help to keep roots clear of very wet soil.
The best time for adding amendments is autumn. 
Learn More About Growing Vegetables In Clay Soil
https://empressofdirt.net/best-vegetables-clay-soils/
https://farmityourself.com/growing-vegetables-in-clay-soil-made-easy/
https://www.hunker.com/12490694/vegetables-that-love-clay-soil
https://growtheherbs.com/vegetables-that-grow-in-clay-soil-best-crops-for-clay-soil/