Many people think that flowers and vegetables can't mix together. The addition of flowers and herbs in a vegetable garden has many benefits. In the past, the primary purpose of growing plants was to provide food.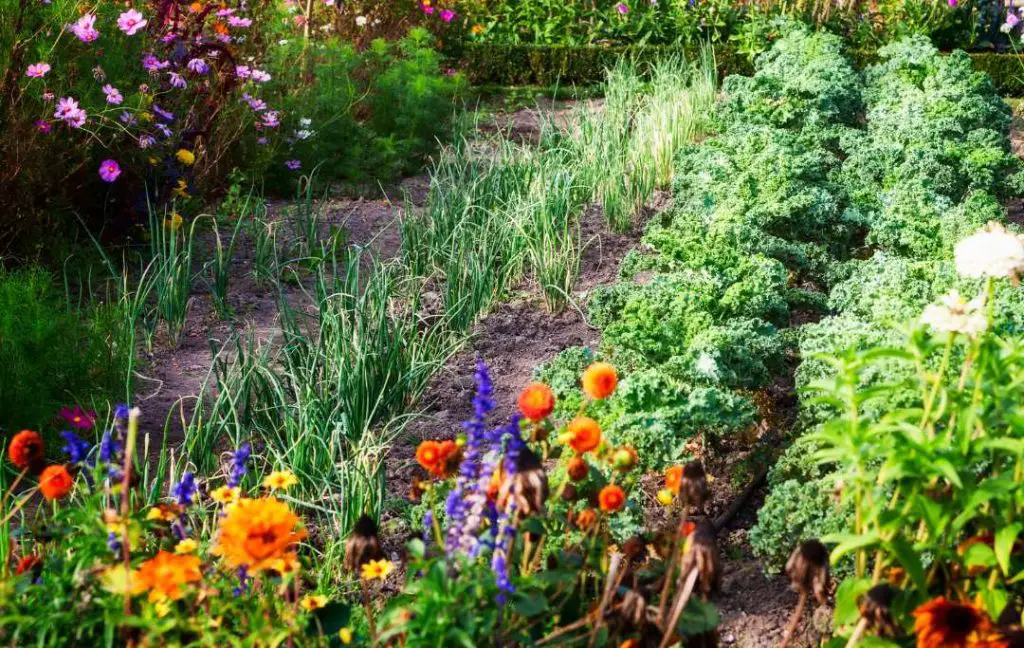 Flowers grew naturally alongside these edible plants. But nowadays gardeners add flowering plants to their gardens because they will add beauty and colors.  There are many benefits of growing flowers with vegetables.
If you have limited space for growing plants then you must add flowers to your growing area. When you grow flowers as a companion plant with vegetables then it offers several beneficial features to protect your vegetables from different insects and pests. Your vegetable plants become more productive when they grow in flowering plants.
Benefits Of Growing Flowers With Vegetables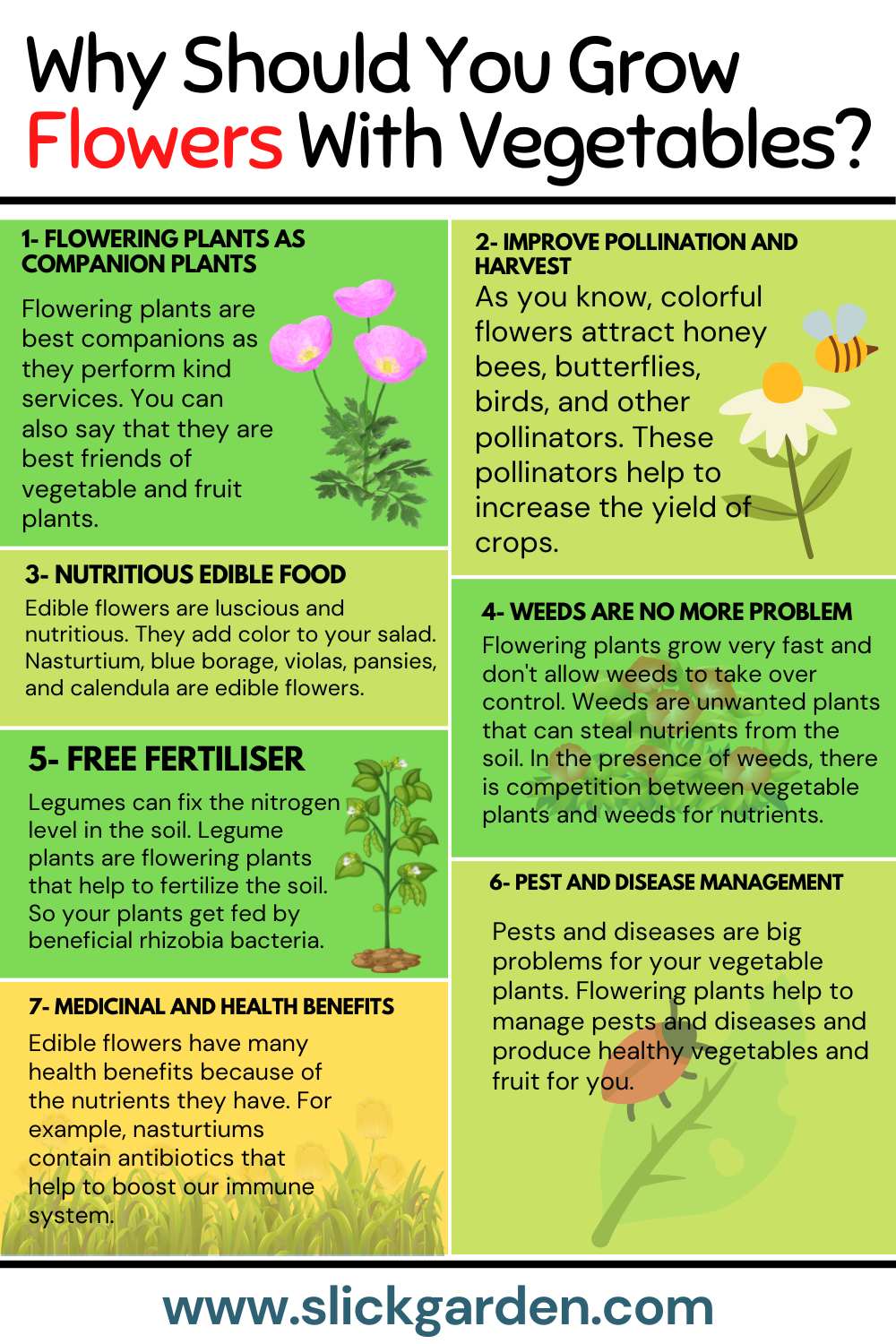 You should design your vegetable garden in such a way that you must leave space for colorful flowers. 
1- FLOWERING PLANTS AS COMPANION PLANTS
Flowering plants are best companions as they perform kind services. You can also say that they are best friends of vegetable and fruit plants. 
2- IMPROVE POLLINATION AND HARVEST
As you know, colorful flowers attract honey bees, butterflies, birds, and other pollinators. These pollinators help to increase the yield of crops. You will get a good harvest of zucchini eggplants and berries if you sow flowers in your vegetable garden. 
Pollinators perform an excellent job transferring the pollen to nearby vegetable plants and helping to raise production. The presence of pollinators improves the pollination of different edible plants.
3- NUTRITIOUS EDIBLE FOOD
Edible flowers are luscious and nutritious. They add color to your salad. Nasturtium, blue borage, violas, pansies, and calendula are edible flowers. If you want protein-rich seeds then you should choose sunflowers, chia seeds, and coriander for growing. These plants like to grow in a warm climate. 
4- WEEDS ARE NO MORE PROBLEM IF YOU GROW FLOWERING PLANTS WITH VEGETABLES
Flowering plants grow very fast and don't allow weeds to take over control. Weeds are unwanted plants that can steal nutrients from the soil. In the presence of weeds, there is competition between vegetable plants and weeds for nutrients. 
In that case, your plants will not grow very fast and thrive well. You must grow flowering plants as a companion for vegetables to avoid weeds. If you grow nasturtiums around your vegetable plant as a ground cover then they will not allow weeds to grow and attract beneficial pollinators.
5- FREE FERTILISER
Legumes can fix the nitrogen level in the soil. Legume plants are flowering plants that help to fertilize the soil. So your plants get fed by beneficial rhizobia bacteria. 
Beans, sweet peas, barrel medic, clover, wisteria, lupins, alfalfa, and wynn's cassia. The cost of fertilizing can be reduced when you choose to grow these flowering plants. 
6- PEST AND DISEASE MANAGEMENT
Pests and diseases are big problems for your vegetable plants. Flowering plants help to manage pests and diseases and produce healthy vegetables and fruit for you. 
This is a cheap way for protecting your plants from harmful pests.  You can also grow these attractive flowering plants in pots and place them near your vegetable plants to see the improvement. How flowers help your plants are as follows. 
They attract beneficial insects. They like to feed on aphids, scale, and powdery mildew. 
Different flowering plants such as nasturtiums attract pests and protect your vegetable plants from the tiny monsters.
Nasturtiums and Marigolds help to repel different insects that can destroy leaves, roots, flowers, and fruits of your vegetable crops. By using different flowering plants you can avoid chemicals for solving this problem. The scent of these flowers repels insects above the ground. 
7- MEDICINAL AND HEALTH BENEFITS OF GROWING FLOWERING PLANTS NEAR YOUR VEGETABLE PLANTS
Edible flowers have many health benefits because of the nutrients they have. For example, nasturtiums contain antibiotics that help to boost our immune system. 
In the same way, many flowers are used in cosmetics and remedies. The petals of calendula are used to make lip balms and other body products.
8- SAVE MONEY ON CUT FLOWERS
The pleasant blooms not only give a sweet aroma to your garden but the addition of flowers in your living area will make your environment more colorful. 
The perfumed petals of rose make your room scented. When you grow your own scented flowers then you can arrange them in your vase and put them in your room. 
When you get your homegrown flowers then there is no need to buy them from the market in this way you can save money.
The addition of colorful flowers in your living room makes your mood happier. When you are sad the sight of flowers with their scented petals adds brightness to your life. 
You can arrange a bunch of attractive flowers in your vase. In the dried flower arrangement you can use salvia bergamot, cosmos, marigold, and zinnia. Rose petals and calendula make the indoor air freshener. 
9- FLOWERS AS A FOCAL POINT IN YOUR GARDEN
You can use flowering plants to make your garden more beautiful. Jasmine, climbing roses, and dipladenias vines can easily climb up. You can use a vertical structure for these climbing flowering plants and use them as a focal point. 
You can arrange them in different ways to show your creativity and aesthetic sense. Ivy geranium is one of the trailing flowers that can be grown in hanging baskets. You can choose any place where you can grow flowering plants in pots or on the ground. 
When you grow flowering plants in pots or in the ground during your vegetable day they provide pops of colors. When you grow vegetables, herbs, fruits, and flowers together then you can create an ornamental kitchen garden. In your edible garden, flowers perform multiple functions.
10- EDIBLE FLOWER HERB TEAS
Fresh or dried flowers like lemon balm, chamomile, and borage bergamot are used for making herb tea. Herb tea has many health benefits and good flavor.
11- GET FREE PLANTS
When the flower heads are dry then you can get the mature seeds from them. You can use these seeds to grow more plants in your garden without spending money. 
Many flowering plants can be grown by cuttings so you can propagate new plants easily. Sylvias, pineapple, geranium, sage, and many perennial plants can be grown by cuttings. 
12- FLOWERS AS TRAP CROPS
If it is not possible for you to repel pests then you can protect your vegetable plants by planting a sacrificial plant to attract pests. For instance, you can surround your cabbage plants with a trap crop of collards. 
They attract diamondback moths and protect your cabbage plants from this insect. The other example is nasturtiums that attract aphids. Another flowering plant is nicotiana which acts as a trap crop. 
If slugs are a problem for your leafy vegetables then you can grow chervil around them to keep slugs away. You can protect your apple and strawberry plants from Lygus bugs by growing mustard plants near them. 
The insects and pests gather on the trap crop and your vegetable plants are not damaged by these harmful insects. When they congregate on the trap crop you can pick or destroy them. 
When you decide to grow trap crops around your vegetable plants, you should carefully examine the risk of pests in your garden. You should use this technique when you see that pests have done significant damage to your vegetable plants. 
---
Keep Reading:
---
Best Companion Flowers For Vegetables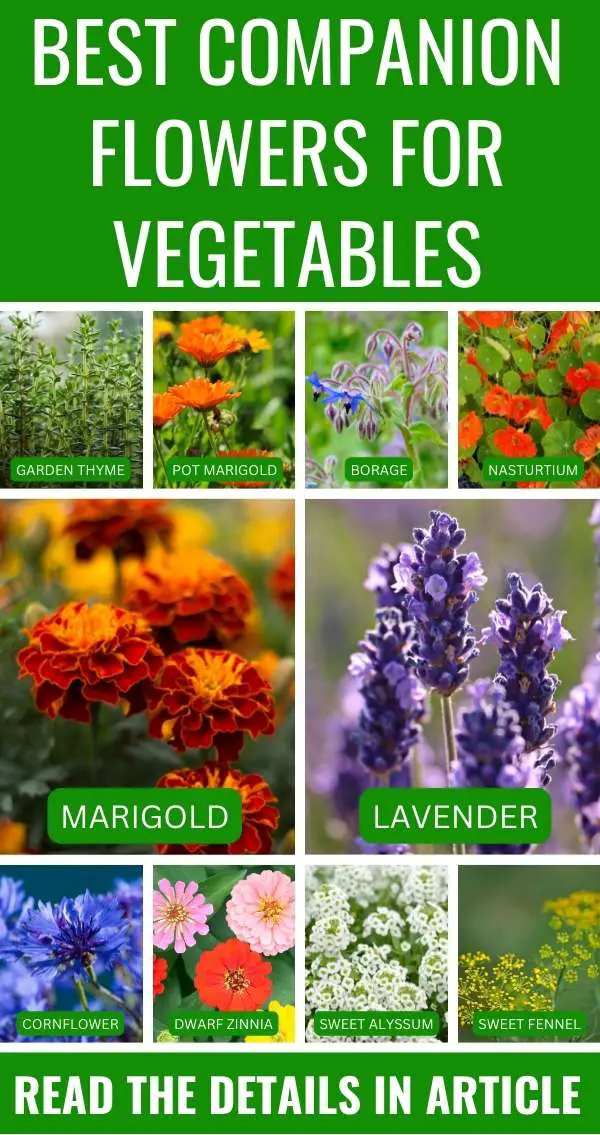 Companion planting is an old technique in which you can grow different plants together. You should select flowering plants according to your climate and environmental conditions. 
When you choose the best companion plants then you will get better results. It's not easy to select a suitable companion species but flowering plants prove to be the best choice. Here is a list of flowers that are perfect for a vegetable garden. 
1- FRENCH MARIGOLD
You can use marigold bedding plants that like to grow in hot weather. Marigold comes in colors from yellow-orange to brown. There are many reasons for selecting marigolds as a companion plants for veggies and herbs. 
This is a low-maintenance plant that tends to grow in a bushy form. You can plant a few rows of marigolds around your vegetable beds. The roots of French marigold plants contain secretions that can kill nematodes. 
Make sure your plant is receiving full sun exposure because Marigold flourishes when it receives 6 to 8 hours of sunlight. Cold temperature is not suitable for this flowering plant because it will die when the temperature is low. You can easily collect the seeds and store them in a dry place for the next growing season.
2- ENGLISH LAVENDER
The calming fragrance of English lavender makes it a fantastic companion plant for your vegetables. English lavender likes to grow in a mild dry climate. 
Slightly alkaline soil with good drainage is needed for the growth of English lavender. The presence of colorful shades of blue to violet makes an attractive environment in your garden. 
This is a pest-resistant plant because its fragrance repels them. It can diversify your garden's colors and texture. 
3- CORNFLOWER
This is a low-maintenance plant and an Ideal companion for vegetables. Cornflowers are disease free and easily adjust in poor soil. The flowering period can be extended if shoots are deadheaded. 
Deadheading is also helpful in preventing self-seeding. Cornflowers can be grown up to 3 feet high.  Staking is essential to keep them upright because strong winds are not good for them. 
4- DWARF ZINNIA
These stunning blooms and little maintenance make it a perfect companion flowering plant for vegetables. Full sun exposure intensifies the color of zinnias. Zinnia plants produce flowers in summer. The shape of bright green leaves is lanceolate. 
The height of dwarf cultivars ranges from 6 inches to 3 feet. Make sure you are using well-drained and loamy soil. The warm climate is perfect for growing zinnias. 
5- SWEET ALYSSUM
This is an annual plant and likes to grow in temperate zones.  The stems of sweet alyssum are highly branched and covered with tiny leaves. You can see beautiful flowers of sweet alyssum throughout the year. The colors of the blooms are found in pink, purple, and white. 
6- SWEET FENNEL
Tiny yellow flowers and bright green leaves are exceptionally attractive to butterflies. The fairy fracture texture leaves are segmented into needle-like leaflets. 
Well-drained and rich soil is needed for growing sweet fennel. Full sun exposure is needed for better results.  Sweet fennel can be invasive because of its seeding capacity. 
7- GARDEN THYME
This flowering perennial plant belongs to the mint family.  Garden thyme is an ideal ornamental companion plant in your vegetable garden. This is a low-maintenance flowering plant with fragrance. Garden thyme propagates easily with stem cuttings. 
8- POT MARIGOLD
Under favorable conditions, the flowers of pot marigolds appear all year round. The shape of the leaves is oblong. Due to the versatility of pot marigold, it is an ideal companion plant. It can adjust any type of soil easily. Deadhead the blooms to lengthen the blooming period. Well-drained soil with a sunny location is perfect for growing pot marigolds.
9- BORAGE
This is an annual flowering heart that can adjust to a wide variety of conditions.  Make sure you are using well-drained soil for growing borage.  Keep the soil moist with regular watering. 
This plant produces star-shaped blue flowers from June to August. Leaves and stems of borage are edible. The flowers are used for garnishing salads and desserts. 
10- GARDEN NASTURTIUM
A mild climate is perfect for growing garden nasturtium. Large leaves with bright flowers look perfect for your vegetable garden. The diameter of disc-shaped leaves is 6 inches. 
The colors of flowers range from yellow to orange. The five frilly petals are arranged beautifully.  Garden nasturtium has antibacterial properties that make it an ideal companion plant. Leaves, fruits, and flowers are edible.