Most people think that gardening is a difficult task but in reality, it is not true if you follow some easy ideas, hacks, and techniques it will become easy for you. 
Gardening is such a hobby that brings you closer to nature and provides vegetables for your kitchen. Here are some useful ideas we are going to discuss. Hope these tricks and tips help you to make gardening easier for you. 
If you improve your soil condition by using recycled kitchen waste or create a mini greenhouse or potatoes for healthy roses, these tricks are very simple and easy and you can easily follow them and transform your garden. 
1- USE PLASTIC BOTTLES WITH HOLES TO CREATE A WORRY-FREE SELF-WATERING SYSTEM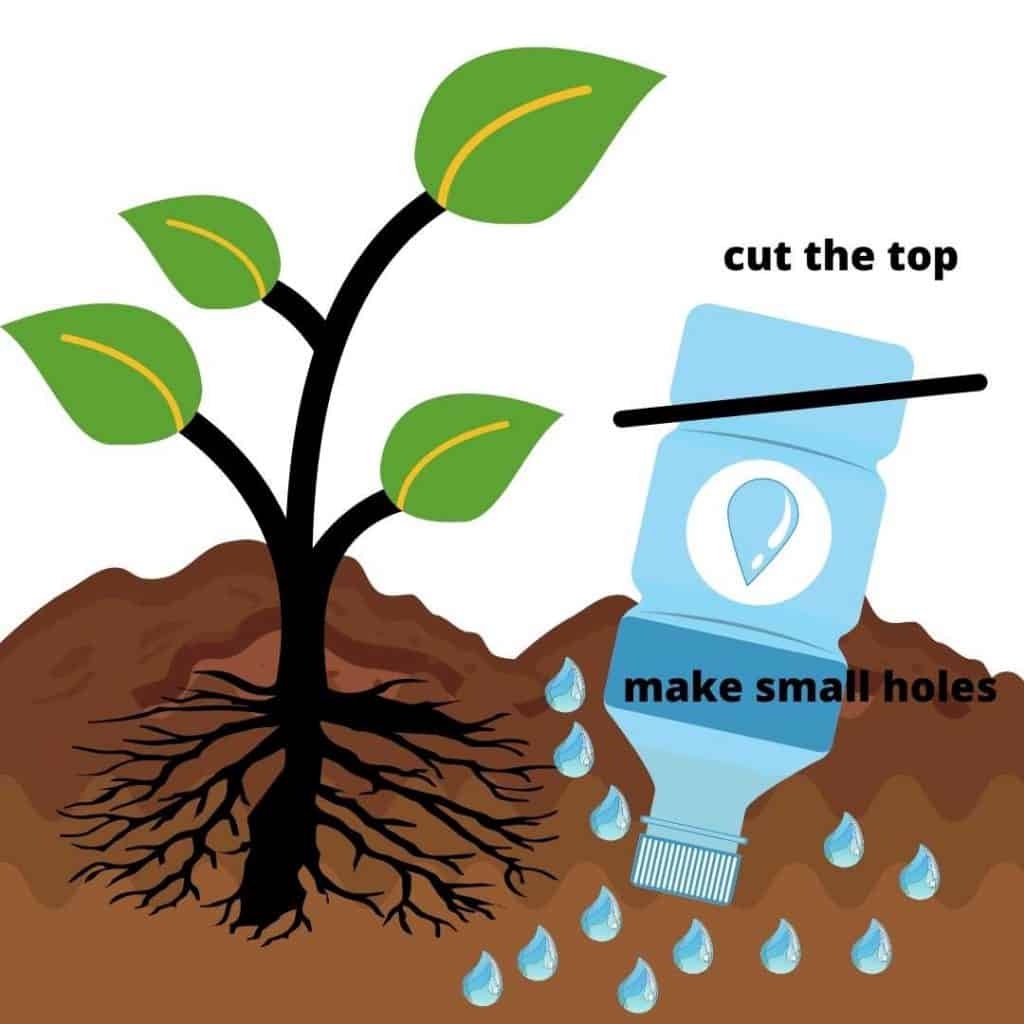 For this trick, you need a plastic bottle with holes to water the roots of your plant. What will you have to do to bury the bottle in the soil? 
This is a brilliant way of supplying water to the roots and you will become tension free as this is the way your plant will get water very deeply. This is a great idea for keeping the soil moist. 
Read More: Self Watering System for your Raised Beds  
2- SOAK YOUR SEEDS IN WARM WATER 24 HOURS BEFORE SOWING
For faster germination, you should soak seeds in warm water before sowing in the soil. This is a simple and unique trick of growing plants faster and stronger. 
If you sow the seeds for enough time then the coats begin to swell and easily germinate into young plants. 
When you see your seeds start swelling then this is the best time for sowing them in the ground. Make sure the soil keeps moist and you will see the first spouse within a few days. 
Read More: COMMON SEED STARTING MISTAKES TO AVOID
3- RE-USE THE WATER FOR YOUR PLANTS 
You can use the water twice as the water you use for boiling vegetables, eggs and pasta can be used for your plants. But before using the water make sure the water is not so hot. 
This water is full of minerals and nutrients for your plants. This tip will help your plants to grow healthier.
4- EGGSHELLS MAKE THE PERFECT INDOOR SEEDLING STARTERS
This is a cheap way of growing your seedlings. The shells of eggs can be used as a starter. This is a free way of getting calcium for your plants. These shells are a big source of calcium which helps to boost your plants. 
When you see the seedlings are ready for transplanting then you can plant the seedlings with starters. There is no need to remove these shells before transplanting. 
Read More: The Best Uses Of Eggshells In Your Garden
5- MAKE A BEAUTIFUL LOG PLANTER
A log can be used for making a unique garden planter. This is a cool landscape design idea that helps you to create your garden into a stunning area. 
This planter looks original and when you grow your favorite flowers then it looks great. You find a log and make this planter without any cost. If you don't find any log then you can also buy it. You can use an ax to make hollow the log and fill it with soil and grow your plants.
6- USE PLASTIC FORKS IN GARDEN TO KEEP OUT ANIMALS
If you want to get rid of animals getting into your garden. You can place plastic forks in the soil and prevent your plants from the animals which are becoming your headache. 
Another use of these forks is that you can use tines of forks to hold names of plants. The dual purpose of this trick will help you a lot. 
7- DO PLANT IN A POT IN LANDSCAPING DESIGN
First, you have to make holes in the ground for your seasonal plants. After that fill these holes with empty plastic pots. The reason for doing this will help you to quickly change out seasonal plants. 
In this way, you can save water and energy. These small tricks and tips help you for maintaining your garden and saving your time.
8- PROPAGATE ROSE CUTTINGS WITH POTATOES
This trick is very interesting, for growing healthy roses. This is a simple trick, cut a healthy stem of a rose. Now you need a large potato and push a rose cutting into the potato. 
The next step is burning the potato in the soil. Remember to bury the potato 3-4 inches deep in healthy soil. The soil should be a mixture of peat moss and topsoil. 
The potato will provide moisture to the stem of the rose and help to develop roots. This sounds crazy but when you follow the tip you will see the result in the form of healthy rose plants.
9- CREATE A MINI GREENHOUSE USING 2-LITER SODA BOTTLES
For creating a mini-greenhouse for your plants, you need plastic bottles for this purpose. The size of plastic bottles must be 2 liters. You will have to cut the bottom of the bottles so you can easily cover the seedlings. 
This is an easy way to protect your seedlings from harsh weather conditions such as frost, wind, and heavy rain. These soda bottles will create a little dome for your delicate seedlings.
Read More: HOW TO BUILD A SMALL GREENHOUSE FOR VEGETABLES
10- DIT BUTTERFLY FEEDER IS MORE THAN JUST A PRETTY GARDEN ADDITION
Butterflies add beauty to your garden, they add colors to your growing area. When they fly on the flowers you will see nature very closely. The interesting work which butterflies perform for you serves as pollinators. 
Pollinators play a very important role in the development of your plants so it is very necessary for the garden.  
11- PREVENT INVASIVE PLANTS FROM SPREADING USING A PLASTIC POT
If you have such plants, especially herbs in your garden which have invasive roots then you can stop them from spreading by simply following this trick. The trick is to install plastic edging underground. 
First, you will have to cut off the bottom of a plastic pot after that bury in the ground. This idea will give you control over the size of the mature plants. This is a great notion of protecting the plants.
12- MAKE A WATERING CAN OUT OF A GALLON JUG
If you don't have a watering can then don't worry, you can make it at home very easily. This is a simple hack, you can use an old milk jug and turn it into a watering can. 
This is a cheap idea of making cans without any cost and this idea is environmentally friendly. You have to do nothing but just make holes in the cap of the milk jug. 
After that fill the jug with water and cover the cap of the jug. Your can is ready for watering your lovely plants.  
13- BUILD A COMPOST BIN FOR YOUR PLANTS
You can create a compost bin at home very easily and get free compost at home. This will not affect your pocket and your plants will be able to get all the basic nutrients from the soil. 
You can build the bin very easily and the waste things such as peels of fruits and vegetables, coffee grounds, and other kitchen waste are the ingredients for proper compost. 
Read More: HOW TO MAKE A DIY COMPOST BIN
14- DIY ORGANIC INSECT SPRAY FROM NATURAL INGREDIENTS
Making your own organic insect spray by using natural ingredients is very easy. This spray is chemical-free and this is good for your plants. This is a  natural way of controlling insects and environmentally friendly. 
This hack will prevent your plants from insects. Mint and garlic spray will work best. The four things you need for making this spray. Mint, garlic, cayenne pepper, and biodegradable dishwashing liquid will work together for making this magical spray. 
Within a few days, you will see the result of this spray but remember to try to use the spray on a cloudy day so your plants will not burn. 
---
---
15- DIY ENDLESS ONION SUPPLY
This is another interesting hack, you will see how a recycled plastic container will give you an endless supply of green onions. For this hack, you need a large plastic bottle, a pair of scissors, onion bulbs, soil, and water. 
First, you should cut the neck of the bottle and make holes in the side of the bottle but the size of the holes must be big enough for the onion bulbs. Place all the onion bulbs in the holes with the end outside the hole. 
The last step is filling the plastic bottle with soil. Make sure you will get regular water and the place of the bottle should be in front of the window so it will get full sun exposure to grow onions.
16- REGROW A PINEAPPLE SIMPLY FROM PLANTING IT'S TOP
This is an interesting idea of growing pineapple by using the head of a pineapple in a pot. In this way, you will not only produce fruit but also look gorgeous when you place it in your growing area or in your living area. 
17- HIDE YOUR HOSE IN A DIY PLANTER
This is an interesting idea of keeping a hose in a planter. This is a very lovely planter and it has a storage place for keeping hose and other garden needs. The hose is a necessity as you will use it for giving water to your plants, washing your car, and filling the pond. 
But we don't want to see this hose when it is not in use. You can easily hide it in a DIY horse hiding planter. You can build this planter by yourself or at any gardening store.
18- PLANTING ONE POT CONTAINER HERB GARDEN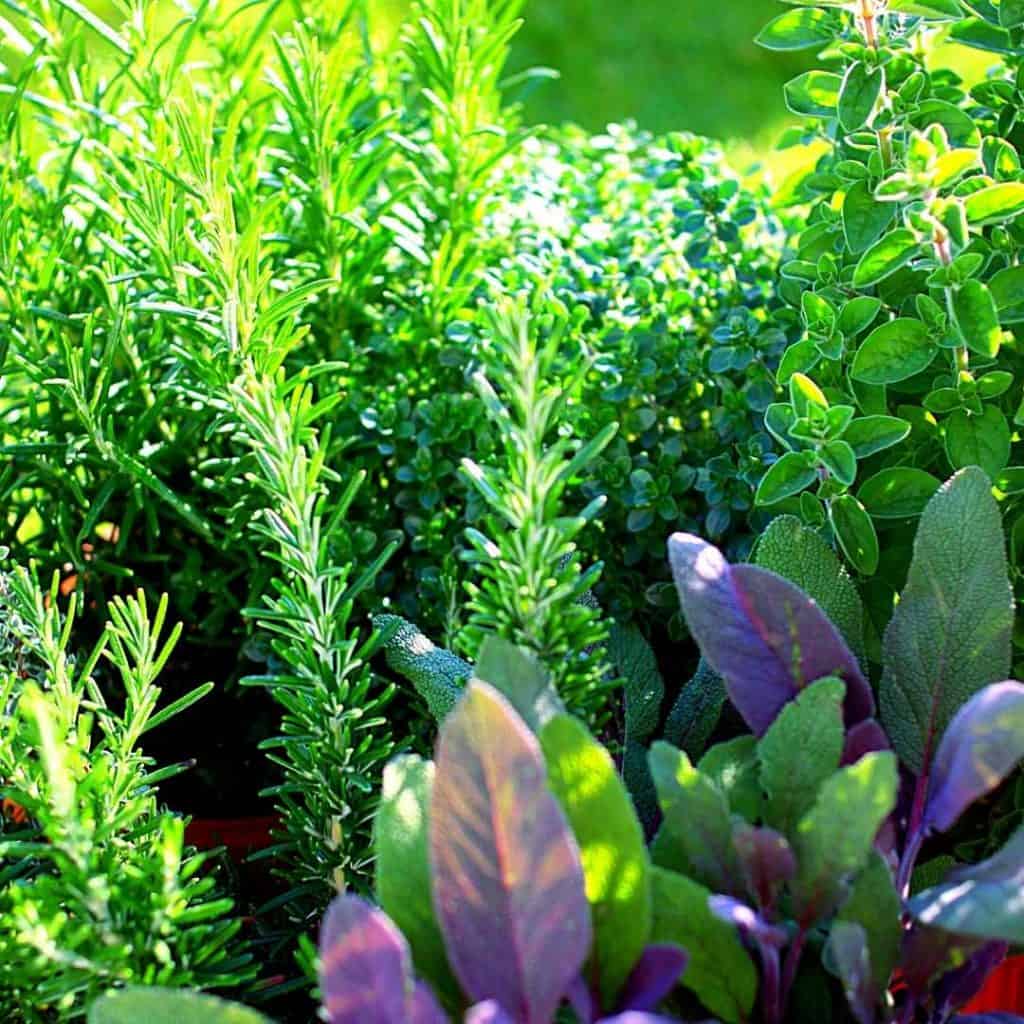 If you are facing the problem of limited space when you want to grow multiple herbs for your kitchen then this hack is best for you. In this way, you will not only get different herbs but also save money.  You can place this container on your deck, patio, or balcony.
Read More: How To Build An Outdoor Herb Garden
19- MAKE YOUR OWN RAIN BARREL TO WATER THE GARDEN WITHOUT OF A HEAVY DUTY TRASH CAN
A great way of saving money and water for your garden.  A rain barrel can be created with the help of a heavy-duty trash can. The other things you need for this project are a drill, a pair of pliers, and some other basic tools.
 Instead of allowing rainwater to flow away, you can save it by using this hack after that you can use it for watering your plants. This water is natural and untreated, it will help to thrive your plants in a healthy way.
20- UPCYCLE OLD FURNITURE
If you have an old piece of furniture then don't throw it away. You can use it as a planter for your outdoor space. You can use your creativity and turn different types of the planter with the help of your available old piece of furniture. The spray paint will help you to turn the old furniture into a new look.