Are you thinking about what to do in this lockdown? It is an interesting question, everyone is trapped in their houses. If nature gives you some time for yourself then you should not waste it and try to do or learn things which you want to do for many years. 
Most people are taking interest in cooking during these days but why not gardening, it is also a good hobby to pass your time and build your strong relationship with nature. 
If you are facing the trouble of limited space, it is not a big issue. You can follow some indoor ideas and grow plants even if you are living in an apartment. If you already have a garden then you can add more style and elegance to your garden. 
So don't spend your time thinking about what to do in this spare time, just take your first step and bring some innovation to your garden. Here we are going to discuss 20 fun garden projects which you can do in lockdown. 
1- PALLET WOOD GARDEN WALKWAY
This is a wonderful idea for making a walkway in your garden.  The interesting thing about this project is that it is very easy to make and you can build it in an afternoon using scrap wood.  First, You should decide where you want to make a pathway in your garden. 
Now create a level pathway so your wooden boards can sit easily. After doing this push the soil between the boards to help to hold the pallets in place. 
2- PORCH SWING
This is not an easy task for those who do not know about woodwork. An average woodworker can easily build a swing in a weekend. This is a high-backed swing, it is attached with sturdy nylon or hemp rope to hang easily. This rope runs through the swing's arms and frame. This is an incredible idea to sit on a swing and think about yourself in the evening with a cup of tea. 
3- DIY STONE PLANTER
If you are fed up with using ordinary wooden planters then you can change the look by adding stone planters to your yard, garden, or patio. This planter is very strong and you can't deny its beautiful looks. When you start making this project you will see it is very easy to make.  In this project, you can use any type of stone of any size, the shape of the planter is up to you.
Read More: 10 Best DIY & Cheap Container Vegetable Gardening Ideas Anyone Can Use
4- BUILD A BIRD BATH
It's pretty easy to make a birdbath in your garden.  This is a creative idea and you can make it very easily. The size of a birdbath is according to your choice and space available in your garden. When you start making this project you will enjoy it a lot and when you see the birds sitting on it you will be pleased to see this scene.
5- CASCADING CLAY POT FOUNTAIN
When you add this fountain to your yard it will become a focal point and the gentle sound of cascading water will relax your mind. The design of the fountain is according to your space.
6- MAKE AN OUTDOOR CHANDELIER
This is an interesting idea of converting a wire basket into an outdoor chandelier. This project will take only one hour of your life and it will enhance the view of your yard. You need for this project a wire basket, some jam jars, and a few pretty crystals. Choose the wire basket which has a flat base so it can easily hold jam jars.  
After placing your jam jars on it you can hang a crystal from the base and top.  Now this will look like a real chandelier. You can put small candles in the jars. With the help of a matching chain of the desired length, you can attach your chandelier to a patio roof or tree. 
7- CREATE AN UNUSUAL UPCYCLED CONTAINER GARDEN
This project is good for your succulent garden. The best thing about this container is that you can move it anywhere.  Before using this container make some holes with the help of the drill at the bottom of it. These drainage holes are very good for your plants. 
Read more: 15 Indoor Herb Container Garden Ideas
8- LOG PLANTER 
You can use a log to make a beautiful planter. Most of the time there is a fallen log which is soft enough. You can make it hollow with the help of a trowel. If you don't have a log you can buy it. You can select the size of the log according to your need. If your log is larger then it will increase your work. This planter is best for annual flowers.
9- HANGING FLOWER TINS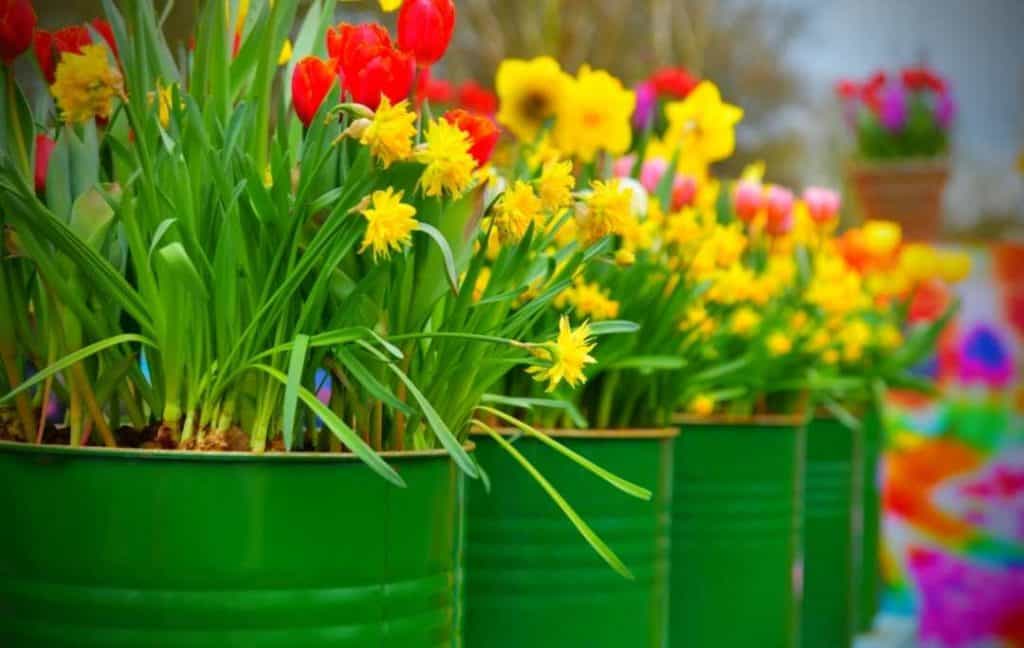 This idea is best for recycling your waste tins. Different types of cans available at home which are not in use. Make some holes at the bottom of the cans or tins for drainage. After making the whole now use spray paint to paint your cans. 
After drying make two holes for rope to hold your cans. Your rope must be strong enough to lift the weight of cans. Now your cans are ready, you can hang them anywhere in your garden or inside your home. You can grow mint or rosemary in it.
10- HANGING GUTTER GARDEN
If you have old gutters then you can convert them into hanging planters. This idea is best for those who are facing the problem of limited space. If you don't have old gutters at home then you can buy them. 
Read More:  An Easy Way To Grow Strawberries In Hanging Baskets
11- TOPSY TURVY FLOWER PLANTER
For this project, you need a rebar and terracotta pots. This project can be complete in one afternoon. Fix the rebar at least one foot deep into the ground. This is necessary because in this way it can lift the weight of pots with soil. Now start placing your pots on the rebar through drainage holes. In the end-use the smallest pot and at the start the biggest pot.
12- DIY GARDEN BENCH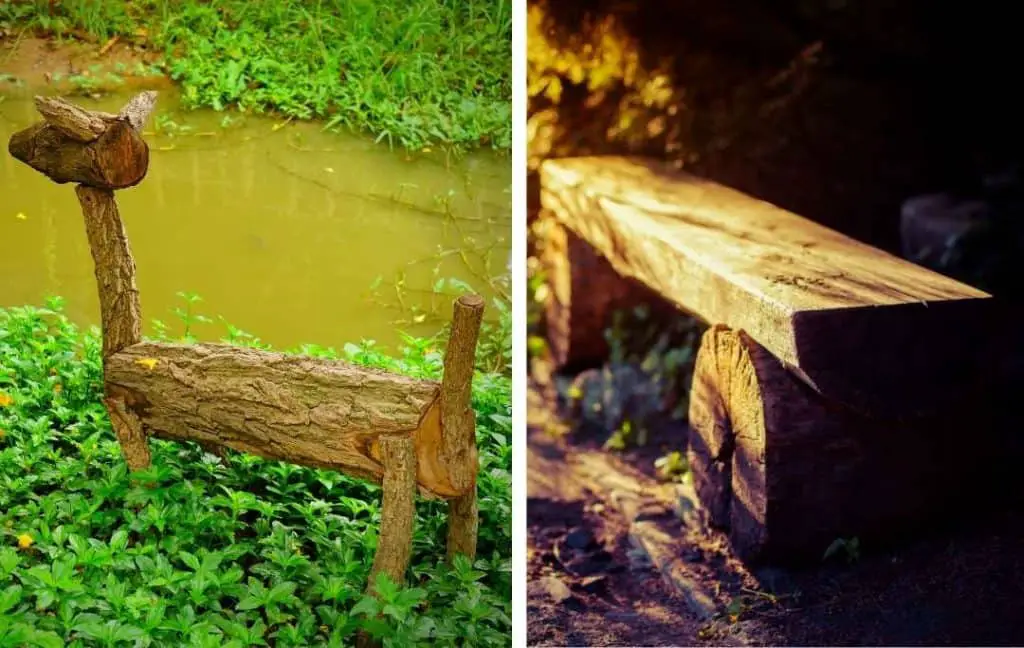 This is a simple flower bench for your garden. First measure the diameter of your pot which you want to place on this bench. Now mark out the circle and cut the circle using a saw. Make a hole in the bench. Your flower pot looks gorgeous and you will be pleased to see this.
13- DIY PLANTER WITH HOSE STORAGE
This planter not only helps to grow your plants but works as a storage box for your garden accessories. The most important thing is your garden hose. If you don't find the place to keep your hose then build this planter and pass your time in this lockdown.
14- DIY COWBOY BOOT PLANTERS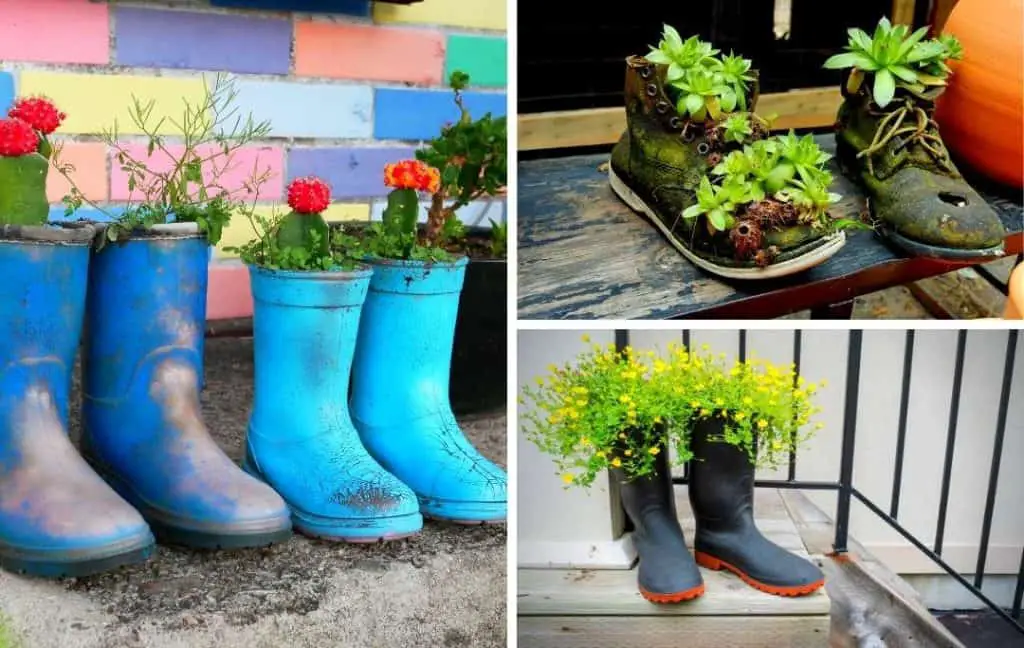 If you have old cowboy boots then you can use them for making two small planters. This idea will not cost you and on the other hand, you are recycling your boots which are not in use. You can grow small flowers like pansies or marigolds.
15- DIY COLOURFUL CINDER BLOCK PLANTERS
You can repurpose your old cinder blocks which are lying useless. Now it's time to use your creativity and paint them. The shape of the design is up to you. You can make geometric shapes or create your designs for coloring. Your planters are ready to grow different colorful plants in them. Such types of planters are best for growing succulents.
16- DIY MINI PLANTER TRELLIS
This trellis is best for tabletop plants. You can place it on your table and this will become the center of attraction for everyone. This mini lattice can easily be made from wood crafting dowels. Take your mini planter and plant climbing greenery in it and stake the trellis in across the back.
Read More: 10 Best Trellis Ideas For Vertical Gardening
17-  DIY MODERN HOUSE NUMBER PLANTER
Start your project by choosing sarees you won't be. Make sure your measurements are correct. Place your house number in the right place. By using drills make holes for hanging your planter. You can build a small planter easily but don't forget to make drainage holes at the bottom. Now attach the box to the front. This planter will become the focal point for everyone.
18- MASON JAR LANTERN GARLAND
It is not a difficult project, the lighting jars look very unique and powered by battery-operated LED inserts. You can string a garland of light on your patio or in a tree. You need wire handles to attach around the mouth of the mason jars. You will have to do nothing but just place the lights in the mason jars and secure it with the jar's rim. Now your jars are ready for hanging, string up the lights with the help of rope.
Read More: How To Make DIY Mason Jars Herb Garden
19- DIY VERTICAL FERN
This project can be used to hang on a wall. You need a few pieces of moss and dampen it in a bowl that is full of water. Now you need a metal panel and create a nest shape where you want the fun to go. Make it possible that your nest shape should be thicker. Remove your fern plant from the pot with some soil and set it in the moss nest. 
At this time you need another piece of moss to go over all of the exposed soil. If you need more pieces for completing it then go for it. You need two hooks on the wall for hanging your metal panel. It is important to know that your fern likes humidity so place it near a water source or hang it in the bathroom.
20- DIY TILE MOSAIC PLANTER
This planter is best for smaller buds.  This project is very unique as you create it and it is different from other ordinary planters. So when you start this exciting project you will become very excited. For doing your project you need a wooden planter box, mosaic tiles of your choice, and some other tools. 
Now you need to adhere the tile to the wood so you need a thin-set mortar. You need a knife to apply mortar to the sides of the wood. First, you should trim your tile so it can easily fit on the planter box.