A microgreen is a nutritious plant and you can easily grow them without soil. It is a great idea to avoid the mess at your home. A complete package of nutrition that you get in the form of microgreens. You can use them in the preparations for soups, salads, and sandwiches. 
For an indoor gardener, time, space, and money all things are limited so they try to find those ways which are easy for the growth of plants. They want to satisfy their sense of planting by adopting simple ways. These fast-growing plants which need little maintenance are their priority and microgreens are one of them.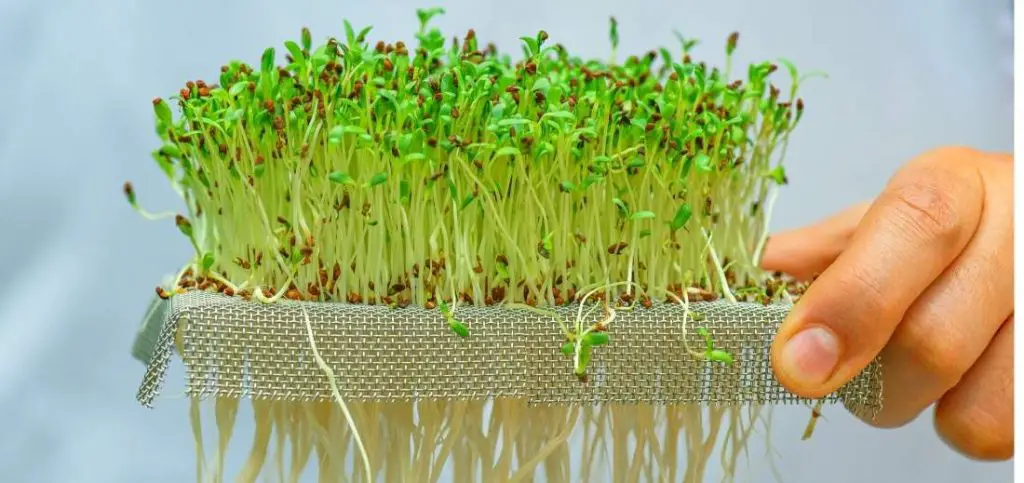 Cleanliness, efficiency, and low cost all these things are included in the growing of soilless microgreens. You can easily harvest them within two weeks which is also a plus point.
Read More: Garden Tower Project Review – A Beautiful Small Space Garden 
Reasons for Growing  Microgreens Without Soil
It is easy to grow in water:
It is easy to grow them in water and eliminates the fuss of handling soil. It is easy for plants to absorb oxygen and other nutrients directly from the water. You can also add fertilizer to make water solution more healthy for plants and get a better result. 
Some plants do not need a growing medium at all, but it doesn't mean that growing in soil is a bad idea but there are many benefits of soil. The first benefit of soil is that it retains more water as compared to fiber pads. 
In growing soil, your plants get quality amounts of water and nutritions. After getting the desired amount of water and other elements you will enjoy the elevated taste of your fresh greens.
Buy Microgreens Growing Kits On Amazon
Due to a busy schedule:
The second reason is that if you have a busy schedule and you always forget to water your plants then this is an easy way to grow your favorite microgreens for your tasty dishes. They enhance the flavor of food. We always try to give proper attention to our loving plants but sometimes it happens that life becomes too busy and neglects them.
Nutritious value of "MICROGREENS"
Third, If you compare the nutritious value of microgreens with mature leaves of the same plant you will be shocked to find that the nutritious value that can be obtained from these fast-growing plants is very high. The nutrients like carotenoids, ascorbic acids and other vitamins which you can obtain from these microgreens
No worry about the location:
You can grow them anywhere at your home it may be your garage, basement, patio, or balcony.
Buy Microgreens Growing Kits On Amazon
Which Plants You Should Grow as Microgreens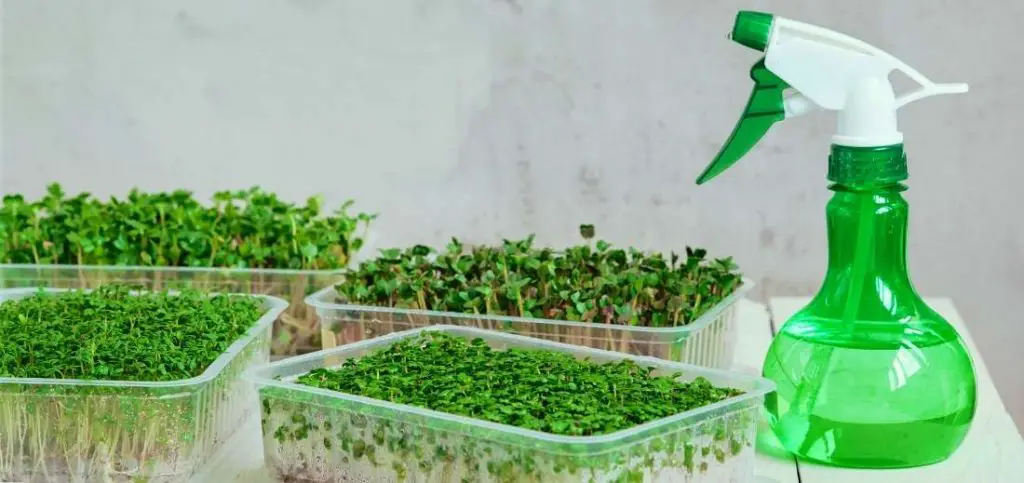 You can grow many plants as microgreens like spinach, beets, mustard, kale, swiss chards, coriander, parsley, sorrel, lettuce, basil, broccoli, and peas. It is noted that some varieties like wheatgrass, kohlrabi, and kale can grow well hydroponically and have the ability to produce better crops in water as compared to growing in the soil. 
But remember some plants such as peppers, potatoes, tomatoes, and eggplants have toxic elements in their stems, so you can't eat them. These unhealthy elements are not good for your health.
Read More: How To Grow Your Salad Greens Without A Garden?
Growing Microgreens Hydroponically at Home
The pH of the water must be between 5.5 to 6.5. Always use filter water with the right pH for growing soil-free plants. You can also use boil water instead of filter water. If you want to grow your plant very fast then healthy and clean water is essential for this purpose. And they will become a soil-free growth medium. You should wash them carefully before consumption although you are growing them in water.
The size of the plastic tray must be 10 × 20 with hydroponic growing pads. Try to wet the pads properly by pouring water in the tray.
The other option is also available which is a paper towel. Instead of using growing pads, you can use a paper towel. You can make a thick layer of the towel by folding it many times.
For a denser crop, you can use three tablespoons of seeds. This measurement is very good for arugula, broccoli, radish, and mizuna.  For best results spread the seeds evenly.
Now to take a spray bottle and mist seeds evenly. After that take an empty tray which has dark color but the same in size mist it from inside with the help of sprayer and put it upside down on the tray in which you are growing microgreens. This extra tray will work as a shelter from excessive light and provide humidity and moisture to your plants.
You need a temperature between 65 to 85 Fahrenheit (18 to 30 °C). If you are living in a cold area select a warm location for your tray.
 Your seeds need water every 10 to 12 hours. Use a spray bottle for this purpose and do not water the tray.
Seeds will take 4 to 5 days for sprouting, now your tray needs sunlight, so uncover it and place the tray at a location where it gets 3 to 4 hours sunlight. Rotation of the tray is necessary so your plants can get evenly light.
You can check the water level by pressing your finger at the pad. At this point, you don't need a spray bottle and pour the water to soak up the pad and base of the sprouts.
When they are ready to harvest try to harvest them in the late evening or early morning because it keeps them fresh and crisp.
Read More: How to Grow Turnip From Seeds
Is It an ideal way to grow microgreens without soil?
I think if we try this method, grown plants in this method may be clean but they take a long time to harvest as compared to the soil growing method. The soil provides a stable environment with consistent moisture and temperature. In the soil, plants get more space for their root growth which is not possible in a tray. The soil has the ability to retain more water as compared to pads so in this way it provides a good amount of water and nutrients to your plants.
Buy Microgreens Growing Kits On Amazon