Cherries are a summer treat that you can enjoy in pies, jams, and cakes. You can no longer make excuses for lack of time and limited space. Most people think that cherries can't grow indoors but they don't know cherry is one of the best trees that can grow in low light situations.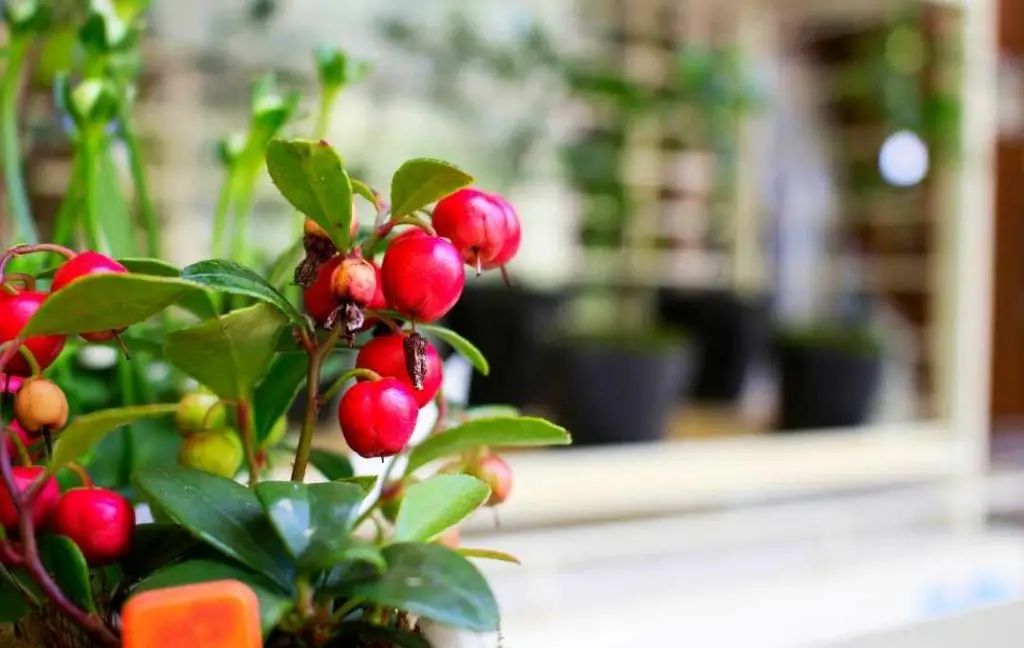 If you grow Cherry tree Indoor then it will tolerate harsh winter for the heatwave of Summer. Cherry blossoms make your home fragrant in the spring. In this article, you will get all the information about planting and maintaining cherry trees. First, you should select the cherry variety to grow.
BEST VARIETIES OF CHERRY
Over 1000 different types of cherries are found in the world. You can't grow a full-size cherry tree in your home, the perfect height for growing indoors should be 6-8 meters so you can easily handle it. 
For growing indoors, you should choose a self-pollinating dwarf or bonsai variety of cherries. The majority of varieties are self-sterile and pollinated by a compatible variety. 
As you are growing cherry trees inside your home and you don't have space to grow two cherry trees then you can buy potted cherry trees that have more than two compatible varieties grafted onto the rootstock. Dwarf variety needs 6 hours of sunlight that's why it is perfect for indoors. 
It is important to know that cherries are separated into two main groups one is sweet cherries and the other is sour cherries. For fresh cherries, you can grow sweet cherries and if you want to use cherries in baking then you should prefer to grow sour cherries. 
The north star variety has a small size of 2 to 3 meters. It is a self-pollinating variety and can be grown perfectly in your home because you need only one tree of this variety due to self-fruiting. 
The other best dwarf varieties are Stella, Sunburst, Morello, Black Gold, White Gold, Sweetheart, Glacier, Duke, and Lapins. You can get all the information about the best variety for your climate from a local nursery. 
GROWING CHERRY TREE INDOORS
It is easy to buy a young cherry tree from a store or nursery because if you grow cherries from a pit then it will take 4 to 5 years to produce fruits.
THINGS YOU NEEDS FOR GROWING CHERRIES FROM SEEDS
1- SEEDS
For growing cherries from seeds you need cherries from a tree or farmers market because you can't rely on the store-bought cherries, the reason is the way of storing.
The next step is to clean the seeds. Soak the seeds in warm water for a few minutes. This will help to loosen the remaining fruit on the seeds. Make sure there should be no fruit on the seeds. After washing the seeds let them dry in the air. 
If you don't need the seeds at that time then store them in a sealable containable. Keep this container in the fridge till spring. 
2- LARGE POT
Remember for growing cherries, you should use a large pot so the roots of the cherry will propagate easily. The size of the pot must be large as if you grow dwarf variety it can still be 6 feet tall. 
If you are growing a 5 feet tall variety then you can use a 15-gallon pot or container. It is better to start a dwarf variety in a small pot and when the cherry tree grows you can report it. It is suggested that the container must be lightweight so you can move it anywhere at your desired place. 
3- SOIL
Well, drained soil is perfect for every plant. It is better to put the stones at the bottom so it will encourage the best drainage for your cherry tree. Potting soil is best for growing cherries in the pot. Avoid using garden soil.
GROWING CHERRY TREE IN A POT
After putting the layer of stones for drainage at the bottom of the pot or container, fill the pot with soil.
If you are using the stored pits of cherries then first bring the seeds at room temperature after removing them from the fridge.
Two or three pits are enough for one pot. 
After a few days, you will see seedlings in the pot. 
It is suggested, you should grow one cherry plant in a pot. If you see there are more than one seedlings in a pot as you sow 2-3 seeds in the pot. Then you should report or transplant it to another pot.
---
Also Read
---
IMPORTANT FACTORS IN THE GROWTH OF CHERRIES
Some factors such as light, water, and temperature play an important role in the growth of any plant. In the same way, these factors are very important for the healthy germination of cherry trees. 
HOW MUCH LIGHT DOES A DWARF CHERRY TREE REQUIRE?
Daily 6 hours of sunlight is essential for the cherry tree to thrive. If you have a place in your home where it gets maximum sunlight then it is great but if your plant is not getting enough sunlight then you can arrange artificial LED lights. Without enough light, your cherry tree will not produce as much fruit. 
WHAT TEMPERATURE IS BEST FOR CHERRY TREES?
The cherry tree does not need a special climate to grow. It is noted that the ideal temperature for each variety is different. But if you can't provide the ideal temperature to the cherry tree your plant will still grow healthy and produce fruit. 
But remember, on winter days cherry trees need temperatures between 40 to 45 degrees Fahrenheit for producing fruit in the next growing season. 
HOW OFTEN SHOULD I WATER MY POTTED CHERRY TREE?
Your plant needs water every other day for the first week. In the second week 2 to 3 times and after that water the plant every week.  Water your cherry tree deeply after planting. 
Enough water is needed to keep the soil moist but remember over watering will cause sogginess. Avoid irregular watering especially in the fruiting period because it can result in cracked cherries. You should monitor the soil by using your finger then you will know, the soil needs water or not.
WHAT IS THE BEST FERTILIZER FOR A CHERRY TREE IN A POT?
When a tree starts producing fruit then the soil needs more nutrients so you will get benefits in the form of a large amount of fruit. Organic seaweed fertilizer is also the best option. 
But avoids the fertilizer which has a large amount of nitrogen because it encourages foliage growth but not increases the production of fruit. Our purpose is to get a good quantity and quality of fruit and we will succeed if we use fertilizer in early spring. 
HOW TO PRUNE AN INDOOR CHERRY TREE IN A POT
Pruning makes it possible for your fruit to get proper sunlight. For the healthy growth of cherry, fruit pruning is essential. You can prune the branches which you don't want to be part of your plant. 
You should stop your tree from getting too big as you are growing it indoors. In the house, you can't maintain a big tree. Undesired sprouts can be removed at any time during the growing season. 
NOTE:
But avoid pruning in the winter because the plant will not recover easily in the winter. 
WHEN TO PICK CHERRIES FROM POTTED TREE?
Generally, cherry trees take 3 years to establish and start bearing fruit in the fourth year. A mature tree can produce 30-50 quarts of fruit in a growing season. 
Picking fruit depends on the variety which you are growing in the pot because there are different signs that the fruits are fully ripe. The best way of checking is that when you see the exact ripe color of the variety then it means it is ready to pick. 
Use a sharp scissor to cut the cherries off from the tree but make sure it will not damage the plant. The stem of the tree is very important because it will produce the fruit in the next growing season.  
HOW TO STORE FRESHLY PICKED CHERRIES FROM THE TREE?
For storing cherries, you should keep them out of direct sunlight as this will make them shrink and shrivel up. This fruit will keep fresh after picking for 2-3 days outside from the fridge. 
If you want to extend the life of the juicy fruit then you should put them in a  sealed plastic bag (you can also use a sealed container). Keep the bag in the fridge for 3 days to 2 weeks.
Remember, you should use an airtight container or plastic bag for storing cherries in the fridge otherwise they will absorb then taste like any smell in the fridge. 
WHAT TO DO IF YOUR CHERRY TREE STOPS PRODUCING FRUIT
The young cherry tree will not produce fruit. Remember, sour cherry trees only start producing when the age of the tree is 3 to 5 years. In the same way, sweet cherry trees will produce fruit in 4 to 7 years.
If you are not giving the correct amount of water and fertilizer then it will result in no fruits. If your tree is not getting pollinated then you will get no fruit. It is recommended that you should grow a self-pollinating variety for indoor growing. 
The simple method of helping your tree pollinate is to use a small brush. With this brush move the pollen from the small stem inside the flower to the central stem. 
Read More