1- BAMBOO BEAN TYPES GARDEN TRELLIS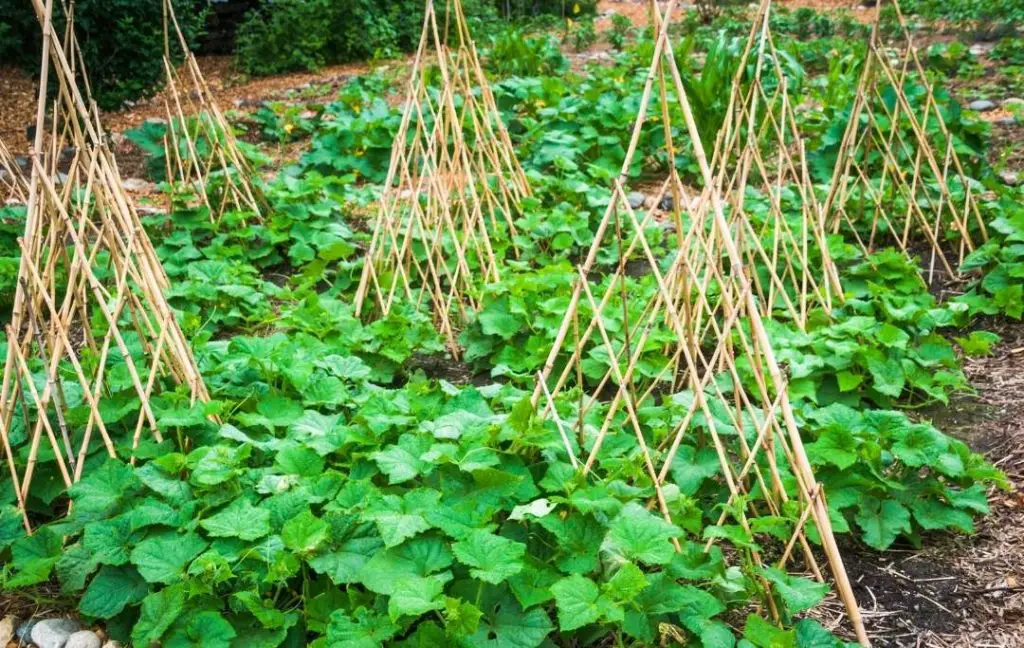 A teepee is very easy to build, only two things are needed for this, which are bamboo stakes and garden twine and a beautiful garden structure is made.
2- CYCLE OLD WHEELS TRELLIS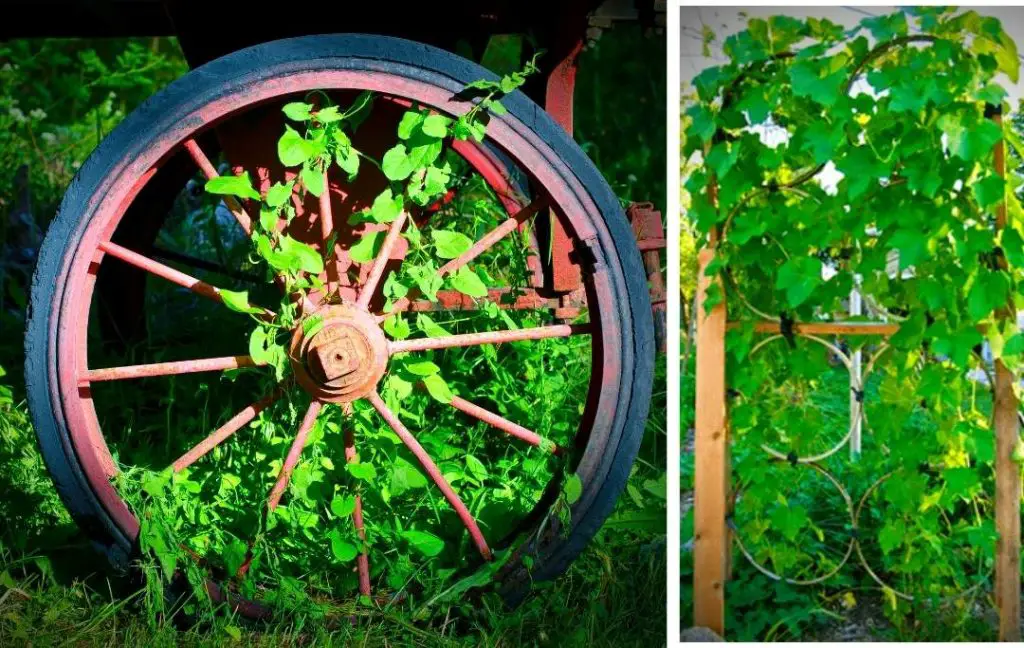 If you have old wheels in your garage you can recycle them by making a trellis for your plants. You can give a second life to these wheels by turning them into the trellis. Don't use new wheels but old used one which is awkwardly deformed due to dents.
For this purpose, you need wooden posts that will support your wheels. Tie one wheel to another and tie them all to the wooden support. Now put one or two potted vines near the water and support. In this way, you can easily train them to climb up the wheels and they were spread without disturbing other plants.
3- GARDEN TEEPEE TRELLIS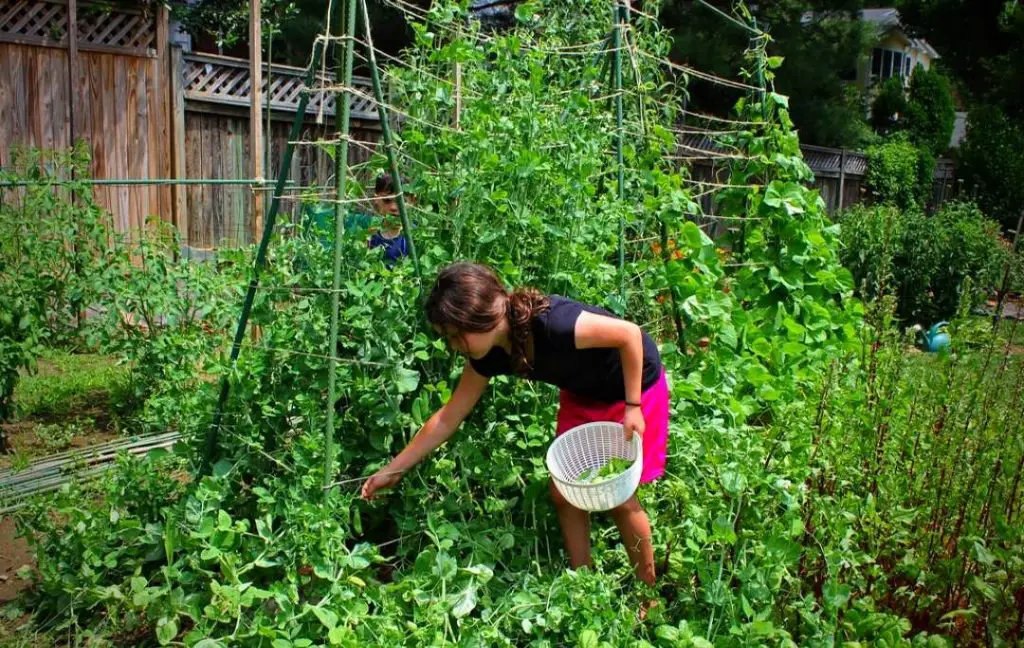 You can use branches from your garden to make a teepee. It is a good method for training the vines of cucumber. This trellis can control the cucumber plant from spreading on the ground. It will also help to increase the growth and get the plants off the ground.
Without giving support to your cucumber plant, you are not able to get long cucumbers and you cannot avoid insects and other diseases issues,  so make it easier for you to plant cucumber by installing this trellis structure which is very simple. The best mining varieties of cucumber are Lemon, Suyo Long, Marketmore 76, Diva, and Armenian.
Read More: 12 BEST Trellis For Cucumber In Raised Beds
4- WOOD AND WIRE TRELLIS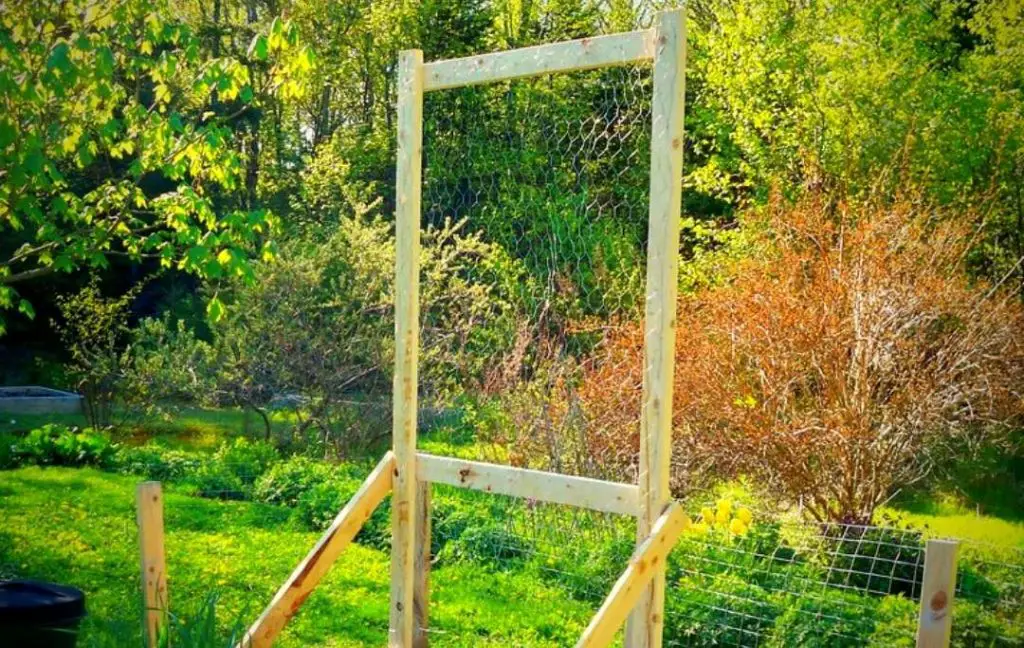 This is the most common idea of making trellis which is used by many gardeners. No hard work is needed, simplicity is the best rule in the making of this type of support structure. You just need wooden posts and wires for making this simple trellis.
First, you install wooden posts in a raised bed, and after that add wires across the posts. The next step is to secure the wires by twisting them at both ends of the wooden posts. If you don't have wires you can also use thread and nails which is also made without effort.
After making the trellis you have to install it properly and perfectly. The young plants need support which they get from this simple structure and they start to grow up in the right direction.
Read More: 20 Best Vegetables To Grow In Buckets
5- DIY BIKE RIM TRELLIS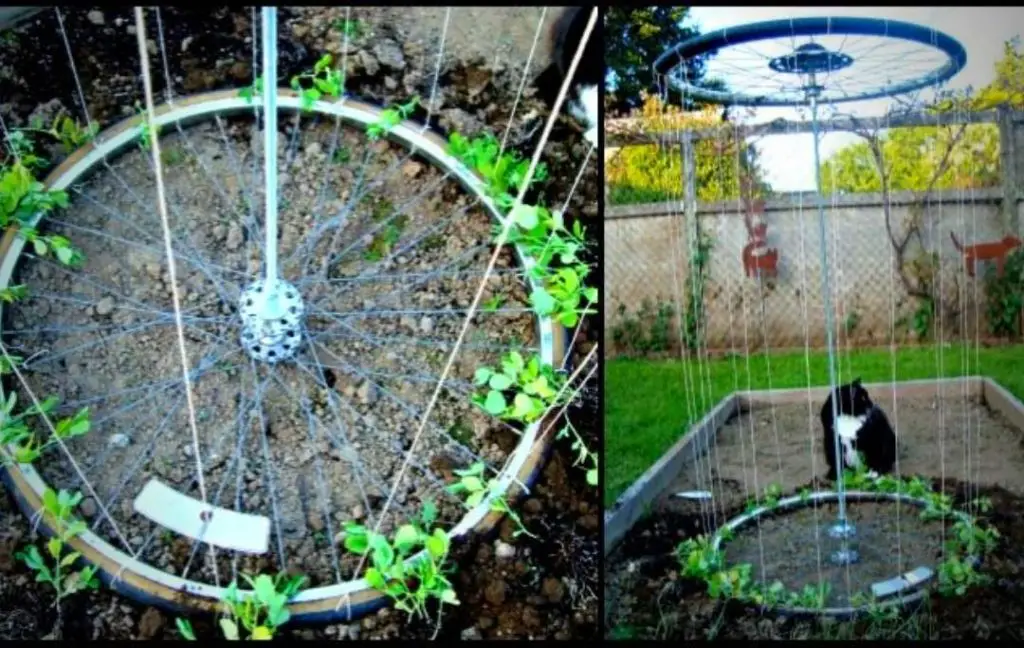 For making this type of trellis you need a couple of bike rims. This useless thing can be used to make a chick vegetable trellis. This trellis looks like a tube that is standing on a raised bed. Once you start wrapping vegetables around the wires it looks amazing and wonderful.
But first, make arrangements of the things that you need for making this trellis, you need two recycled bike rims, wire, garden twine, and an upright metal bar. With the help of the metal bar you can easily connect bike rims but make sure that one end of the bar is stuck in the ground.
Now start tying the wire or garden twine from one rim to the other. You should tie them tightly so the structure would not come apart due to the blowing of the wind.
Read More: How To Grow Tomatoes In A Vertical Garden?
6- A VEGETABLE ARCHWAY IDEA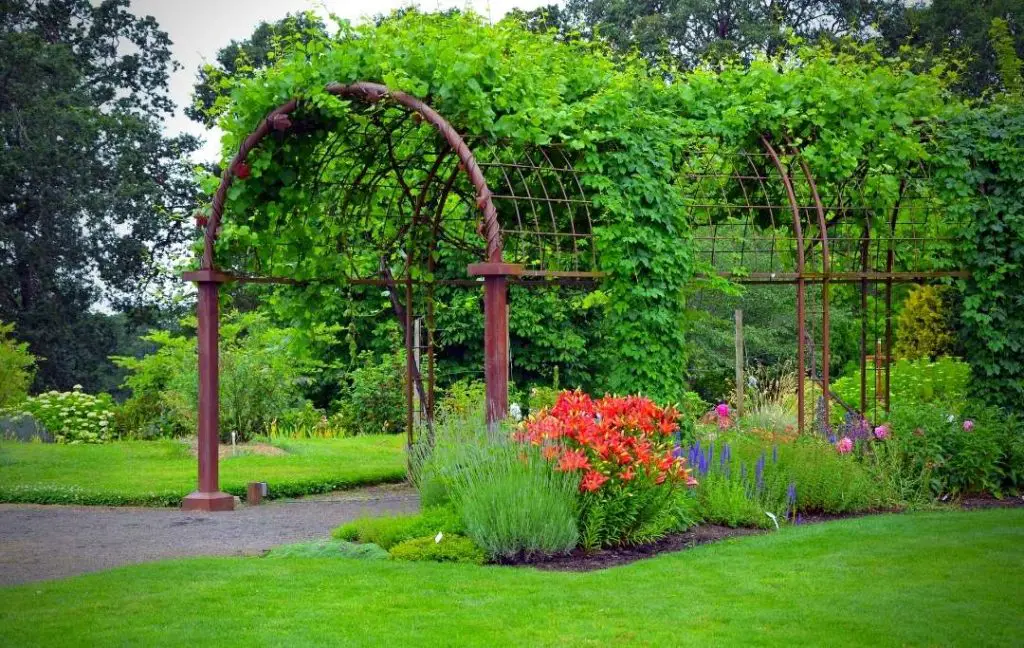 An arch is very useful to improve the backyard landscaping, this is another way to make trellis and add more space for your plants to grow. You can buy a readymade arch or if you want to make this DIY arch. The things you need for making or 4 × 6 cattle panels, 6 electric field stakes, and twist ties. In this way, you can grow more veggies like tomatoes and grapes.
7- A SHAPED TRELLIS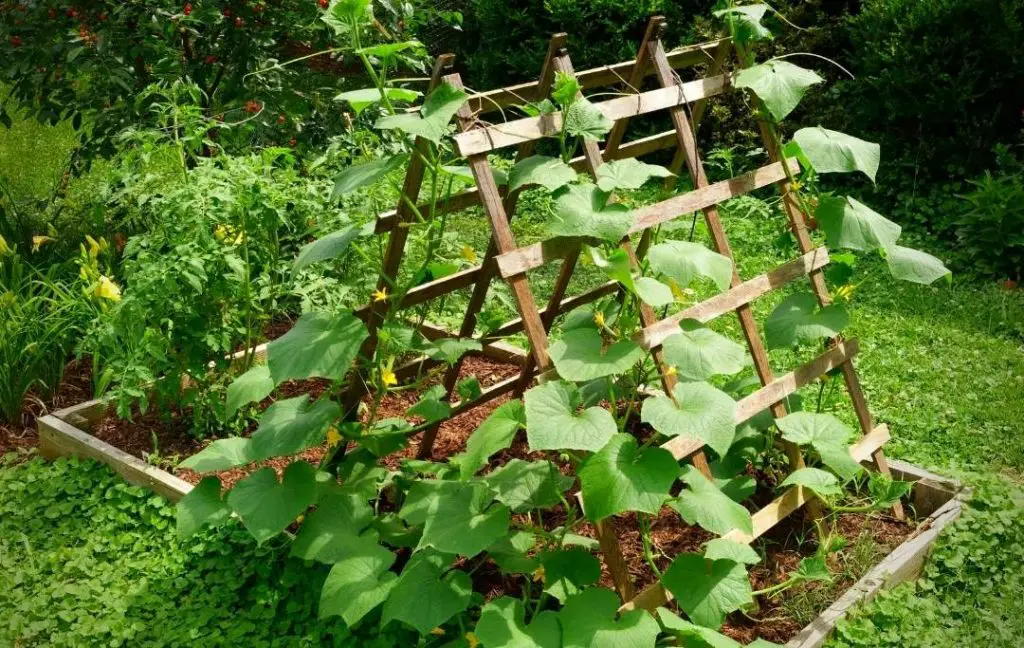 This type of frame never gets old, many gardeners like to do vertical gardening so they make this trellis. The making of this trellis is very simple. You have to just cut two 6 footboards in half, now you get four 3-foot pieces. You can make a picture frame shape by putting together two of the three 4 pieces and the other two 6 Footboards.
Now you need screws to secure them, repeat this process to make another structure. One side of the frame should be covered with the cloth. You can secure this cloth with the staple gun now join both frames with screws and make A-frame.
Read More: How To Grow Your Salad Greens Without A Garden?
8- CLASSIC BAMBOO AND TWINE TRELLIS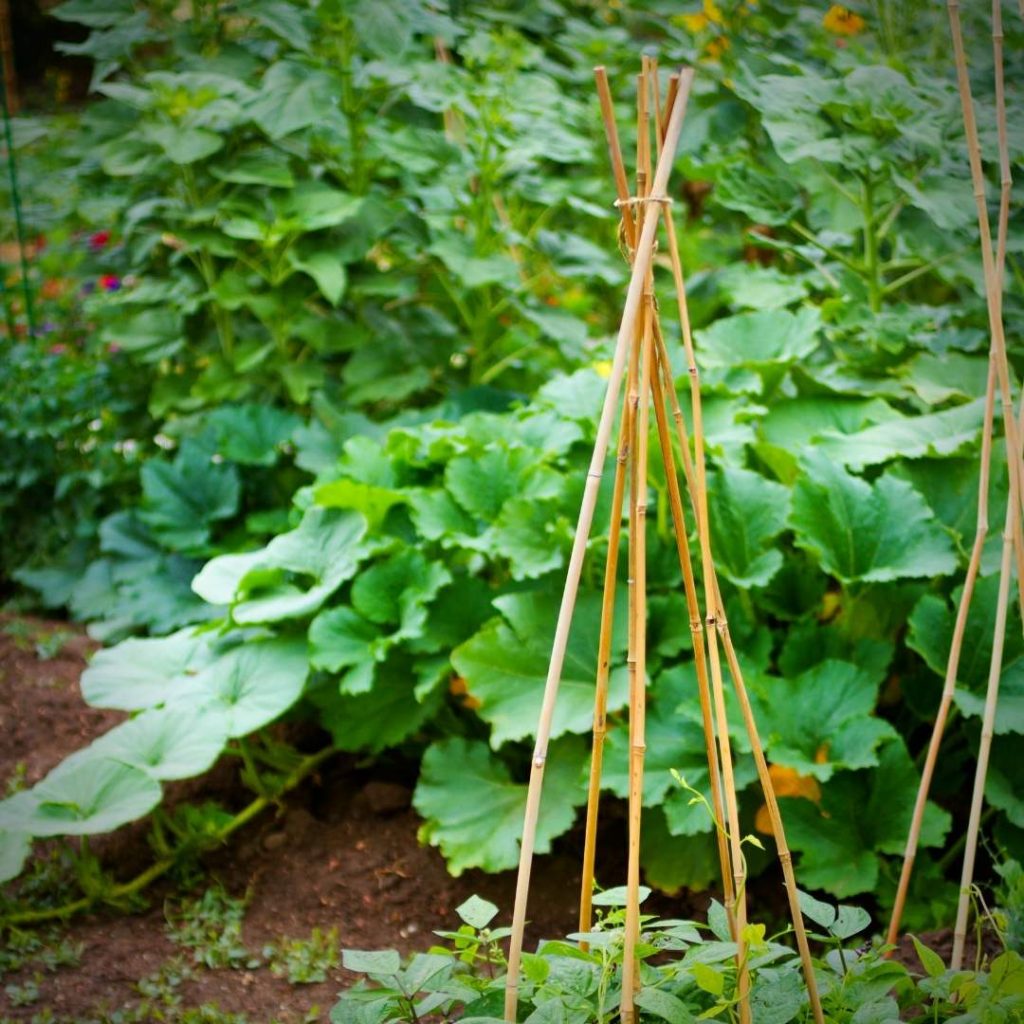 These inexpensive materials like bamboo and wines. This will help you a lot to make a cheap trellis for your vegetables. You can create a teepee by spacing 4 to 8 cans or bamboo at equal intervals. In this way, you can make a circle in the ground. Another thing that is used to tie the top of the cans or bamboo is a string. You can also use wires instead of strings.
9- COLOURFUL OBELISK TRELLIS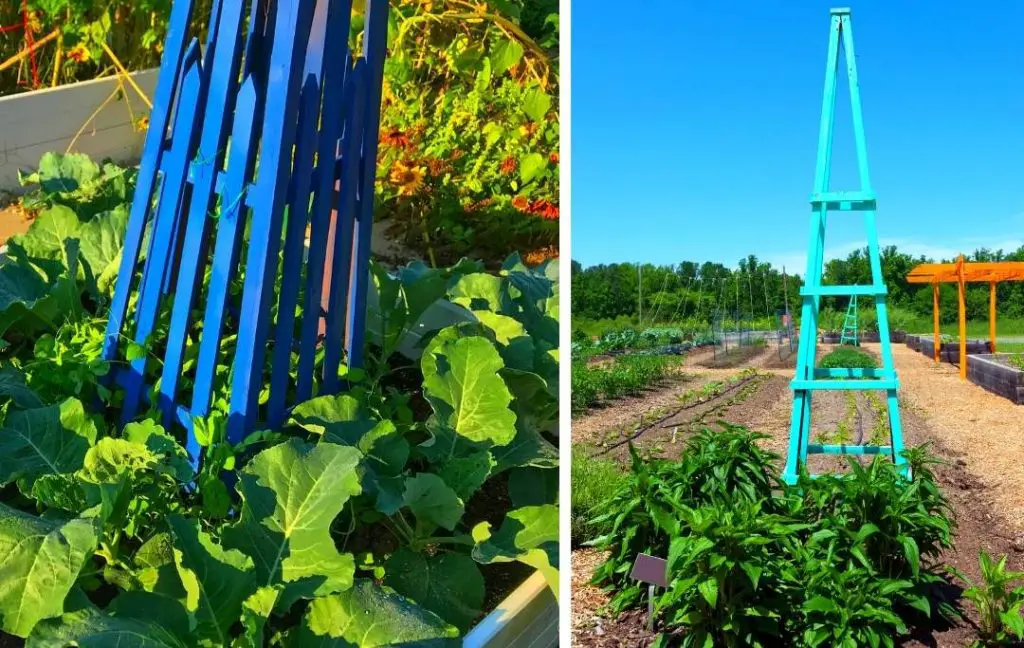 If you don't want to follow those traditional ways of making trellis. You can try these colorful obelisks as it will add more style to your garden. If you decide to make them then you need boards, screws, and elbow grease. By making these obelisks you can show your creativity to others.
10- CRIB TRELLIS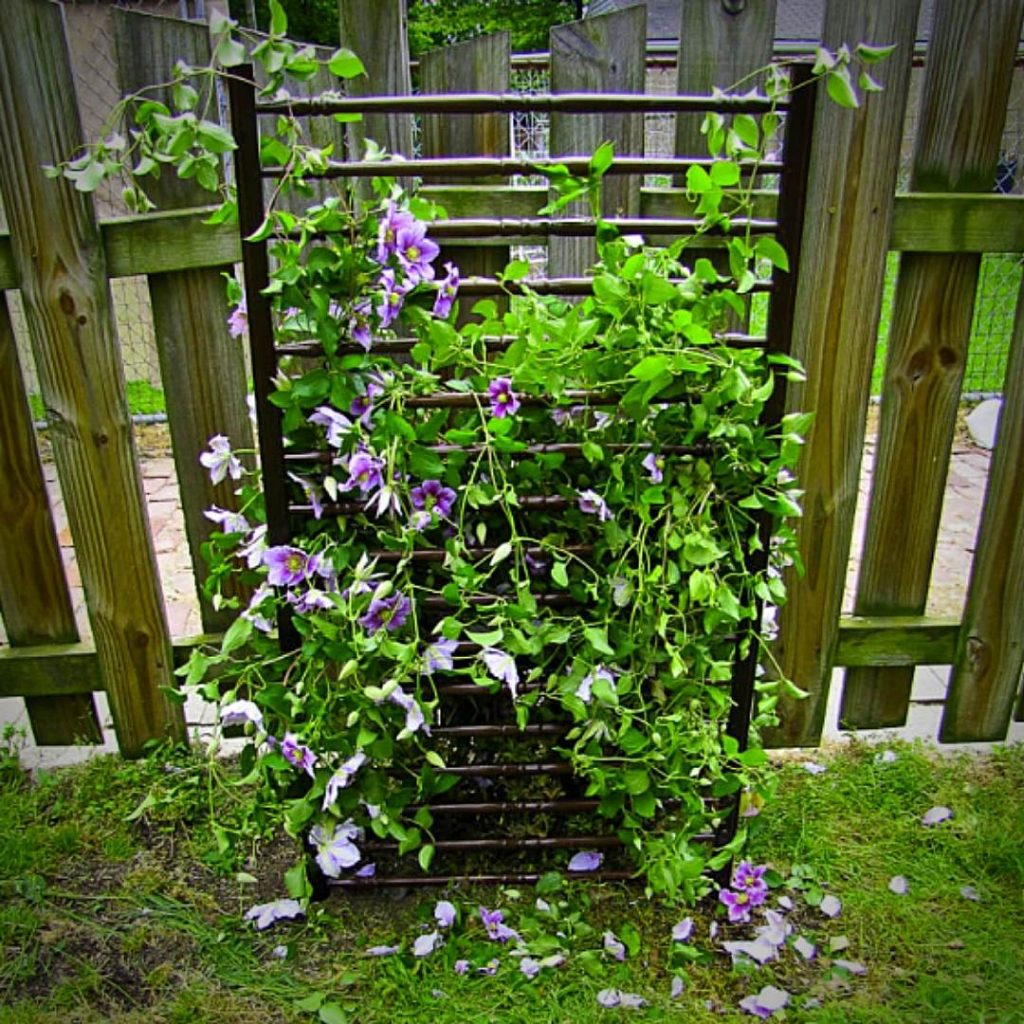 Old cribs are used in the making of the trellis in a different style. You can do it by yourself without the help of any carpenter. If you have an old crib, the work is done. Paint it if necessary and attach it to a wall or fence. In order to hold the crib, you should install stakes in the ground.
Read More: How to Build a Vertical Garden Frame?