Most people think that gardening is a tough job because sometimes it can be dirty and time-consuming.  Hard work is needed for this job that's why most people are not willing to do it however they have space. But you can't deny this fact that when you get the fruit of your hard work you will be happy.  It gives you true happiness when you eat vegetables and fruits from your garden. 
Gardening becomes easier if you follow some secret tips or hacks then it will become fun and you will enjoy it a lot. Some hacks will help you even if you have limited space for growing your favorite plants and some will help you fight against weeds and pests.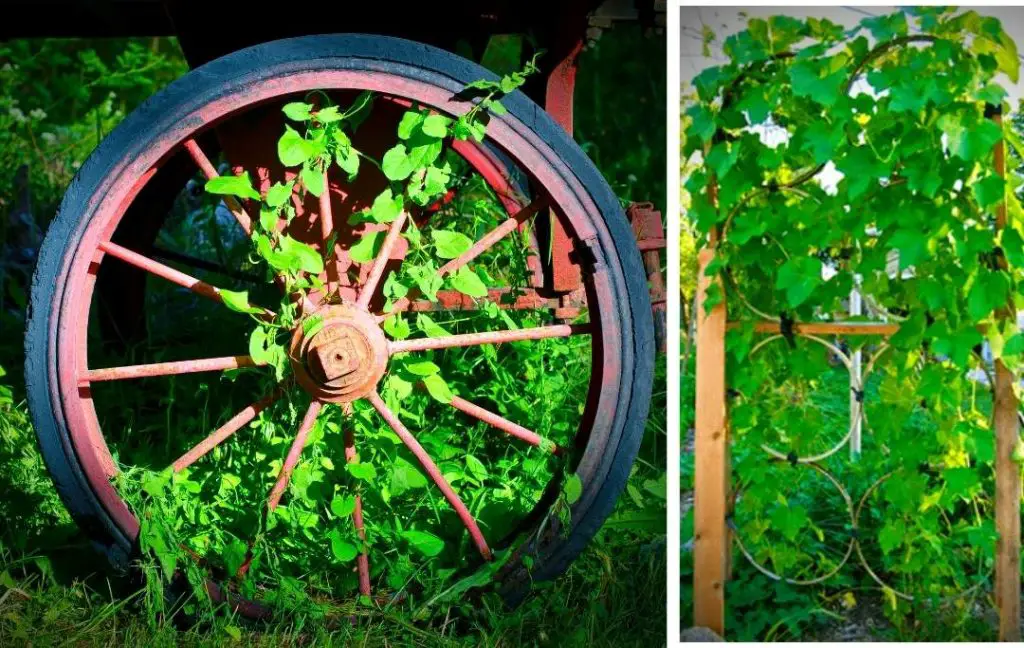 When you read these hacks which are going to explain then you come to know how these little tricks will make your life easier. Here we are going to discuss 20 gardening hacks, and hope these interesting ideas will help you to solve your problems regarding gardening.
1- SAVE SPACE WITH CONTAINER GARDENING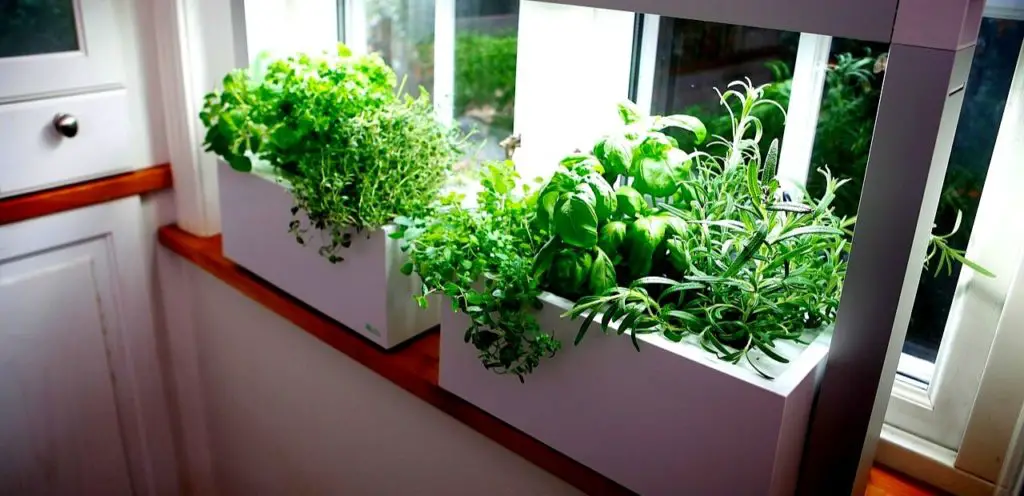 Most people facing the problem of limited space. They are willing to grow plants but due to this reason, they are resisting to start gardening. Space-saving containers can solve their problem because they occupy a few extra feet of the area where you want to go plants. 
You can grow any type of plants in these containers such as flowers, herbs, vegetables, and fruits,  this is up to you because it depends upon your choice. But you should be careful in choosing the soil for your containers because all the basic nutrients which your plants need can be obtained from the soil.
Read More: 10 Best DIY & Cheap Container Vegetable Gardening Ideas Anyone Can Use
2- MAKE WEEDS OLD NEWS
Weeds are a big problem for most gardeners but using a simple easy home remedy you can prevent your plants from weeds. Using a layer of old newspapers within the soil before planting. Newspapers act like a weapon to fight against weeds. The interesting thing is that they won't stop water and important nutrients from getting to seedlings. The annoying weeds will become old news which you will forget.
3- HOMEMADE WEED KILLER
Another way to get rid of weeds is by making homemade weed killers very easily.  Weeds are unwanted plants but you should not worry because there is no need to buy harsh chemical weed killers which are not safe for your lungs.  You can make weed killer liquid at home by mixing vinegar, salt, and dish soap.  Now use this liquid to spray anywhere in your garden and it prevents your plants from pesky weeds.
4- MILK JUG MINI GREENHOUSE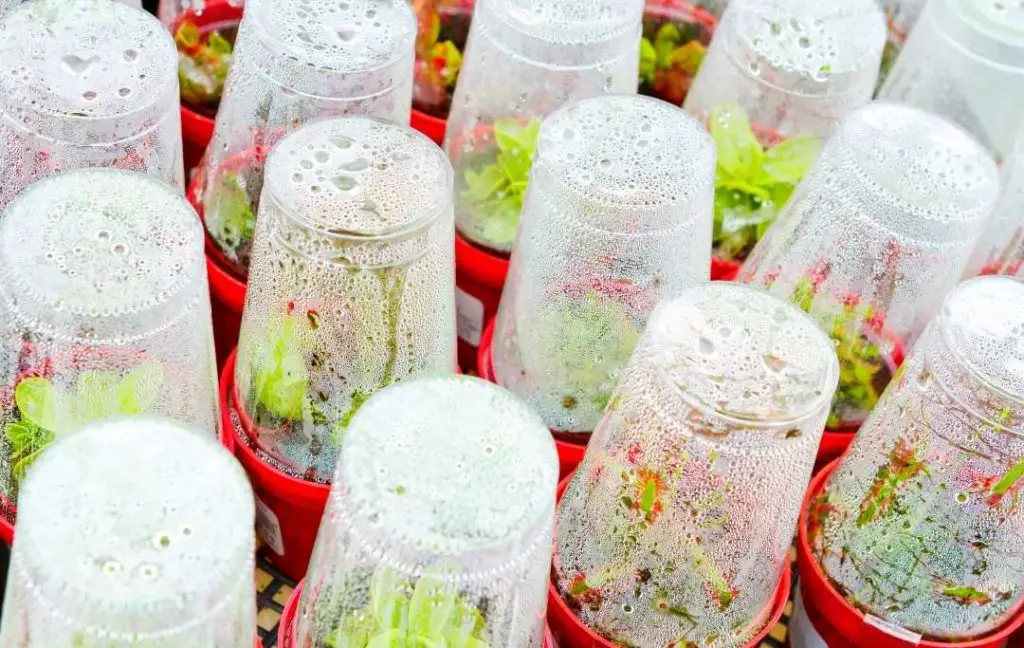 When you read the heading a milk jug as a mini greenhouse. You will be surprised and think about how is it possible and want to know more about it. For this purpose cut the bottom of an empty milk jug now your mini greenhouse is ready just put it over your small and tender plants to protect them from frost. In this way, your young plants will also be protected from bugs and pests. 
5- USE WATER TWICE
As you know water is an important factor for the development of plants.  The water which you used in boiling your veggies, pasta, or eggs can be used for your plants. But make sure that the water should be cool before using it. By using this way you will get a dual advantage. First, you can save water and other water is full of nutrients which is very beneficial for your plants.
6- USE MILK JUG AS WATERING CAN
If you don't have a watering can then you should not worry. You can create your watering can by using an empty milk jug. First, wash out the milk jug and use a knife to poke several small holes in the cap of the milk jug. Now fill your new can with water and screw the cap. Now your plants are ready to get water from your new watering can.
7- USING EGGSHELLS AS FREE FERTILIZER
You can use eggshells as a fertilizer because they contain calcium and other minerals. They not only provide basic nutrients to your plants but their sharp edges will also deter common garden pests like slugs and snails.
Read More: How To Make Compost At Home Using Kitchen And Garden Wastes
8- USE FORKS TO KEEP ANIMALS AWAY FROM YOUR BEDS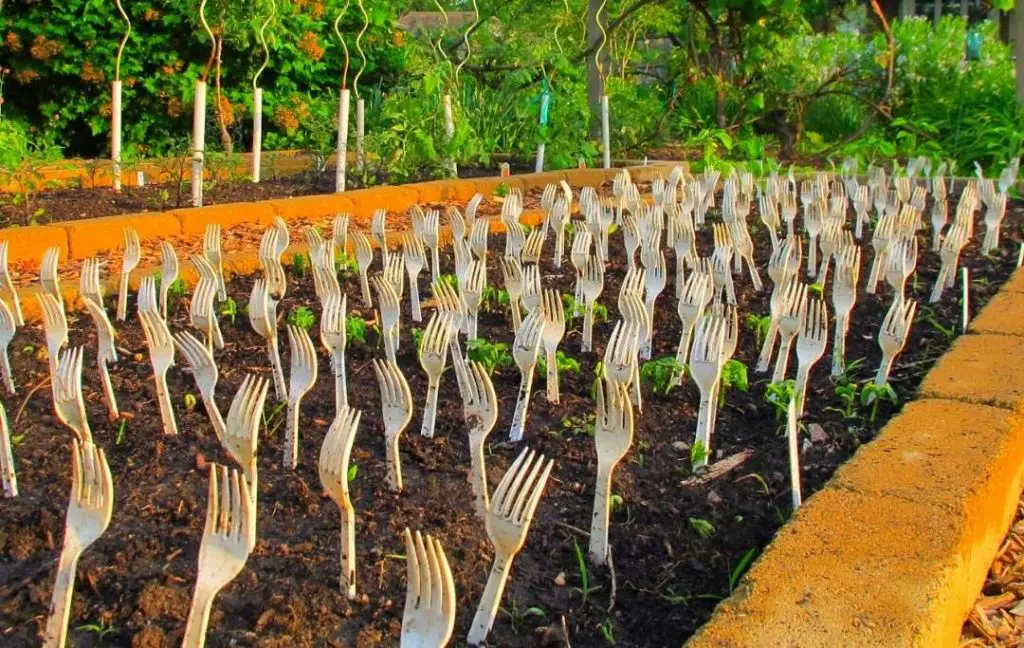 Use a bunch of plastic forks and stick them in the soil and their sharp side should be upon the ground. In this way, stray animals can't walk on your favorite beds and your beds will be saved from them. 
9-  EPSOM SALT AS FERTILIZER
Epsom salt can work as a natural fertilizer.  The question arises in your mind how can you do this. Just take  2 tbsp of Epsom salt and mix it with one gallon of water, now sprinkle this liquid over the base of your plants.  Try to use this liquid once a month and you will be surprised to see the healthier growth of plants.
Read More: Best Ways To Use Epsom Salt In The Garden
10- GARLIC AND MINT WORKS AS A BUG SPRAY
This is the dream of every gardener that he wants to make his beds free from weeds and other dangerous insects. The easy and natural way is to make a mixture of garlic and mint and spray this liquid on your plants and make them free from bugs.
11- USE FOOD CONTAINERS FOR YOUR SEEDLINGS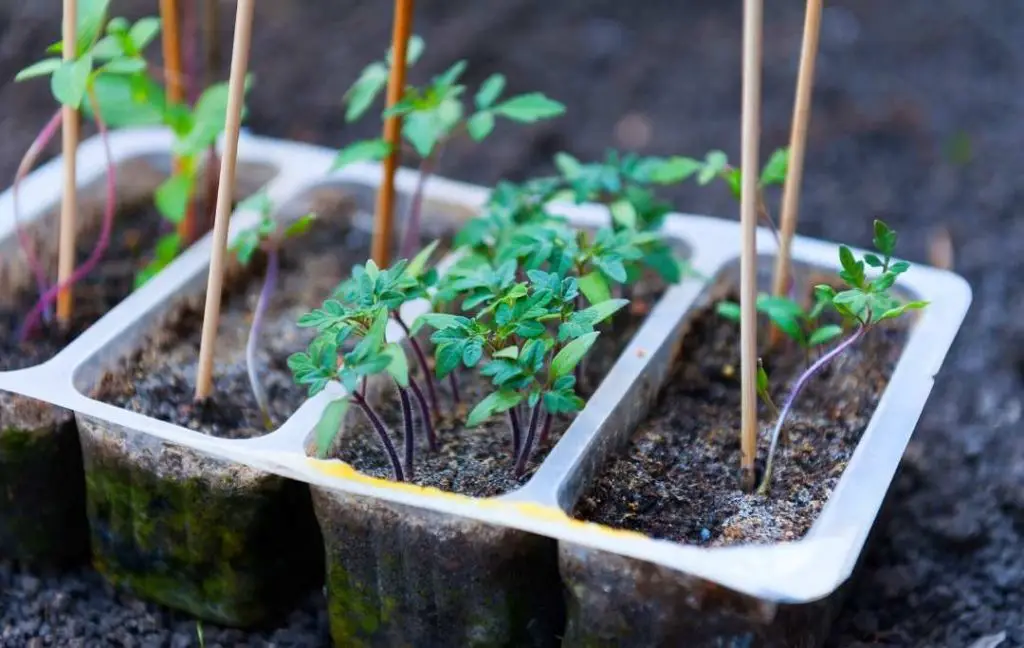 Recycling is a good process in this way you can clean your environment.  By reusing your plastic food containers you can reduce plastic waste.  Simply use the plastic food containers to plant your seedlings. First, you should wash these containers now, fill them with soil, and add seeds. Now close the container and place them in a sunny spot. The moisture inside the container will help your seeds to sprout very easily.
12-  WEEDING BECOME EASIER IN WET GROUND
Weeding is a difficult and hardest job for most gardeners. But this can become easy and simple by using this hack.  will become easy if you do it after the rain when your ground is wet. If you don't want to wait for rain then hose down your garden.
Read More: How To Keep Weeds Out Of Your Raised Bed
13- USE VINEGAR TO KILL WEEDS
Try to use natural ways to kill weeds instead of using products for poison which is not good for our bodies and health.  It is a common household product which is very cheap and easily available at your home. 
Read More: Why You Should Use White Vinegar In Your Garden
14- THE BEST WAY TO KEEP YOUR TOOLS
Tools make gardening very easy. If you store your tools in the right way then you can use them for a long time.  If you store your tools in a bucket of sand then you can prevent them from drying or rusting out.
---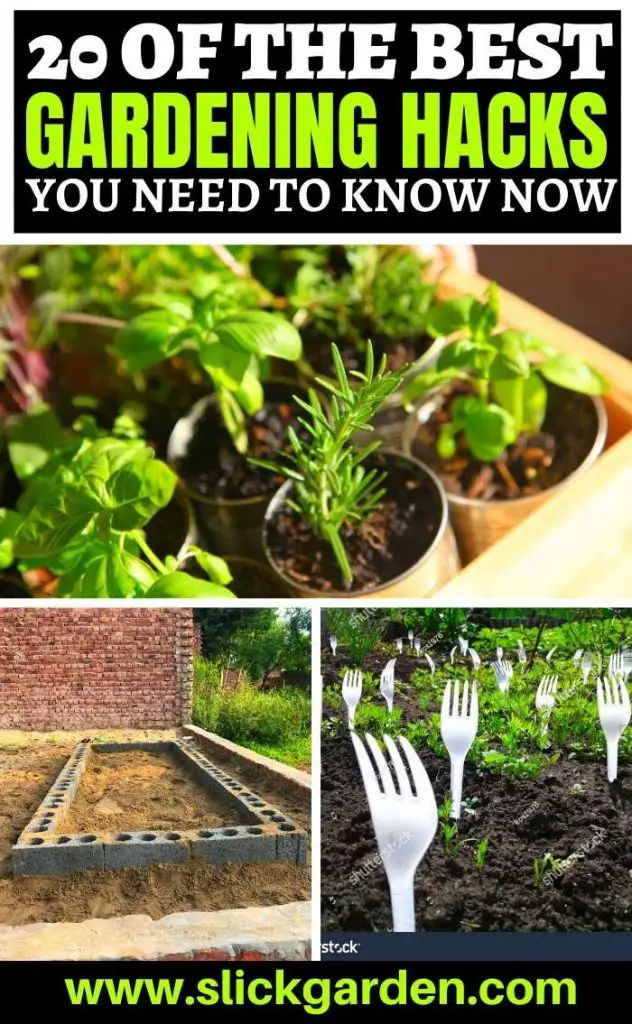 ---
15- BEEHIVE HELP IN POLLINATION
We discussed earlier a lot of ways to keep insects away from your garden. but it is important to know that some insects are necessary for your plants, especially flowers for the pollination process.  Bees are very helpful for this purpose. You should encourage them and simply keep a bowl filled with water anywhere in your garden. In this way, these helpful workers keep hydrated in the hot season.
16-  COFFEE GROUNDS CAN BE USED FOR KEEP PESTS AWAY
Coffee grounds are a waste material but you can use them to keep pests like ants, snails, and slugs away from your garden beds. This smart hack will not cost you and help you a lot.
Read More: BENEFITS OF COFFEE GROUNDS IN VEGETABLE GARDEN
17- USE CITRUS PEEL TO STARTS SEEDS
The peelings of citrus fruit are very helpful because you can use them as seed starters.  You have to do nothing, just poke a hole in the bottom of the peel.  Because drainage is very essential that's why you have to make this hole.  
Now fill it with high-quality soil and sow seed after that sprinkle some water. The best thing about this type of starter is that you have not to separate the seedlings from the starter and transplant your seedlings directly in the ground or container. This peel will decompose in the soil and become helpful in the growth of your young plants.
Read More: COMMON SEED STARTING MISTAKES TO AVOID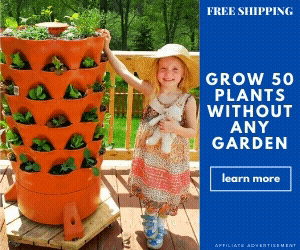 18- USE HYDROGEN PEROXIDE TO FIGHT AGAINST FUNGAL DISEASES
The benefits of hydrogen peroxide are many for your plants. It can save your plants from fungal diseases and root rot. It also helps to sprout seeds and improves the root system of your plants.
Read More: 10 Surprising Uses Of Hydrogen Peroxide In Your Garden
19- OLD LADDER CAN BE TURNED INTO A PLANT HOLDER
If you have an old ladder then you can turn it into a plant holder, in this way, you can create more space for your pots. By using your creativity and skills, you can turn into an attractive plant holder. You can paint it with different attractive bright colors.
Read More: 10 VEGETABLE GARDEN TRELLIS IDEAS
20- CHECK SOIL pH AT HOME
By using this way you cannot find exact value but at least easily find the nature of the soil. For this purpose, baking soda and vinegar help you to check the soil pH.  For example, when you sprinkle vinegar on the soil and see the bubbles it means that your soil is alkaline.  In the same way, when you add baking soda to the soil and see bubbles it means your soil is acidic.