Rosemary is a perennial plant and can be grown 4 feet tall and 4 feet wide. It likes to grow in warm areas but you can also grow them in containers if you are living in a cool climate. The fragrance and taste of fresh herbs of the rosemary of your garden.
In this article, we are going to discuss how to grow Rosemary from grocery store cuttings. First, we will discuss what are the benefits of growing Rosemary from cuttings.
BENEFITS OF GROWING ROSEMARY PLANTS FROM CUTTINGS
You can start your Rosemary plants from seeds or buy the readymade plants from any local nursery but growing Rosemary from stem cuttings is a simple and cheap way. 
Three basic benefits which you get from growing Rosemary from stem cuttings are as follows:
1- EARLIER HARVEST
If you grow Rosemary plants from seeds then it will take some time to sprout and grow taller but if you grow them from stem cuttings then the germination process of seeds will be excluded. 
It is the shortcut method of growing Rosemary and getting multiple plants. In this way, you can harvest your plant early. Your Rosemary plant will be ready to harvest within a few months.
2- SAME AS THE MOTHER PLANT
The stem cuttings with you used for growing Rosemary is the clone of the mother plant. The taste and flavor you get from the plant of the stem cutting are the same as the mother plant. 
3- EXTRA PLANT FOR FREE
A single plant of Rosemary which you grow from the stem cuttings can provide you with several cuttings. You can use these cuttings for growing more Rosemary plants. The windowsill of your kitchen will give you fresh fragrance and make the environment of your kitchen fresh. 
WHEN TO PLANT ROSEMARY?
You can also grow Rosemary from seeds but the germination rate is very low and the seedlings also grow very slow. It is strongly recommended that you can start Roseberry Herbs from stem cutting which you take from established Rosemary plants. If you provide good conditions to the cutting then they will be growing fast.
The best time of growing Rosemary is in the late spring to early summer as it is mentioned above Rosemary likes to grow in warm weather at the end of the summer you will get your favorite herb for your kitchen.
PROPAGATION OF ROSEMARY FROM STEM CUTTINGS
You will get all the instructions and tips on how to grow Rosemary from cutting step by step. These tips will help you a lot in growing Rosemary for free from cuttings.
You can also get cuttings from the grocery store, you can choose the cuttings according to your choice which you want to grow in your garden or on your windows. But if you have established Rosemary plants then you can also use the cuttings from them. 
MATERIALS NEEDED
The following material you needed for growing Rosemary cuttings:
Rosemary cuttings
Compost (you can buy from the garden center or make it at home)
STEP 1: SOURCE YOUR ROSEMARY CUTTINGS
For starting the process of growing you need a decent size of cuttings from your desired variety. The stem which you get from the Rosemary plant should be healthy and good in length. 
Younger shoots have green stems that are very flexible and you can use them for planting. You should avoid using older, brown, and woody stems. You can use sharp scissors for getting Rosemary stem. 
The best size for the stem cutting is about 18 inches. You can get your desired cuttings from any grocery store or if you have established plants then you can get them from It. You can also ask for cuttings from your friends or neighbors who have established plants.
STEP 2: POTTING MIXTURE FOR PROPAGATING ROSEMARY
You can also plant cuttings into the ordinary soil and the roots will also start emerging from that cuttings but this way of growing can be risky. Because growing the cuttings in that way can increase the chance of losing cuttings to rot, fungus and pests.
You can use the best potting mixture for propagating Rosemary. Make sure your pot has a drainage hole because when it is very important for getting healthy plants. You can also create your potting mix.  
The recipe for making your potting mix is very simple one part of perlite and one to two parts of multi-purpose compost. Fill the pot with a high-quality potting mix when the roots of cuttings develop properly then you can re-pot them to the large container for a large pot. 
STEP 3: PREPARE THE ROSEMARY CUTTINGS
The next step is very simple you should get the cuttings of the Rosemary stem. Each cutting has the potential to grow and turn into a healthy plant. First, remove leaves at the bottom and then trim the bottom of the cuttings.
You can use are sharp knife for this purpose. Trimming will encourage the growth of roots. The bottom part of the cutting which you are going to bury in the soil should be 2 inches long. Make sure your cutting has at least two nodes because it will helpful for emerging roots. 
STEP 4: STIMULATE ROOTING
You can also plant the cuttings in the soil but if you want to start the growing process more successfully. You can use rooting hormone powder for this purpose. There are many different materials available that can stimulate rooting but this is the best one that you can use. 
Dip the bottom end of the cutting into the powder. Your terracotta pots are ready for planting the cuttings then gently slide the cuttings into the pot along the outer edge. It is better to make a hole in the soil and put the cuttings into the hole, you can make a hole with the help of a pencil.
STEP 5: PROPAGATE ROSEMARY
The next step is giving a drink to your cuttings. They need a good amount of water to drink. After that you can cover the cuttings with the help of a plastic bag it can create a mini greenhouse.
The roots will start emerging within 4 to 8 weeks, keep your soil moist during this process. You can check the soil with the help of your finger then you come to know when to water your plants.
STEP 6: TRANSPLANTING INTO A NEW PERMANENT PLACE
When you see your cuttings are ready, new routes emerge then this is the time to replant it into the permanent position where you want to plant it. 
You can plant them in your garden, in a large pot or container, and raised bed is also a good option for growing them. After replanting water them again so so the plants will set into the new environment easily.
---
Read More 
---
CARE FOR ROSEMARY PLANTS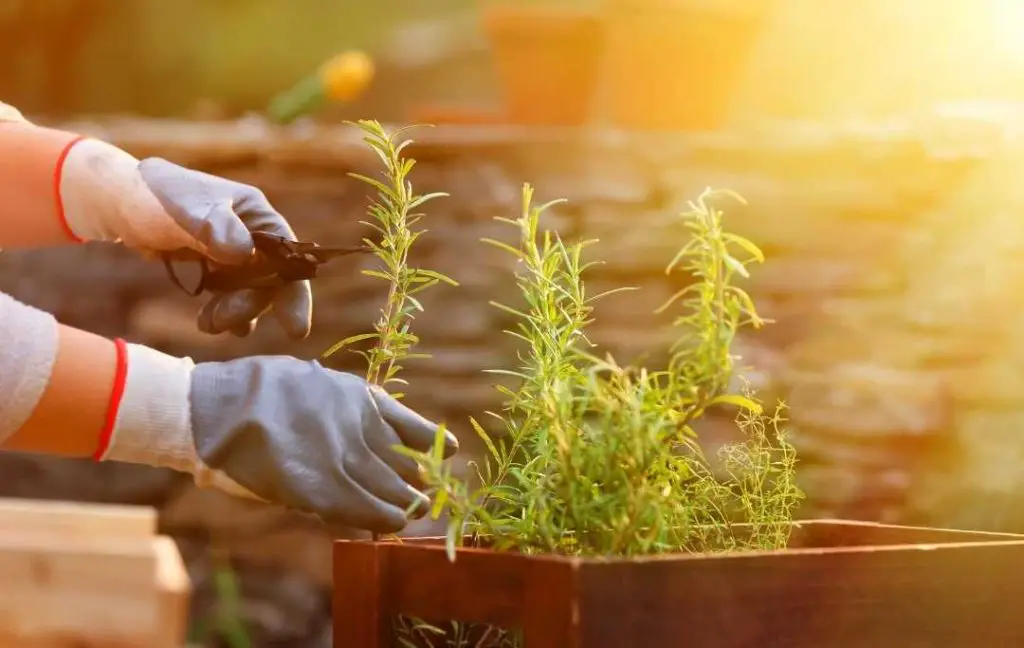 Here are some tips which you can follow for growing healthy and producing Rosemary plants.
Sunlight: Your Rosemary plants need 6 to 8 hours of direct sunlight even in the summertime. So you should choose the location where they get maximum sunlight for giving you healthy Rosemary Herbs for your favorite dishes.
Water: Whenever you feel the soil is dry then water your Rosemary plants. They like to grow in well-drained soil.
Container: When your plants grow taller than they need a large container or area for growing. If you are growing Rosemary plant in a container then the height of the container must be 1 to 3 feet.
Pruning: Your Rosemary plants need frequently pruning so they won't get lanky. In the winter season, you can grow your Rosemary plants indoors in a pot but make sure your plants get bright light.
If you start growing your Rosemary plant in the ground then you can't transplant them into the container. If you grow them in a pot or a container so you can bring them inside your house during the colder months.
---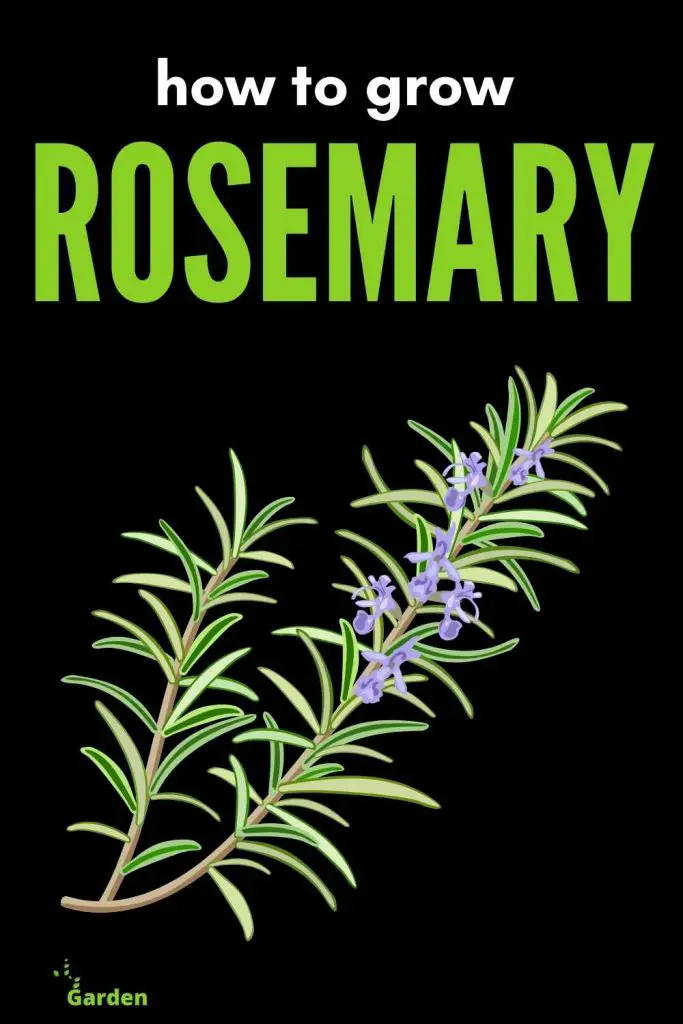 ---
COMMON ROSEMARY PESTS
Pests that destroys Rosemary plants are as follows:
APHIDS
Aphids are tiny insects that are the reason for appearing black and pale spots on the plant. They weaken your rosemary plants and suck all the nutrients from them. The spray is the best way of getting rid of them. You can also use organic insecticidal soap for this purpose.
THRIPS
Thrip also affects your Rosemary plant they are the reason for leaf stippling. They destroyed the tissues around certain feeding spots and create silvery patches on the leaves. This will become the reason for the death of your plants.
SPITTLEBUG
These are tiny brown insects that leave small wads of salvia like foam.
WHITEFLIES
Whiteflies have a soft body and they just look like aphids and mealybugs. But they are not fly also they have wings and can fly. They secrete sticky substances which leads to black mold.
Wash off the whiteflies with a quick stream of water. You can also use insecticide soap or neem. 
MEALYBUGS
Mealybugs are very tiny insects that live on the sap of Rosemary plants. The males have thin bodies and no wings, on the other hand, females have large bodies and wings. You can use neem oil which is a powerful insecticide.
SPIDER MITES
Spider mites suck the chlorophyll, water, and other nutrients from the leaves of Rosemary plants. They are found in different colors like red, black, brown, and yellow. Insecticidal soap will help you to get rid of them.
HOW TO HARVEST ROSEMARY?
It is suggested to use the Rosemary when they are fresh. Snip off the stems and hang them in the kitchen so you will get dried Rosemary for future use.
 If you harvest the young stems then you will get a fresh taste of Rosemary. 
You should harvest up to a third of the Rosemary at one time and allow the plant to replace its growth.
HOW TO STORE ROSEMARY?
You can dry the fresh leaves of rosemary in the air by hanging them. When the leaves are completely dry then you can keep them in an airtight container. 
Read More