Basil likes warm weather, you can grow it from seeds or transplant seedlings after the danger of frost. Within a few weeks, you will get an abundant harvest of it. If you want to make your plant-strong then you should keep harvesting.
RECOMMENDED VARIETIES OF BASIL
The most common types of basil are so Sweet Basil, Lemon Basil, Purple Basil, and Thai Basil. This crop needs little maintenance but you can grow it only in summer when your soil is warm. Here we are going to discuss some very popular varieties.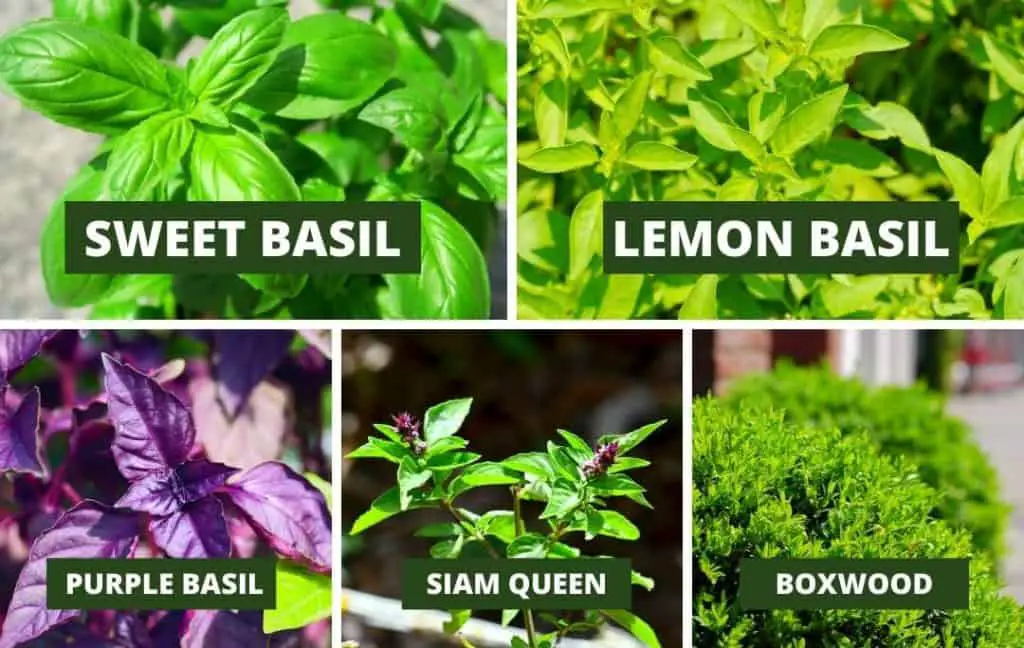 SWEET BASIL
This variety has the flavor of full liquorice and spicy clove fragrance. If you use it fresh then you will get the best flavor of it in salads, sandwiches, and other dishes.
LEMON BASIL
This variety has the scent of lemon and sweet-tart flavor. The mature height of this variety is 20-24 inches. You can use them in salads, soups, stews, stir-fries, and more dishes but use them fresh to get the best flavor.
PURPLE BASIL OR DARK OPAL
This variety has purple leaves and you can use these leaves in sweet dishes. The leaves have the flavor of anise-based with a hint of ginger. The mature height of this plant is 14 inches.
SIAM QUEEN
This is a Thai variety with a sweet liquorice flavor. The lush green leaves are just like heirlooms. It has a purple stem and the height of the mature plant is 10 to 24 inches. It will add flavors to curry, soups, and stir-fries. 
BOXWOOD
This variety has small leaves and the mature height of the plant is 12 inches. It has a strong g flavor.
Buy Basil Seeds From Amazon
WHEN TO PLANT BASIL?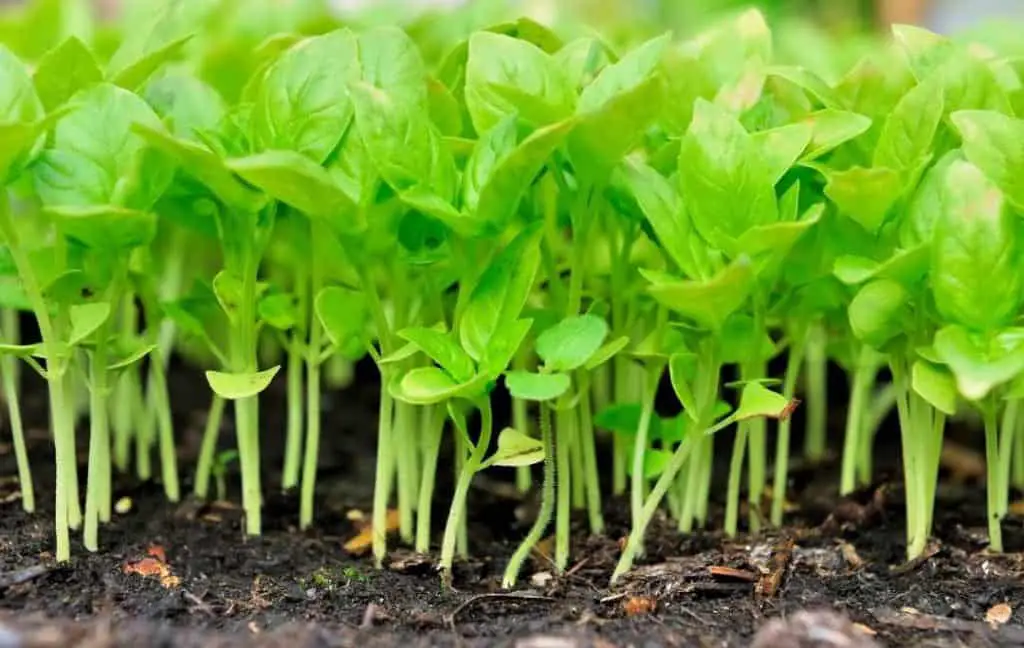 As is mentioned above basil is a hot season crop so the best time for growing it is after frost. But if you want to grow it earlier then you should start the seeds indoors 6 weeks before the last frost. 
When you transplant it outside then the temperature of the soil must be 50 Fahrenheit or 10 centigrade. The most suitable temperature is 70 Fahrenheit or 21 centigrade. 
Make sure the temperature of the night must not drop 50 Fahrenheit or 10 centigrade. It is suggested that don't grow basil too early as it won't grow well without heat.
CHOOSING AND PREPARING PLANTING SITE FOR BASIL
You should choose the best location for your basil plants where they get full sunlight. They grow best if they get sunlight for 6 to 8 hours. The soil must be moist and well-drained for getting good production of your basil plants.
It is recommended that it is better to grow basil in containers because containers provide drainage which is good for the plants. 
As you use this crop for cooking purposes you should plant them in clean soil and never use insecticides.
HOW TO PLANT BASIL FROM SEEDS?
Sow the seeds about ¼ – inch deep and 10 to 12 inches apart. They will grow tall about 12 to 24 inches. If you are growing larger varieties then plant about 16 to 24 inches apart.
If we talk about the best companion plant of basil then tomatoes are the best option as they proved good neighbors of basil. If you are living in a hot climate then use mulch around your basil plants so it will help to retain the moisture.  
Water the basil plants regularly because in hot weather the Basil plant will get dry so it is necessary to water it daily. 
When you see the first six leaves emerge then this is the time to prune to above the second set. In this way, you will get more eaves to harvest.
Every time you see 6 to 8 leaves, repeat the same way of pruning the branches. Prevent early flowering, pinch off the center shoot. If you see the flowers are growing then at once cut them off. 
Due to flowers, the leaves lose their good flavor. After removing the flowers, the leaves will get their flavor back. Be aware the cold temperature will destroy your basil plants.
HOW TO REGROW STORE BOUGHT CUTTINGS OF BASIL?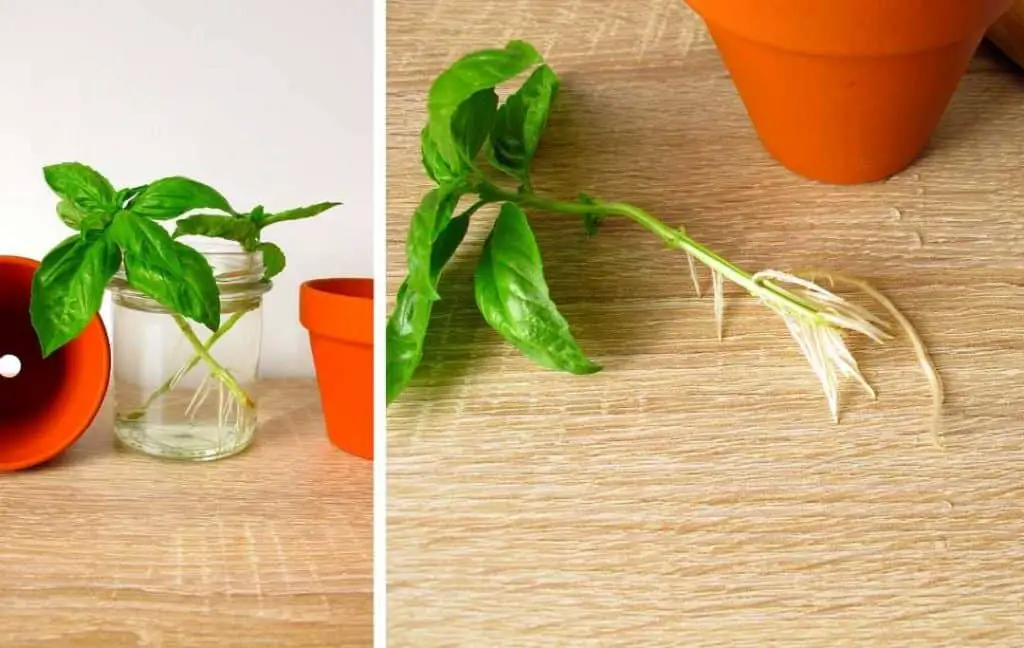 You will be surprised to know that you can get endless Basil from one plant. Now we will discuss step by step how we can grow endless Basil from one plant. 
These steps are very easy and you can easily grow basil plants. If you are a newbie then you can easily grow it because it requires little maintenance.
STEP 1
A single plant is enough to start an Endless Basil Empire. For this purpose, you have to buy a potted basil plant from any grocery store.
STEP 2
The second step is to cut off all the stems in the middle and above the bottom set of leaves.
STEP 3
Step 3 is to plant stubs in the garden or container, raised beds are also a good option for growing but remember to set the stems aside. Each of these stubs which you plant and stems too will turn into a full basil plant.
STEP 4
Each stem has bottom leaves, you should remove these leaves. You can use these leaves in cooking and if you don't need them now then you can dry them for future use.
STEP 5
Now place these stems in a jar or glass and fill the jar with water. If your jar is made from the glass then you can see the new roots of each stem. Don't forget to place your jar on the window sill so your basil plants get light. 
After a few days, you will see roots emerging from each stem. At this time you should add more water to the jar.
STEP 6
After 7 to 10 days, you will see each stem has multiple roots that are long and strong. Two weeks are enough to get each stem with a root structure. 
Now, this is the time to plant the stems in any container, pot, raised bed, or in the ground. You have both options to grow them indoors or plant them outside in your garden. 
STEP 7
After 3 weeks you will see your basil plants have long stems. Cut the top of the basil plant so it will get a bushy shape and the bottom leaves will grow. In 60 days, you will get lots of basil plants.
Note
Your new basil plants need nutrition that's why you should add amendments to the soil to make it more fertile. A diluted fish emulsion with kelp is a good option to provide a nutritious boost to your newly basil plants. 
This will help them to start in a good way. If you growing them inside then the temperature of your house should be above 20°C.
---
ALSO READ
---
PESTS AND DISEASES
Basil can repel certain insects but some pests and diseases are dangerous for its growth. As you know heat and humidity are required for the healthy growth of basil, at the same time it favors the growth of fungi and attracts harmful insects.  
You should keep an eye on the plant. Careful monitoring is needed to prevent your basil plants from pests and diseases. Here we will discuss some insects and diseases which are harmful to the basil.
Some insects which affect basil plants are Thrips and Impatiens Necrotic Spot Virus. If you see brown necrotic spots, it means your basil plant is affected by the impatiens necrotic spot virus. 
It is necessary to detect this problem, you can use soap-based anti-aphids treatment or apply insecticides on plants for prevention. The tiny insects which are active at night are thrips. 
They suck the juices of plants so monitor the plant very carefully.  You should destroy the affected plants and use soap-based-anti aphids treatment for the insecticide to control this insect.
The diseases which are dangerous for the healthy growth of basil are Fusarium Wilt, Sunburn, Downy Mildew, and Gray Mold. You can use bio fungicide for the prevention of the disease such as fusarium wilt. 
If your plant is infected by this disease there is no treatment for this problem. The only solution is to remove or destroy the infected plant. 
Sunlight is important for the healthy growth of any plant but too much sunlight will cause Basil sunburn. If you want to protect your plants from this disease, place them in partial shade especially during a heatwave.
Yellow leaves of basil plants show that it is affected by downy mildew. Provide proper aeration to the leaves and water the base of the plants, not the leaves. 
You can also use bio fungicide for the prevention of your plants because there is no treatment for this disease and the only way left to destroy the affected plants. 
HOW TO HARVEST BASIL?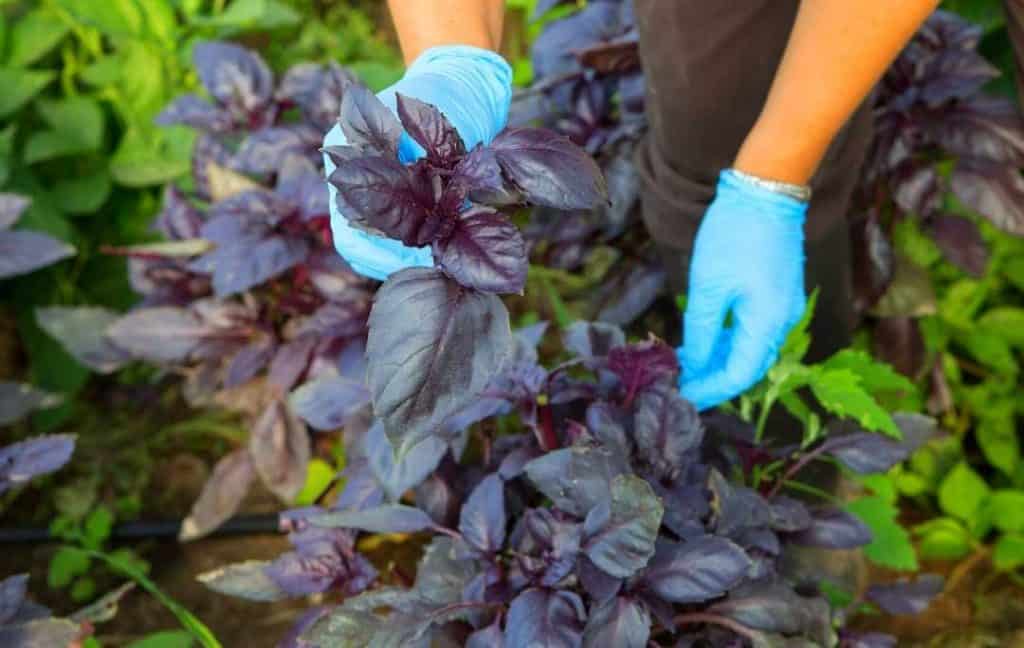 When you see the basil plant is 6 to 8 inches tall then you can start picking leaves. Your basil plant will start leafing out when the temperature reaches 27°C or 80°F.
The best time of harvesting is in the morning when the leaves of basil are at their juiciest. You will get leaves throughout the summer if you keep harvesting the leaves. 
It is not necessary to pick the leaves when needed but you should pick the leaves regularly so it encourages new growth and keeps the plant going. You can store the leaves for future use.
The regular picking of leaves from 12 basil plants will give you 4 to 6 cups of leaves per week.
---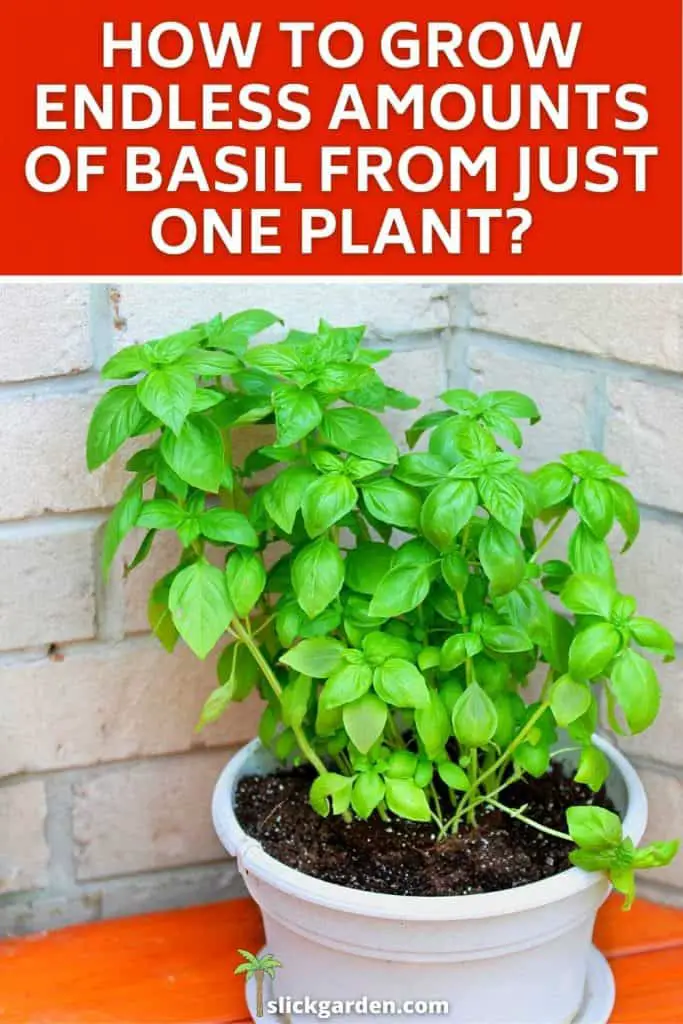 ---
HOW TO STORE BASIL?
The best way of storing basil is freezing because it will protect your plant from losing the flavor. For freezing purposes, you can use airtight plastic bags. You can freeze the leaves any way like whole or chopped.
The second method of storing basil is drying. But in this way, some of the flavors of the leaves will be lost. Place the leaves in a well ventilated and shady area to dry them quickly.  
If you see after passing 3 to 4 days, leaves are not properly dried then you can place them in the oven on the lowest heat settings with the door a little open. For equal drying turn the leaves and check them repeatedly.
---
---
ALSO READ
---