If you want to grow deciduous climbing plants and also want to get delicious fruit then kiwi fruit is a good option. Kiwi fruit is a great source of vitamin C and its botanical name is Actinidia deliciosa. 
Make sure you have plenty of space for growing vigorous kiwi plants. If you are growing more than one plant of kiwi, then leave at least 3 to 4.5m or 10 to 15 feet of space between each plant. Kiwi plants start producing fruit three to four years after planting. 
This plant needs proper shelter to survive so it is suggested that you should grow it in the greenhouse. A greenhouse is a place where your plants are protected from harsh weather like heavy rain and strong winds. 
If you have space for growing one kiwi plant then you should choose a self-fertile variety. For fruit production and pollination, you need both male and female varieties. one male plant is enough for up to 8 female plants. 
DIFFERENT TYPES OF KIWI FRUIT
There are different varieties of kiwi fruit found in the world. Some like to grow in warm winter regions while some grow in cool and cold winter regions. Some are eaten without skin and some are with skin. 
As a vigorous grower, you have to train them for their better maintenance. It is very important to choose the right variety of kiwi fruit for your garden. You can ask any local nursery or garden center about the variety which you can grow according to your climate. Here we are going to give you some options which will help you to decide. 
FUZZY KIWIS
This variety of kiwi fruit is generally found in the grocery store. The skin of kiwi fruits is brown and you will find the bright green with black seeds inside. The shape and size of this fruit are about a large egg. 
HARDY KIWIS
This variety is different in size and characteristics from fuzzy kiwi fruit. But if we talk about nutrition value and taste then both varieties are equal. If you are living in a cold area then this variety is a good option for your garden. This variety is hairless and it has green skin.
ARCTIC KIWIS
Although it is a tough variety of kiwi fruit you will find the same sweetest taste as other types. The leaves of this type of kiwi fruit are white and pink which enhances the cold environment of your growing area.
GOLDEN KIWIS
The skin of this type of kiwi fruit is attractive smooth bronze that's why its name is Golden Kiwis. The color of the flesh of the fruit is from bright green to a clear intense yellow. 
PURPLE KIWIS
This type of kiwi fruit is generally grown for ornamental purposes. The color of the skin is lovely deep red. When you grow this variety in your garden then you will come to know this Kiwi fruit truly is a sight to see.
SILVER VINE KIWIS
This variety has ladder-like vines which are natural climbers and they need proper support. The shape of this variety is sweet and delicious. This variety is very unique because everything which belongs to this plant is used like flesh, leaves, and buds. In Asia, most people make tea or medicinal powders from it. 
KIWI BERRIES
Kiwi berries are different from kiwi fruit for example its size is so small so it looks like grapes and you can eat the fruit with their skin. The other nicknames of this variety are baby kiwi, grape kiwi, or dessert Kiwi.
---
Read More
---
WHEN TO PLANT KIWI FRUIT?
The best time for planting Kiwi fruit is in spring when the threat of roast has passed. As you are growing kiwi vines in the greenhouse then you can start growing earlier. 
Keep in your mind that kiwi plants start bearing fruits three to five years after planting.
WHY GROW KIWI FRUITS IN A GREENHOUSE? 
In some areas, home fruit growing is limited because of harsh weather conditions such as hail, rain, severe cold, and hard frost. If you decide to grow fruiting trees, shrubs, and vines in a greenhouse then your plants will be protected from severe weather conditions. 
You can grow Kiwi fruit vines in the ground in containers in a greenhouse. You can also start the Kiwi fruit in the container inside the greenhouse and when the plants establish then keep them in your garden. 
The greenhouse makes it possible to start the growing season earlier and your plants are protected from unexpected spring frost and your growing season will be extended. 
The interesting thing is that you can maintain the temperature and humidity inside the greenhouse. In this way, you can control pest and disease problems in the greenhouse. The controlled or semi-controlled environment in the greenhouse makes it possible.
HOW TO MANAGE THE HUMIDITY AND TEMPERATURE FOR KIWI FRUIT IN A GREENHOUSE?
If you provide the best humidity level and suitable temperature for kiwi vines then you will get a healthy and robust production of fruit. Changing temperature and none controlled humidity will produce stressed plants. 
Hen plants are under pressure then they are prone to pests and diseases. The performance of kiwi vines will improve with the rapid production of fruits if you provide control of humidity and temperature. 
Humidity and temperature are connected like if you adjust the temperature it will also affect the humidity. Here we will discuss how to control temperature and humidity in a greenhouse.
For consistent air movement within the greenhouse, you can use two types of fans. One is horizontal airflow fans and the other is extraction fans. You can mount the horizontal airflow fans on the roof and the sides of the greenhouse. It helps to end many microclimates. The important function of the extraction fan is to cool down the temperature inside the greenhouse by exchanging air. The other purpose of the extraction fan is to reduce the humidity inside the greenhouse.
A weather station makes it possible for you to monitor the temperature, rain levels, solar levels, humidity, and wind.
You can use vents for increasing the airflow within the greenhouse.
If you want to lower the temperature in the greenhouse then you can use wet walls.
For maintaining the temperature and humidity, you can also use shade clothes. These are curtains that can roll out over rails located above your crops.
Radiant heating is another way of heating your greenhouse. This is very effective, especially for your vine crops.
HOW TO GROW KIWI FRUIT IN A GREENHOUSE?
You can also buy young kiwi plants from a garden store or nursery. But you can also use seeds for the germination process. Here are simple steps after following them you can grow Kiwi fruit in the greenhouse.
1- OBTAIN KIWI SEEDS
You need seeds for growing Kiwi fruit in the greenhouse. There are two ways of getting kiwi seeds. 
First, you can buy them from any gardening store or local nursery. But if you buy organic seeds then they will grow into Hardy adult plants.
The second way is very inexpensive and cheap. In this option, you can get seeds from the fresh Kiwi fruit. Remove the seeds from kiwi fruit and wash the seeds with water.
2- SPROUT YOUR SEEDS
Now place the seeds in a plastic bag with a damp paper towel. The plastic bag should be resealable and keep the bag in a warm place. Check the seeds every day if you find the paper towel dry then moisten it. A humid environment is very good for the germination process of seeds. 
3- PLANT YOUR GERMINATED SEEDS
When you see the seeds are sprouted then select the strong seeds and discard the weak ones. Take small pots for preparing the seedlings for transplanting. 
Fill the pot with seed starter potting mix. You can plant 3-4 sprouted seeds in each pot. Tear off the section of the moistened paper towel that has seedling clinging to it. Very carefully plant the sprouted seeds with a paper towel. 
4- WATER THE YOUNG SEEDLINGS AND PLACE THE POTS IN PLENTY OF LIGHT IN THE GREENHOUSE
Choose the location for your pots in the greenhouse where they receive maximum sunlight. You can transfer the plants to a larger pot when they grow. 
---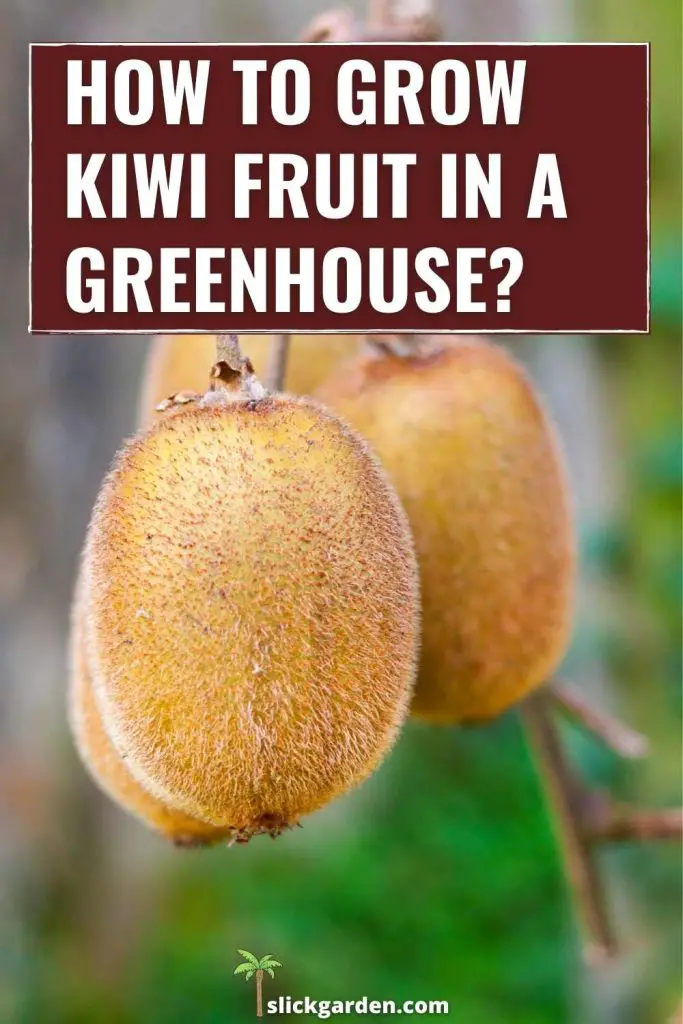 ---
TIPS FOR GROWING KIWI FRUIT
It is very important to choose the right variety. You can ask any local nurser for a suitable variety. 
For fruit production, you need male and female plants both. 
The flowers of kiwi plants are fragrant. You will get the fruit in late fall. 
Protect your kiwi plants from frost and make sure they get ample sunlight.  
Your newly planted vines of kiwi fruits need a feed of liquid phosphorus-rich starter fertilizer. A balanced fertilizer can boost up the growth of fruits. You can also feed the vines with compost tea or dilute solution fish emulsion.
KIWI FRUIT POLLINATION
A few varieties of kiwi fruit are self-fertile. If you are growing only one Kiwi fruit plant then you should choose the self-fertile variety. If you are planning to grow more plants then you should grow both male and female varieties.
Female Kiwi fruit needs a male partner to produce fruit. 
The most common pollinators of kiwi fruits are wind and honeybee.
COMMON PESTS 
Here are some common pests that affect kiwi fruit plants.
SPIDER MITES
You can't see the spider mites with your naked eye. Insecticidal soap spray or neem oil is the best remedy to control the population of these little monsters.
THRIPS
The presence of this tiny pest will damage the leaves of kiwi plants. It will disturb the growth of your fruit and suck the juice of the plant. You can control it with a strong stream of water. Insecticidal soap sprays are another option for getting rid of these pests.
NEMATODES
If these little worms are less in number then they will not harm your plants but their large population will become the reason for weakening the plants. 
JAPANESE BEETLE
 Japanese beetles are bugs that have a metallic green color. To control these beetles, you can use insecticides.
BOXELDER BUGS 
These bugs are oval-shaped with narrow red lines on their back. The young bugs are tiny and are red. These pests are found in coastal areas.
PRUNING AND TRAINING
Pruning is very important because it controls the excess growth of vines. You can prune your plants in winter and summer. 
For winter pruning, you should cut back about one-quarter to one-third of the oldest laterals. Each year if you do winter pruning then you will see the new growth will produce in the growing season. 
For summer pruning to be done from June, you should pinch outside shoots of the laterals and shoots arising from the mainstream. After summer pruning, these short shoots will produce healthy fruits in the season. 
For initial training, you have to tie the new leading shoot to a cane attached vertically to wires. This will keep the plant upright and straight. Initial training will make it possible to reach all the parts of the climbing vine. Air circulation is very important for the healthy growth of fruits. 
HOW TO HARVEST KIWI FRUIT?
The maturity time of kiwi fruit is in September or October.
The best time for harvesting the Kiwi fruit is when they are soft and ready to be eaten. The color of the fruit should be brown when you pick them.
If there is a danger of early fall Frost then you can harvest Kiwi fruit and keep them in a cool and dry place for 6 weeks. 
HOW TO STORE KIWI FRUIT?
You can keep firm Kiwi fruits in the refrigerator for up to six weeks.
You can also freeze the Kiwi fruit but put them in plastic freezer bags. 
Read More