If you have no garden, don't lose your heart because your deck is where you can grow your favorite vegetables. With the proper planning, you can grow vegetables on your deck, and getting a fresh supply of vegetables is no longer a dream.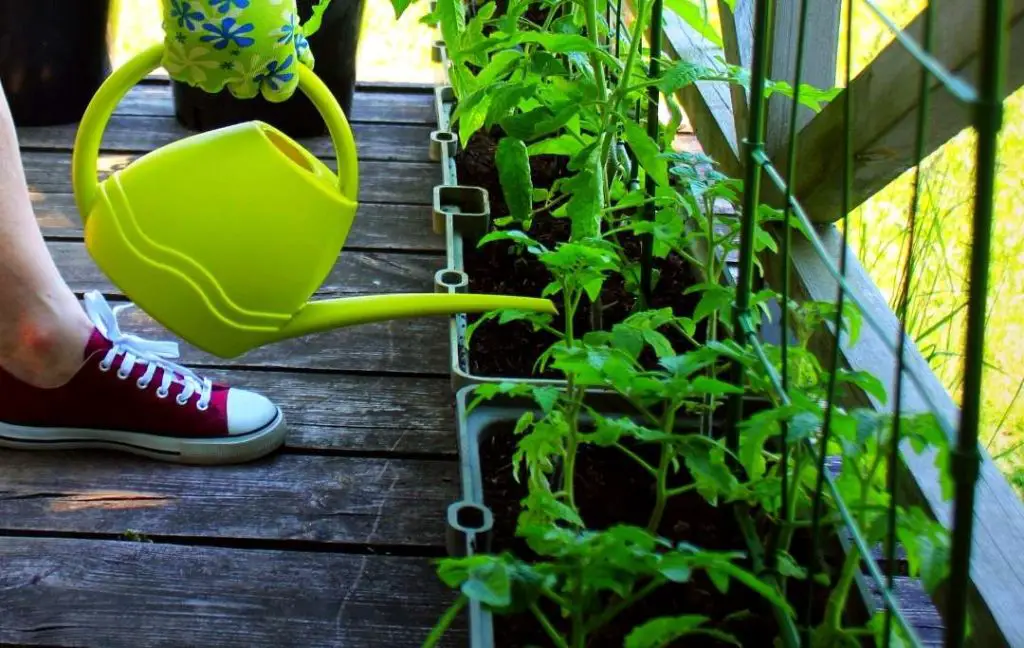 By using different ideas you can maximize the yield of your vegetable plants.  You can grow many vegetable plants at a time in a limited space in table planters, containers, vertical planters, hanging baskets, and grow bags. Following are three ways to grow more vegetables. 
VERTICAL PLANTERS
If your space is too small then you can maximize it by using vertical planters. This is a creative way of growing more plants at a time. There are different ways to make vertical planters. 
You can use old ladders, carts, and ropes and put many pots on them. There are different types of vertical planters available that can hang easily on the wall.
HANGING BASKET
In hanging baskets, you can grow many vegetables easily such as strawberries, beans, and different herbs. You can use different colors and beautiful designs of hanging baskets to make your deck more attractive for visitors.
TIERED POTS
Sach type of pots is very popular among the gardeners who have limited space for growing vegetables and flowering plants in this way you can save your space and grow more plants. 
Best Vegetables For Growing On Deck
Following are some vegetables that you can easily grow in pots or containers and place on your deck.
1- LETTUCE
Lettuce is a great source of manganese and fiber. The taste of salads and sandwiches will become awesome after adding lettuce. After the last frost, you can plant it. 
You need at least a 6 to 8 inches deep pot for growing lettuce on your deck. Make sure the port you are using must have drainage holes at the bottom. This will prevent your vegetable plants from root rot and fungal diseases.  The lettuce plants need water twice a week.
2- ONIONS
The fresh onions from your deck will provide folic acid, fiber, and vitamin C. Onions are used in different dishes; you can also eat them raw. After the last frost, spring is the best time for planting onions.  
A 6 to 8 inches deep pot is enough for growing onions. Fill your pot with high-quality potting mix,  avoid using garden soil for filling your pots.  Garden soil is very compact and the roots of the plant will not get proper air to breathe. 
Place your pot where your onion plant gets full sun exposure. Make sure onion plants get water regularly. Within 90 days after planting you can harvest onions.
3- RADISHES
You can get vitamin C, folate, and potassium from radishes. Radishes can easily grow in 6 inches deep soil which means you don't need larger pots for growing them. 
This vegetable is perfect for growing in a limited space plus it needs little maintenance.  You can plant it in early spring and late summer. 
4- TOMATOES
Cherry or grape tomatoes are perfect for growing in pots on decks. Tomatoes need regular feed and moist soil. Tomato cages are used to support your plants. 
You can easily grow tomatoes in a container or pot on your deck. An 8 to 10 inches deep pot is enough for growing tomato plants. The perfect time for planting tomatoes is after last spring's frost. 
6 to 8 hours of sunlight is very important for healthier fruit. Choose a sunny spot for your tomato plants on your deck. Tomato plants need water immediately after planting.  You should maintain a frequency of water to get perfect tomatoes for your kitchen. 
5- CUCUMBERS
The cucumber is a climbing plant and it needs small space to grow. You can also choose the bush or compact varieties for growing cucumbers in containers or pots on your deck. The vines of bush varieties spread only a few feet. 
6- BROCCOLI
Broccoli is a good source of vitamin E and protein. The perfect time for growing broccoli is after the last frost. The pots you choose for growing broccoli must be 6 to 8 inches deep so the roots get enough space to propagate.  
Partial sun is recommended for growing broccoli in pots on the deck. Moist and rich soil is needed for growing broccoli so make sure your broccoli plants get regular water and fertilizers.
7- BEETS
Like radishes, beets are also not difficult to grow in pots. You can use a 10 to 12 inches deep pot with drainage holes for growing beads on your deck. if you use a white pot then you can grow more beat plants in it. 
Spring is the best time for planting beetroot. Beet is a cold-loving plant so the perfect temperature for growing beat is above 80 degrees Fahrenheit or 29 degrees centigrade.  
You should keep in mind that beet is such a type of vegetable that doesn't like to disturb its roots so you can't transplant it. It is suggested that you should directly sow the seeds in the desired pot. 
8- SWISS CHARD
You will get fresh greens when you grow swiss chard in pots or containers on your deck. This is a cold-season crop and needs a 6 to 12 inches deep pot with drainage holes. 
Fill your pot with compost mix soil. Keep your soil moist as this plant needs 95% water. But avoid overwatering, otherwise, your plant will be affected by root rot. 
It is suggested that you should add half a tablespoon of time-release fertilizer before planting swiss chard in the pot. Within sixty-five days after planting your crop will be ready for harvest.  whenever you need you can snip off the leaves and the plant will keep producing more. 
9- CARROTS
Carrot is a deep root vegetable so you need a 12 to 15 inches deep pot or container. If you provide good depth to your carrot plants then you will get the best size of carrots. 
A useless tub can also be used for this purpose. But make sure whatever container or pot you are using, has drainage holes at the bottom. Soil is an important factor in growing your plants. 
When you grow plants in a pot or container, you can maintain the fertility of the soil very easily. You can use a good potting mix that has all the basic nutrients for growing carrots on your deck. 
Lightweight, loamy, well-drained, and free of stone, is the perfect soil for filling your pot or container. You can add peat and sand to increase the drainage level of your soil. 
The best temperature for growing carrots is between 45 to 88 degrees Fahrenheit or 6 to 32 degrees centigrade. After 65 to 75 days you will see the carrots get mature color, which means your carrot is ready to harvest.
---
---
10- BEANS
This is another vegetable that can easily grow in pots or containers on your deck. There are two types of beans: pole beans and bush beans. Bush beans can grow up to 2 feet and start producing after 6 weeks. 
On the other side, pole beans need three months to start producing. 6 hours of sunlight is needed by bean plants so place your pot in such a location where it gets maximum sun exposure. 
This plant likes to grow in warmth and needs warm soil to germinate its seeds. The bean plants don't like cold weather and frost. Make sure your bean plants get water consistently with regular feeding. 
Liquid or granular fertilizer is perfect for 4 monthly applications. The fertilizer you are using must have a low nitrogen concentration because beans can easily fix their ratio of nitrogen. If you use too much nitrogen then it will reduce pod production.
11- HERBS
Herbs enhance the taste of different dishes and make them yummier. You can grow different herbs such as thyme, mint, basil, oregano, cilantro, and parsley in pots or containers on your deck. 
The interesting thing about herbs is that they need little maintenance and grow very fast. Perfect soil, full sun exposure, and regular feeding are needed to thrive your herbs. 
12- SQUASH
Squash is also included in our list for growing vegetables on your deck. Different shapes, flavors, and sizes of squash are available. To make your soil richer you can use compost. Perfect light and temperature are other keys to success. 
6 to 8 hours of sunlight is needed for growing squash plants. High temperature is perfect for growing your squash plants. The perfect temperature of the soil must be 60 degrees Fahrenheit to sow the seeds, otherwise, they will not germinate. 
Some pests and diseases can affect your squash plants so you should be careful and keep an eye on your plants. Cucumber beetles and squash vine borers are the pests that can damage the vines. 
Blossom rot and powdery mildew are diseases that affect the growth of your plants. When the size of the fruit is about 4 to 6 inches long then you will get the best flavor.
13- SPINACH
The next vegetable on our list is spinach. You will get vitamin A, C, iron, and calcium from this vegetable. After 6 weeks from planting, you will get your spinach ready to harvest. 
You can plant spinach in summer and winter. There are winter and summer cultivars available that can be sown and harvested at different times of the year. 
This is a fast-growing vegetable that produces leaves in a short time. You can plant winter spinach from mid-summer to early autumn and for planting summer cultivars the best time is early spring. 
After the selection of variety and time of sowing the seeds of the spinach plants, now the next step is to fill your pot or container with the right type of soil. Well-drained and moist soil is recommended for growing spinach. 
You can add compost to the soil to make it more fertile. Slugs, snails, and birds like to eat your spinach leave so you should be careful. Regular water and fertilizer are needed for healthy spinach plants. After 6 to 10 weeks your crop is ready for harvest.
14- KALE
Kale likes to grow in a cold environment so the suitable temperature for growing kale is 20 degrees Fahrenheit. The best time for planting kale is in early spring. For hot climates, you can plant it in late summer. 
You need seeds for starting kale plants. Fill your pot with high-quality potting mix and sow the seeds half an inch deep in the pot. Regular watering is recommended for growing kale plants. 
Your Kale plants need feed after 5 to 6 weeks. Pests such as flea beetles, cabbage worms, and aphids can destroy your kale plants. But you can use insecticidal soap or neem oil to get rid of the tiny monsters. 
After 65 to 80 days, your crop is ready to harvest. When your plant reaches about 10 to 12 inches tall then you can cut into individual leaves whenever you need them. 
When you harvest your kale plant, leave 2 to 3 inches from the bottom if you do this then it will regrow again. After harvesting, you can also store them in a refrigerator for 7 to 10 days. 
15- PEAS
Peas are included in those vegetables that grow very fast and with little effort, you will get a large harvest. Moist soil and full sunlight are needed for a successful crop of peas in pots. 
Peas like to grow in a cold environment. Within 60 to 70 days after sowing the seeds, your healthy crop of peace will be ready to harvest. Peas are climbing plants that need trellis or support structures. 
You can also use bamboo stakes for this purpose. The stakes of bamboo tie together with the help of twine and make a triangle shape to support your peas plants. 
Keep the soil moist for your peas plant but avoid overwatering because it can become the cause of root rot and fungal diseases. If you want the sweet and tender taste of peas then you should harvest them when the pods are young.