I assume you wanted to grow veggies indoors because it is too cold to grow outdoors or you are doing some kind of experiments or you don't have any kind of space outside to grow your organic veggies. 

So many gardeners start indoor gardening to get a head start for next spring or summer crops. Sowing seeds and growing seedlings indoors under lights is the most common activity in gardeners. But growing full crop under light is not a simple and easy task.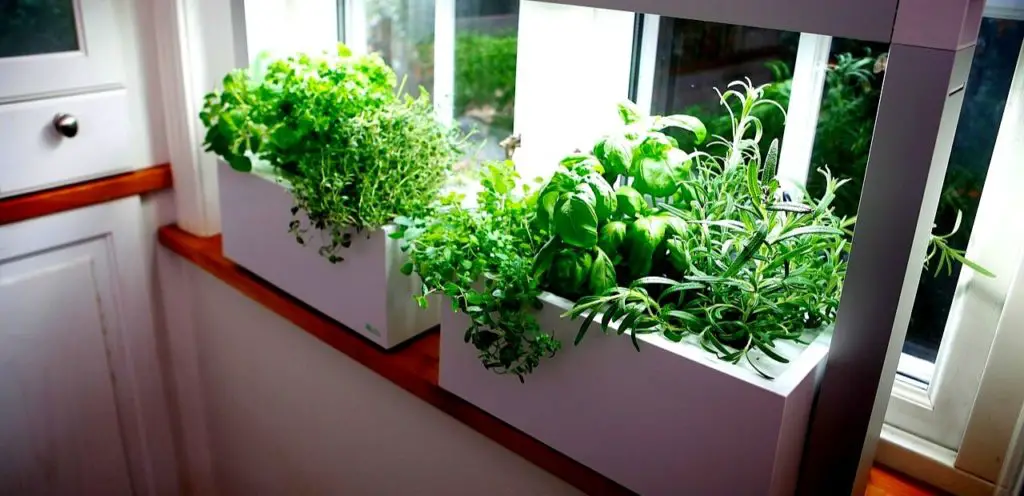 So many crops are not suitable to grow indoor like different varieties of tomatoes (grow up to 6 feet) will need a bigger indoor system to better growth. 
In this post I will share some simple growing vegetables, you can grow under lights. But first, you need to do your research on how to grow vegetables indoors under lights. 

23 easy to grow vegetables indoors under lights.

1: Spinach.
Spinach is very easy to grow indoors under lights. Spinach is one of the fastest-growing leafy green vegetables. Because you are growing indoors, you will need a pot, a light source (led grow light). Sow the seeds in a pot or you can use plastic bottles. Do not use the topsoil from your home or garden. For pots potting mix is necessary. 

2: Lettuce.
Lettuce is another easy growing leafy green. Like spinach, lettuce can also grow in pots or plastic bottles. Sow the seeds of Lettuce in potting mix. Or you can start growing lettuce from the bottom part of store-bought lettuce. 
Put the bottom part in water, when you see small roots, plant that in your pot.

Read More: How to regrow store-bought lettuce.

3: Tomatoes.
As I mentioned above growing tomatoes indoors under lights is not an easy task. But there are so many varieties of tomatoes you can grow indoors, they are called dwarf tomatoes. Here are some varieties you can grow:
Mohamed 
Yellow Dwarf
Andrin
Orange Hat
Vilma
Yellow Canary
These all varieties are dwarf. They only grow 7-10 inches in height. You can grow them in grow bags or pots using potting mix. 

Read More
4: Carrots.
Growing carrots in a pot are very easy. You will need a pot about one foot deep and one foot wide. You can also use grow bags instead of pots. Use potting mix soil in a pot or grow bag. Remember no matter how much your soil is good, you will need a good source of light (led grow lights) to grow all these veggies. 

5: Mushrooms.
Growing mushrooms indoors is extremely easy and fast. Small mushrooms only take 2-3 days to grow. Even a plate size mushroom only take 10-15 days to grow. You can grow mushrooms in pots, grow bags or your laundry Container. 

6: Scallions.
They are healthy as garlic. Growing them is very easy. You can also regrow store-bought scallions. Cut the end part of scallions about 2-3 inches. Put that in a glass of water. Change the water on a daily basis. In a few days (8-10) roots become double in length and new roots will appear. 
It's time to plant them in a pot or grow bag. 

7: Green Beans.
Green beans grow very tall, so you need a good source of light. They also grow very fast. Sow the seeds in a pot, use some wood skewers to support the plants, as they grow very tall. 

8: Kale.
Kale and spinach are like cousins. They almost serve the same purposes in dishes. Both are very easy to grow. They don't require your attention on a daily basis. 
Grow kale directly from seeds, in pots or grow bags (or bigger plastic bottles). Don't let the soil dry and you are good to go. 

---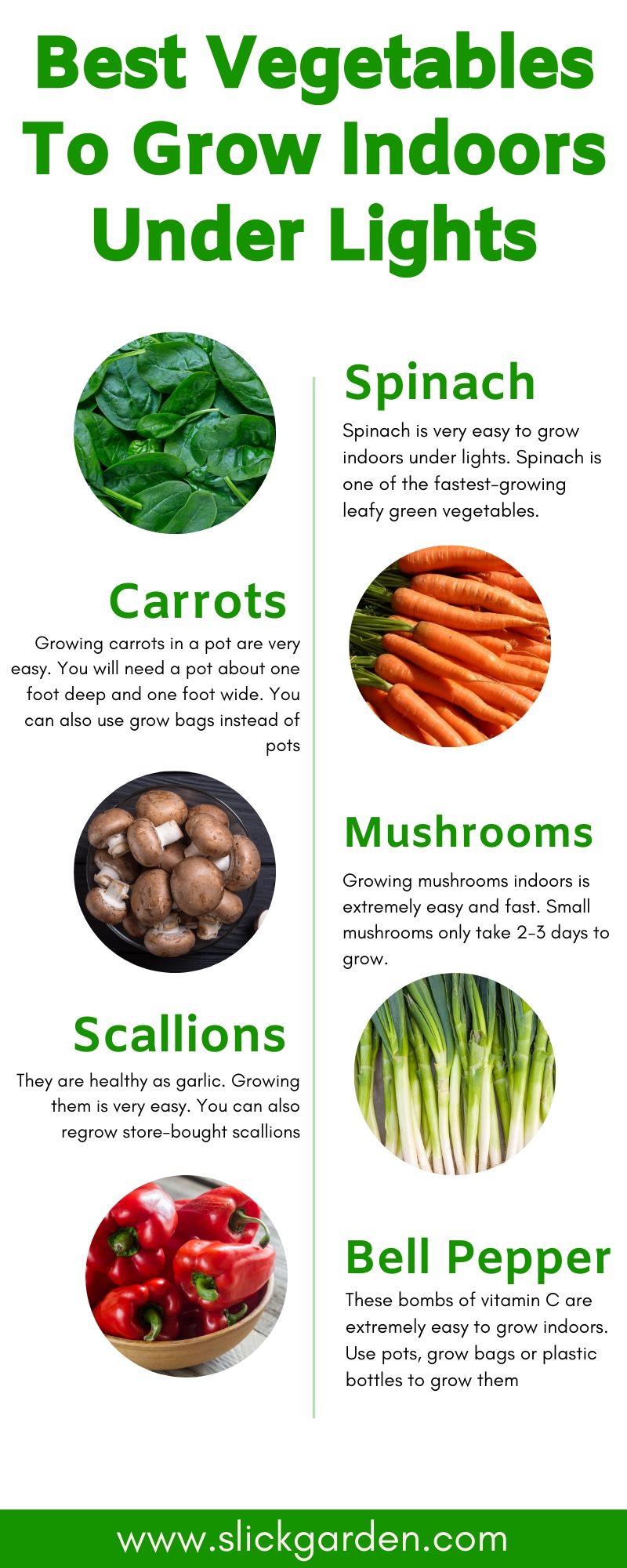 ---
9: Bell Pepper.
These bombs of vitamin C are extremely easy to grow indoors. Use pots, grow bags or plastic bottles to grow them. When fruits of bell pepper are ready, harvest immediately. Because the more you harvest, the plant will produce more fruit. 

10: Arugula.
Arugula is very fast and easy to grow inside. They prefer a cool temperature which makes them best to grow indoors.  Sprinkle the seeds of arugula in a pot filled with potting mix. Water them and place the pot or your container under your source of light. 
Each plant of arugula gives you multiple harvests at maturity. Harvest the bigger leaves and leave smaller ones for later harvest. 

Read More: An Ultimate Guide to the Best LED Grow Lights for Indoor Plants
11: Ginger.
Ginger is very easy to grow. If you have some store-bought ginger at your home you can grow your own ginger. Put the ginger bulbs in water for a few hours, so any kind of growth inhibitor dissolve in water and leave the bulb. Now plant that bulb in a grow bag, water them and watch them grow. 

12: Onion.
Onion is a must vegetable in our dishes. And it is very easy to grow onion indoors. You can grow onions from seeds, but it is best to grow them from seedlings or from a scrap of store-bought. 
Use a bigger bot to grow onion, because they have a bulb to expand under the soil. When the green stalk of onion is about 6 inches in height, harvest your onion. 

13: Beets.
Beet is very beneficial for the patients of blood pressure. Choose a bigger container or grow bag for beets. Grow them directly from seeds. But first, soak the seeds overnight in water. Now sow the seeds in potting mix, water them and place the grow bag under a led light source and watch them grow. 

14: Radish.
It is one of the fastest-growing crops. Radish can be harvested in just 3-4 weeks. That makes it a perfect crop for an indoor project. It is a moisture-loving crop. So do not let the soil dry. Also, do not overwater them, because nobody likes waterlogged soil. 
Radish is a big source of vitamin C, folate and potassium. 

15: Swiss Chard. 
Swiss chard is not that different from kale. Growing kale is also very easy. Swiss chard is one of the toughest crops. The plants of chard required 6 hours of full sunlight. It means a good and slightly bigger source of light will be needed for this crop. 

16: Mustard Green.
Mustard green is not common as other leafy greens. But they are very beneficial and easy to grow as others. You can grow them in pots or any container available. 

Here are some herbs you can grow indoor under the light. 

17: Basil.
Basil is one of the most common and easy growing herbs out there. Basil can be grown in every pot, literally in every pot available. If you don't have any pot for basil, you can them in plastic bottles of Coca-Cola. Use a good kind of potting soil in your container. 
You can grow this herb directly from seeds, or use cuttings from store-bought basil to grow them in pots. 

18: Rosemary. 
Rosemary is also very easy to grow indoors. For making your indoor garden more classy and beautiful, use mason jars for your all herbs. Make a mason jar indoor herb garden. You can use seeds or store-bought cuttings to grow rosemary. 

18: Oregano. 
Moderate to a strong light is good for better growth of oregano. Oregano is one of the most popular species of the mint family. Oregano can also be grown from cuttings of store-bought. When you feel the surface of the soil is dry, water the plant. 

19: Bay Laurel.
This is one of the strongly flavoured herbs. The oldest leaf has a strong flavour. This herb can be attacked from different diseases easily, so pick a place with good air circulation. 

20: Mint.
From a herb garden to mint garden. There are so many different varieties of herbs you can grow in your mint herb garden, peppermint, spearmint, apple, orange and banana etc. 
Growing mint is very easy. Growing from store-bought mint is the easiest method. Pick some good green cuttings, plant them in potting soil, water them and they will start to grow in a few days. 

21: Parsley.
This is one of the most using herbs. You cannot go wrong with growing parsley indoors. Pick a container or plastic bottle to grow parsley. Using potting soil as a growing medium. Grow them directly from seeds. Sow the seeds in Potting mix, water them and use a strong source of light. 

22: Thyme.
It is a very popular member of your herb garden. 
Growing thyme under light is very easy. You can grow thyme from store-bought cuttings. Water the plant when the soil feels dry. Thyme is sun-loving, so a good light source is necessary. 

23: Microgreens.
A microgreen is a very beautiful addition to your indoor garden. If you are a beginner, start with microgreens. 
Microgreens are way more beneficial than fully grown vegetables. They have a lot more vitamins and are full of nutrients. In 10-15 days, you can have an indoor garden, full of microgreens. 
There are a lot of varieties of microgreens you can grow under lights. Here are a few of them:
Radish microgreens
Cabbage microgreens
Watercress microgreens
Mustard microgreens
Arugula microgreens
Sunflower microgreens
Broccoli microgreens
Flax microgreens
Pea shoots microgreens
You can have your own separate microgreens garden in no time. 

Read More: 
I hope you enjoy this post. Please share it with your friends and family.