Raised bed gardening is a very simple method of gardening that can improve the health of your plants and increase the productivity of your garden. In a raised bed garden you can improve your soil by controlling every aspect of it. There are so many factors that can enhance your gardening experience by using raised beds. 
There are so many different kinds of raised beds that are available like Raised ground beds, Supported raised beds, containerized raised beds with or without legs. Raised bed on legs is the next level for gardeners like me, especially if you are a senior fella. Here in this post, I will discuss each and every aspect of "plastic raised garden bed on legs".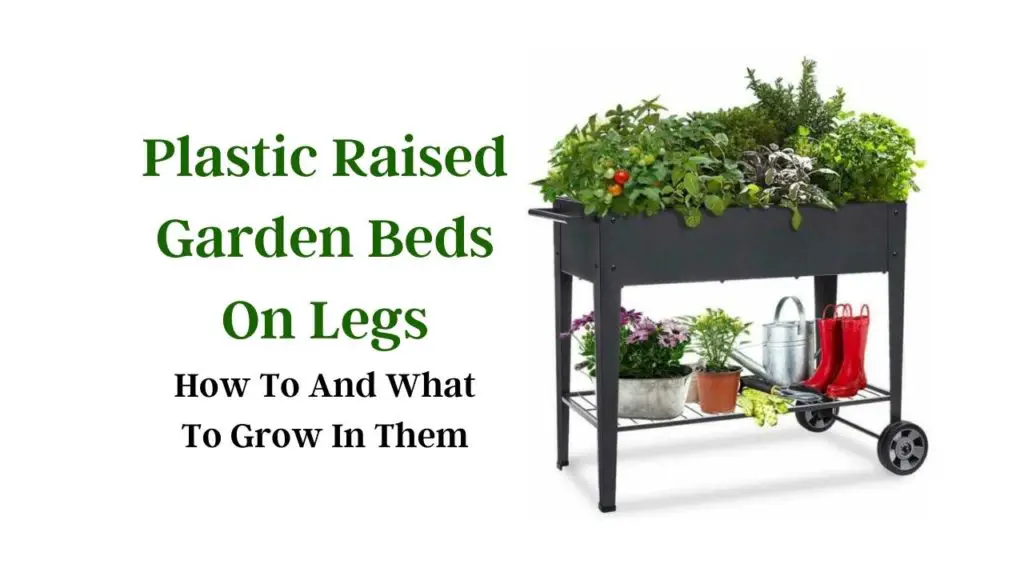 What Are Plastic Raised Garden Beds On Legs?
Plastic raised beds are special kinds of raised beds made up of recycled plastic with perfect working height. Means bye bye back pain. These garden beds are the best choice to start a vegetable garden in your balcony or wherever you want.  You can grow your veggies from seeds, seedlings or from storebought cuttings. 

Why Use Plastic Raised Garden Beds On Legs?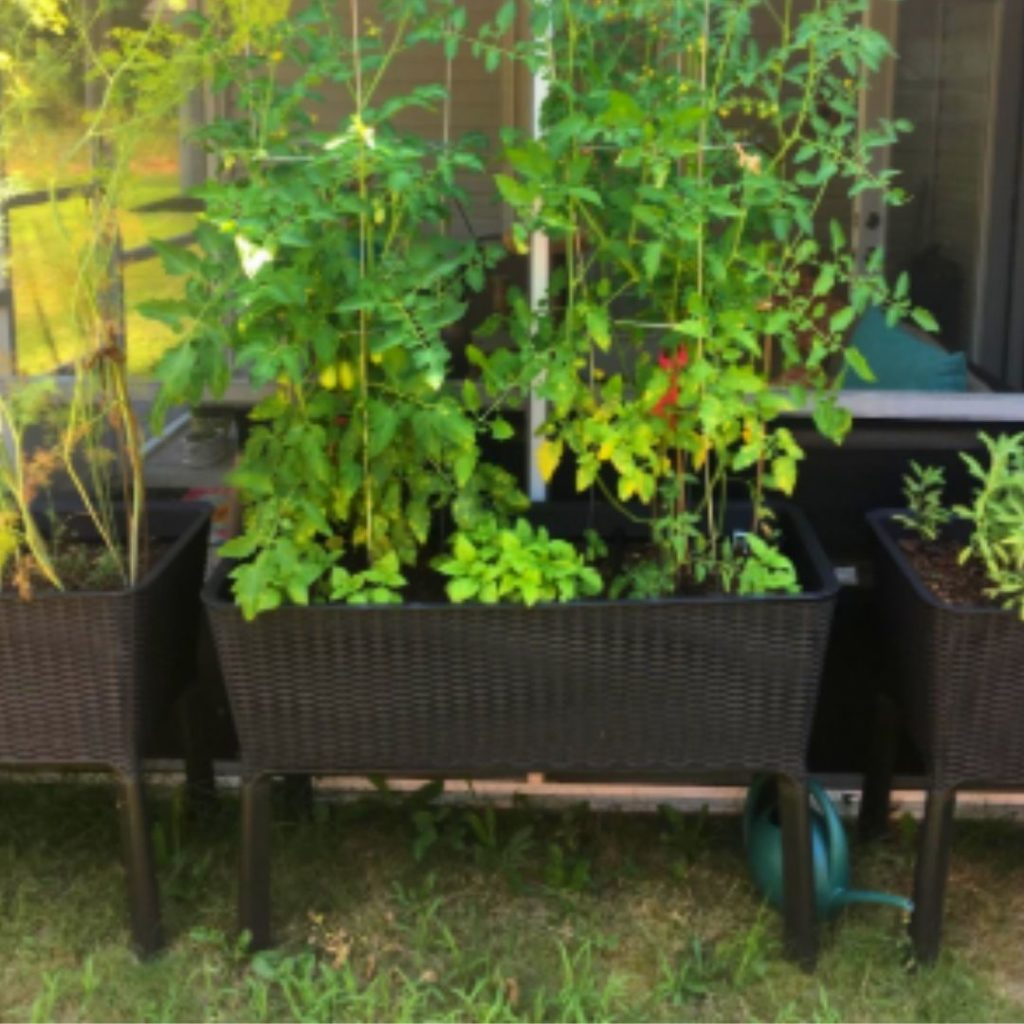 These garden beds have so many benefits, more than a typical ground raised bed. 

1: Best For Seniors.  
These plastic raised beds are on legs, so they have an ideal height to work with. So if you are a senior member of gardening society or you have some kind of back or lower back pain, these garden beds are the perfect choice for you.  They are also ideal for handicap people with a wheelchair. Plastic raised beds with legs can be an excellent gift for your grandparents.  

2: Control Over Water.
Some of these raised beds have excellent tolls to control the requirement of water for your plants. I mean some planters have water gauge. The water gauge is a perfect tool to measure the moisture level of the soil. It will tell you whether water is enough or extra. Plus a few of them also have a fully controlled drainage system. You can open or close the drainage opening. They also have storage to save plants from root decay and overwatering. 
3: Control Over Soil. 
This is one of the biggest advantages of having a raised bed. You can literally control every aspect of soil according to the need of your plants, which include the pH of the soil, drainage of soil and so much more. And as I mentioned above, you can also control the moisture level of soil using water gauge and drainage system. 

4: Control Over Location.
This is the biggest benefit of using a plastic raised bed with legs. You can put these things everywhere. You don't like the location? No problem, you can change the location. Changing the location is also a good thing for people living in a hot climate. You can put these beds in a shady place after the sunbath of plants, which is different for different crops. 

5: Best For Indoor Garden.
If you have no place put them in your balcony, roof or outdoor, you can still grow flowering plants or grow your veggies indoor. Just put them in front of a window that receives loads of sunlight.  You can start your own herb garden using just one of these bad boys. 

6: Best For Non-Seasonal Crops.
If you want herbs and other veggies all year round, they are best to use indoor. For growing non-seasonal crops, you must need a LED GROW LIGHT for heat and light.

7: Recycled Plastic.
As I mentioned above, they are made of recycled plastic. And we all know how plastic is a disaster for our precious earth. These companies are recycling the plastic for a good cause and are making these fabulous raised bed planters. It means we are not only recycling plastic but improving our environment by growing plants. 

8: Addition In Beauty.
These beds come with varieties of colors and shapes. You can match them with your house and add a layer of beauty to your balcony, decks, and patios. Plus they are very attractive.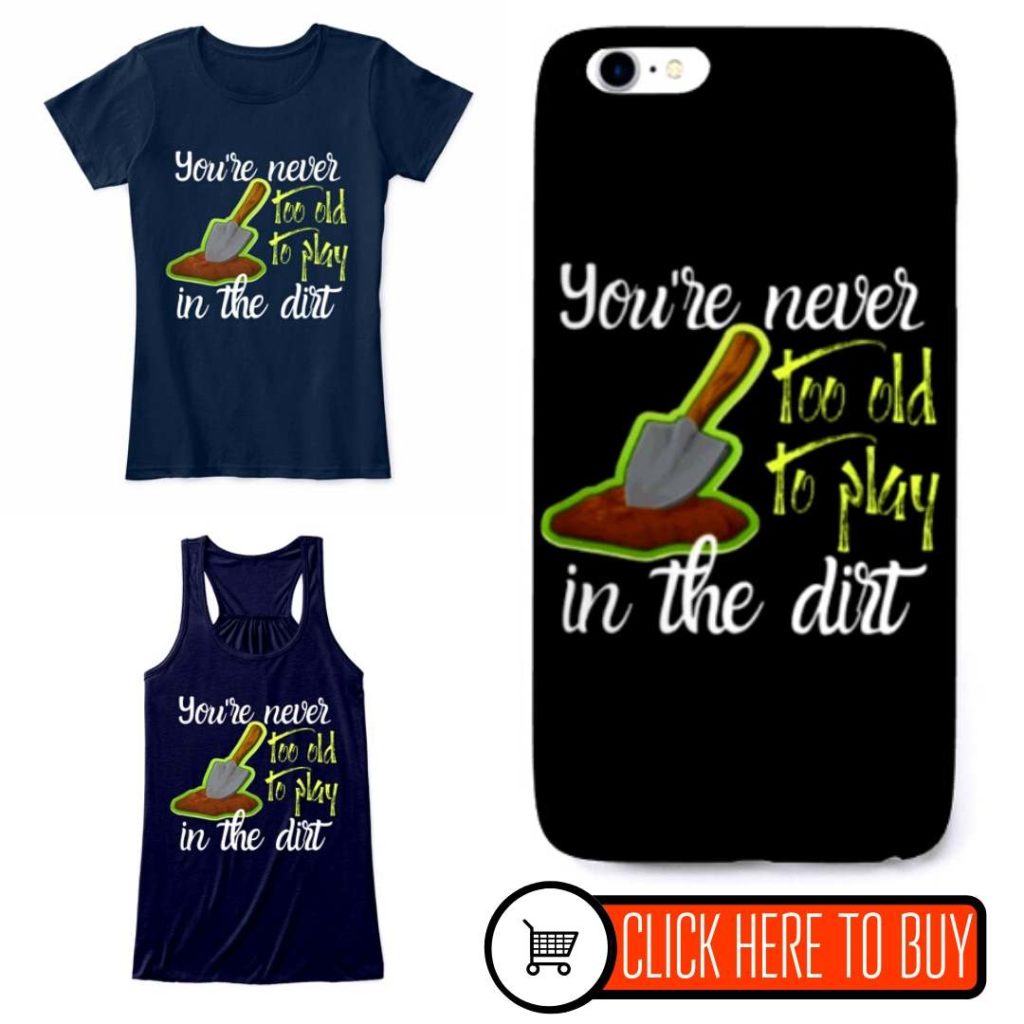 9: Space Savers. 
They are the biggest space savers plus money savers. Because they can be placed anywhere and are very cheap as compare to traditional raised beds. If you are a beginner in raised bed gardening, these beds are perfect for you to start with. 

10: Weed And Pests.
Weeds and pests are not a big problem in raised bed gardening. You can easily pick weeds from beds. It is hard for so many pests to climb and reach to plants in raised beds with legs. 

How To Use Plastic Raised Garden Beds On Legs?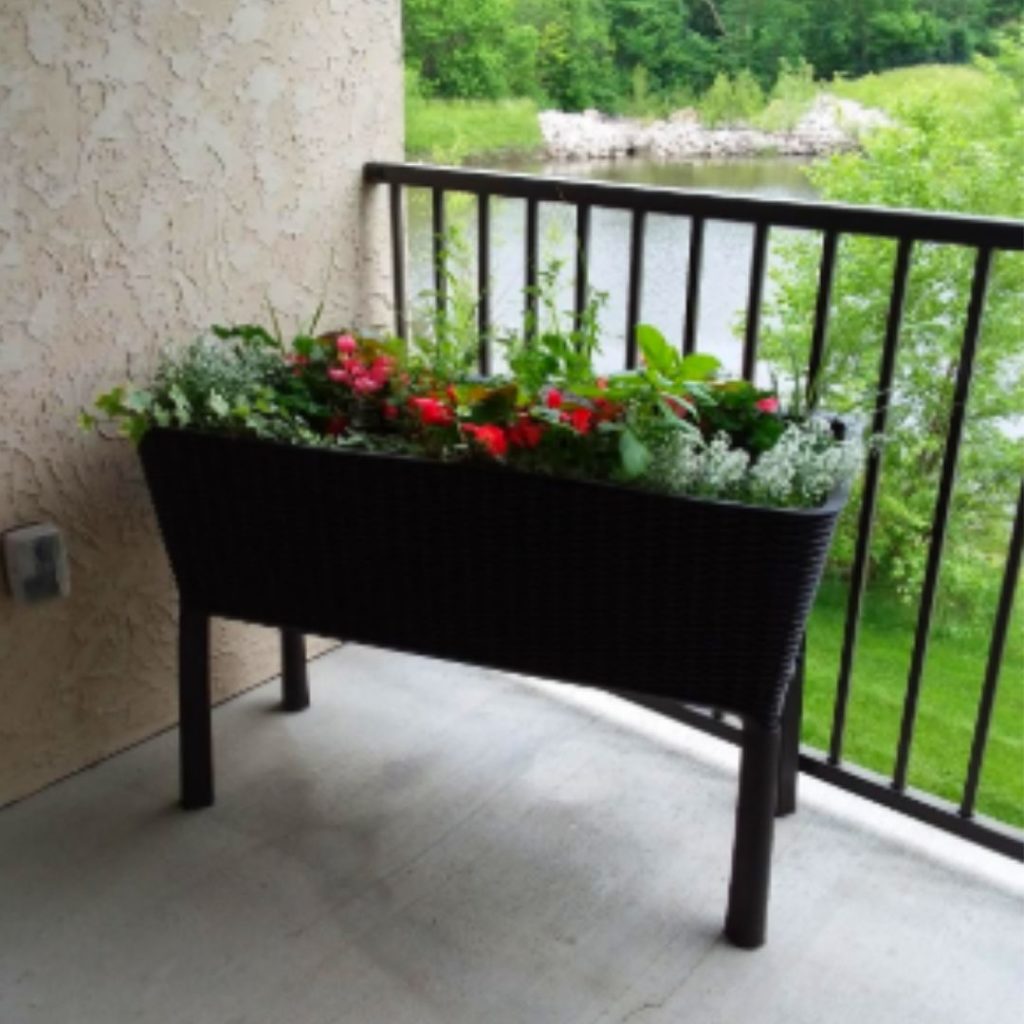 1: Assemble. 
When you bought one of these raised beds from Amazon or any other store, you need to assemble the parts before putting soil in. They are very easy to assemble. You will need a single screwdriver to assemble the legs and all other parts. 

2: Add Soil. 
After assembling the bed, you need to add soil in it. You cannot use garden topsoil in these beds and hope for the best. Sure the plants will grow in garden topsoil, but they will not grow at their best and there will no yield at the end. If you have a plan to grow veggies, herbs or beautiful flower beds, you need to buy or make your own potting soil. Don't worry potting soil is very cheap if you buy in bulk. 

3: Select A Location.
Before adding soil, pick a nice location for bed. The location depends on the type of plants you are growing. If you are growing tomatoes, choose a location that gets at least 6-8 hours of sunlight. If you are growing an indoor garden, beside the window in the best location. Or you can use LED grow lights and don't care about location. 

4: Planting.
You can sow the seeds in potting soil or go with the seedling. You can also regrow so many storebought veggies over and over again. 

5: Watering.
Watering is really fun. As I mentioned above, some of these raised beds have a water gauge and drainage systems. Some people think water gauge will tell you when to water the plants, but it does exactly the opposite. A water gauge tells you when the water level is higher or enough. You can simply open the drainage opening to release the extra water. You can give this water to other plants because this water is full of nutrients. 

Top 4 Plastic Raised Garden Beds On Legs On Amazon.

1: Keter Easy Grow 31.7 Gallon Raised Garden Bed: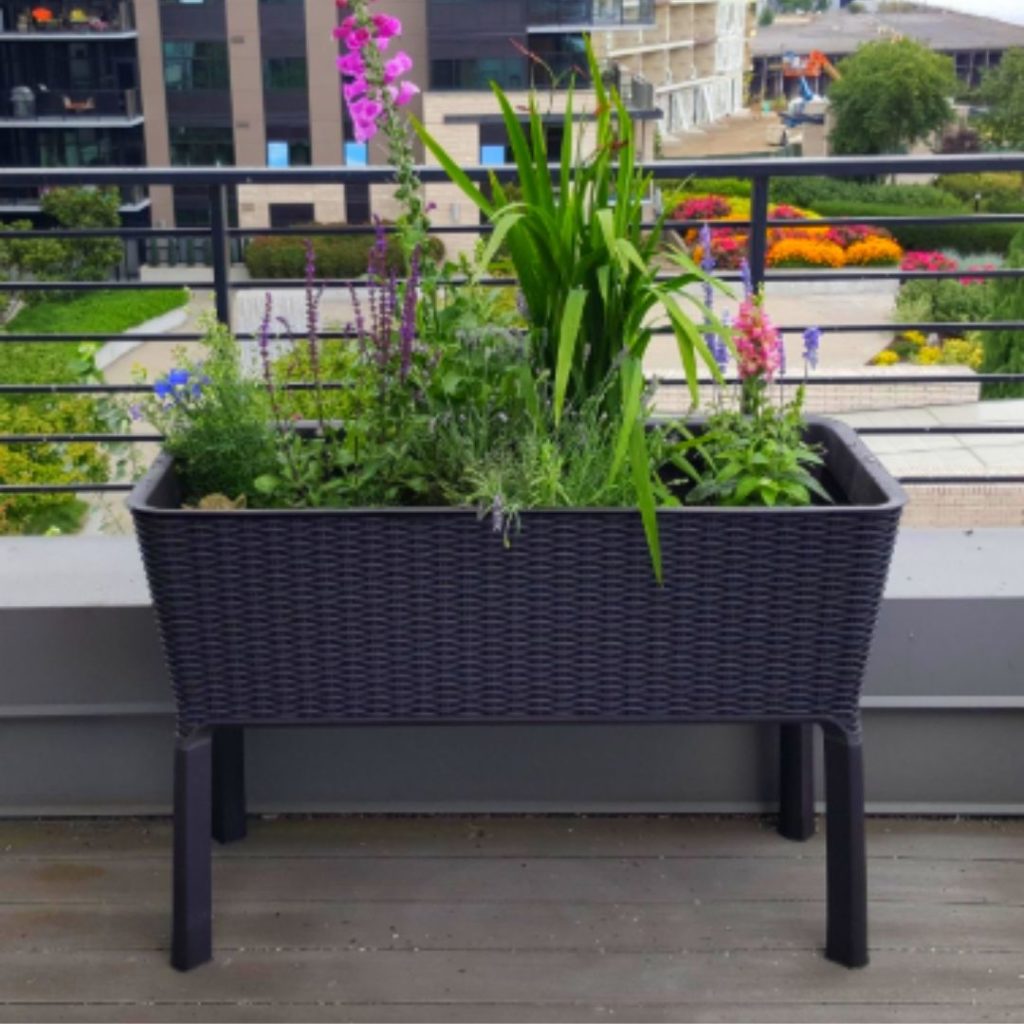 Here is full information about these garden beds: 44.9″ W x 19.4″ D x 29.8″ H. 
They come with a loading capacity of 31.7 gallons. They have a complete controlled watering system, water gauge, sealed drainage plug, and a water reservoir. Have a beautiful classic rattan texture. 
2: Elho Green Basics Grow Table: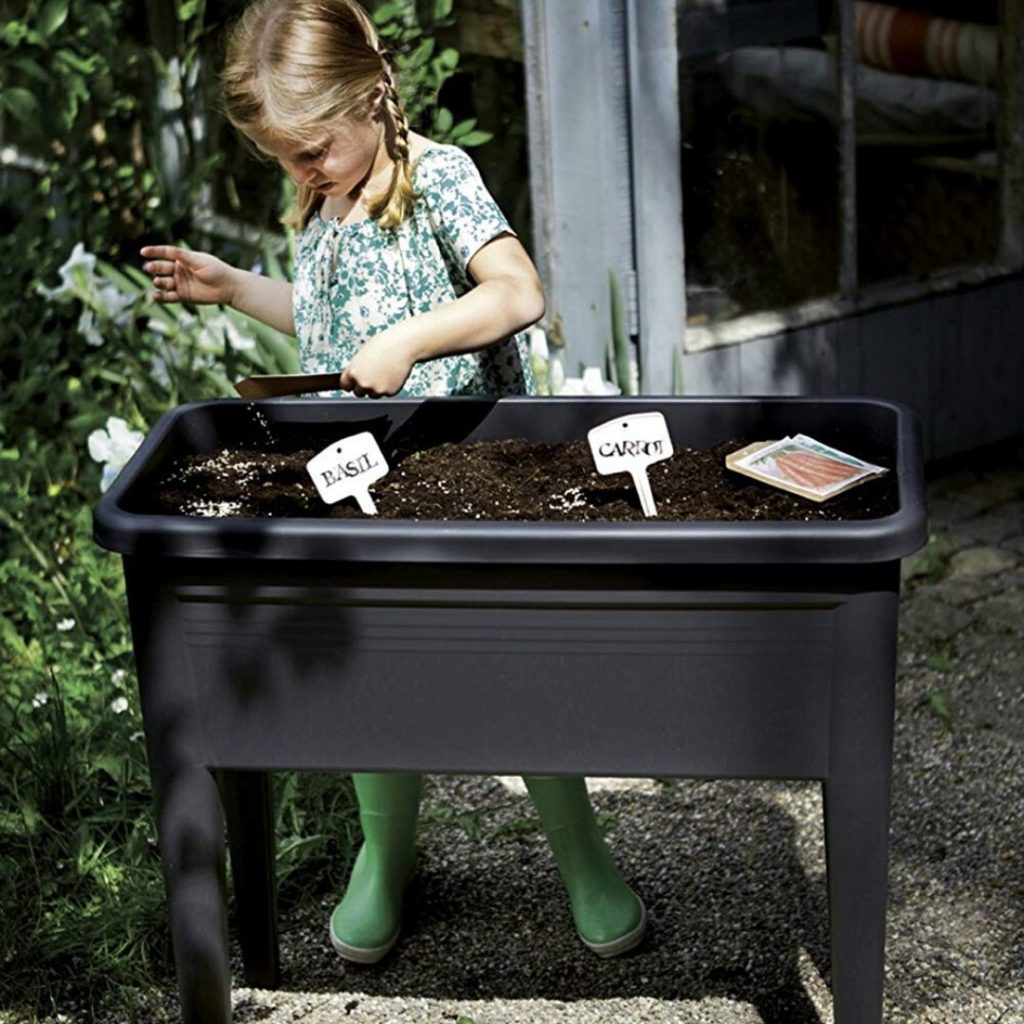 These beds are the most simple looking beds. They come with these dimensions: 
75.5cm in length 36.5cm width and 65.1cm in height.  These beds are frost resistance plus heat resistance up to 40 degrees. They come in 3 different colors, leaf green, lime green, and living black. Black color absorbs more heat and best for plants like tomatoes. 
3: Emsco Group Big Easy Picker Raised Bed Grow Box:
They come with a size of 20 x 48 x 9.75 inches. The company claims that we can grow 8 tomato plants in one bed. Which is totally not true. For 8 tomato plants, we need a big raised bed. This bed comes with a self-watering system, which is a big plus point? Also, have a 4-gallon water reservoir. 
Read More:  How To Space Tomato Plants In A Raised Bed

4: Elevated Garden Bed On Wheels: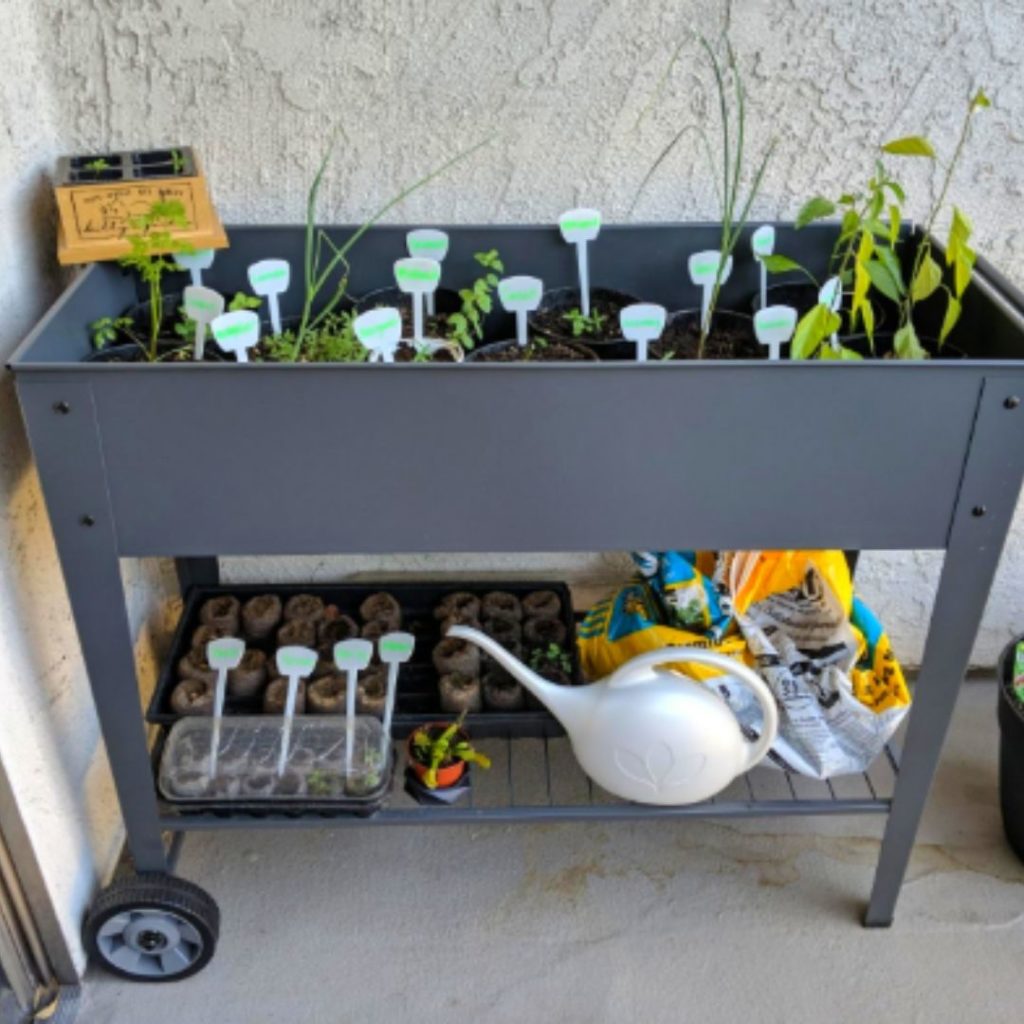 This one is not made of plastic. Instead, it is made of steel with anti-rusting coating. I am mentioning this bed because it has wheels on the legs to move from one place to another. Pretty Cool Haww? There is no self-watering system in this bed. But it has a drainage hole and drainage line to save plants from waterlogging. 
What To Grow In A Raised Bed On Legs?
You can grow pretty much everything you want in these beds. You can grow your own herb garden in these beds. Here are a few fast-growing vegetables for you to start with. 

| | |
| --- | --- |
| Name Of Vegetable | Growth Time |
1: Lettuce
2: Spinach
3: Mustard Green
4: Green Onion
5: Mushrooms
6: Tomatoes
7: Cherry Tomatoes
8: Beets
9: Carrots
10: Cucumber
11: Pepper
12: Radish
13: Spring Onion
14: Green Beans
15: Kale
16: Potatoes
17: Squash
18: Zucchini
19: Turnips
20: Swiss Chard
45-50 days 
30-50 days
30 Days
20-30 days
6-10 days
40-50 days
60-65 days
45-60 days
70-80 days
55-65 days
60-90 days
20-30 days
6-8 weeks
7 Weeks
55-60 days
70-129 days
50-70 days
35-50 days
60 days
55-60 days
Here are a few easy to grow herbs for the start of your herb garden.
Basil.
Rosemary. 
Oregano. 
Bay Laurel.
Mint.
Parsley.
Thyme.
Read More: 
I hope you enjoy this post. Share it with your friends and family.